Mark Cousins
A talk (and a walk) with Mark Cousins about his film Stockholm, My Love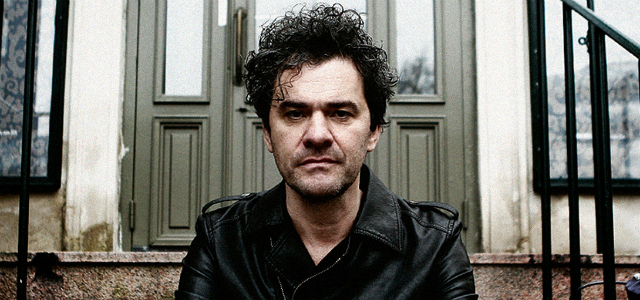 Mark Cousins' film, Stockholm, My Love, is a poetic ramble through Stockholm, a guided city-symphony exploring the skyline and the depths of remorse, a reverie on concrete and water and memory and grief, and the redemptive power of flanerie (the dedicated wandering that Balzac called "the gastronomy of the eye").  Neneh Cherry plays an architect, our guide, and we follow her as she roams.
It seemed apt, then, that Cousins and I talked as we strolled through London, from the BFI Southbank to the May Fair Hotel, intermittently pursued by Chris Doyle, the esteemed cinematographer who shot the film. As we left the lobby of the BFI and turned left into the crowds along the South Bank, Cousins explained the impetus for Stockholm, My Love.
Mark Cousins: I was sitting in Stockholm with a friend, my producer, Anita Oxburgh, and we were talking about great city films—we knew what the great Paris films were and the great London films, the great New York films, the great Berlin films… but there aren't many great Stockholm films.  Ingmar Bergman hardly filmed in Stockholm.
Dr. Garth Twa:  He mainly stuck to the islands.
MC:  Yeah, the Islands.  So we thought, "Why don't we try and do one where the city is a character?"  And as you can see at the end of Stockholm, My Love the city literally becomes the addressee.  It's not something like Berlin, Symphony of a Great City (Walter Ruttmann, 1927), which, I have to say, I think has dated quite badly.  It doesn't really have a central character, it's just a series of images and spaces.  Even Dziga Vertov's great film [Man With a Movie Camera, 1929], which I think is still great, quite frankly, but it's a sort of mechanistic perspective.   The films I was thinking of most and that inspired me more are things like Listen to Britain by Humphrey Jennings, or there's a great Cavalcanti film about Paris in the twenties called Rien que les heures (Nothing But Time, 1926), or, in particular, I really like Godard's Two or Three Things I Know About Her (1967), which is about a city, the "her" of the city but also about the woman in the foreground of the city.  And I guess it's that that's really exciting for me—the lonely person in the city landscape.  Jack Lemmon in The Apartment (Billy Wilder, 1960), for example; the lonely man excluded from his own apartment.  I love that,  a lonely man against a city landscape, the individual in these big cities, that feeling of Jack Lemmon on the park bench, the music, and the leaves blowing, that sadness.
Mark Cousins, of course, is perhaps most widely known for his superb compendium of movies and movie going, The Story of Film: An Odyssey.  His depth of knowledge and understanding of all things cinematic is impressive and daunting.
We walked over the Golden Jubilee Bridge, past the buskers playing steel drums and over the boats passing by underneath us on the Thames.
MC:  But it was also important, of course, not to be too touristic—or touristic at all—so we wanted to film in bits of Stockholm that locals might not have been to.  Stockholm, I think, is very cinematic – it's got all these contours and it's so dark in winter and then the coming of the light is incredible. You really know when the Spring comes—you really see an expansive moment.  I thought we can make a piece of cinema out of this, which is about recovery and feels as if the city recovers, comes awake in the Spring.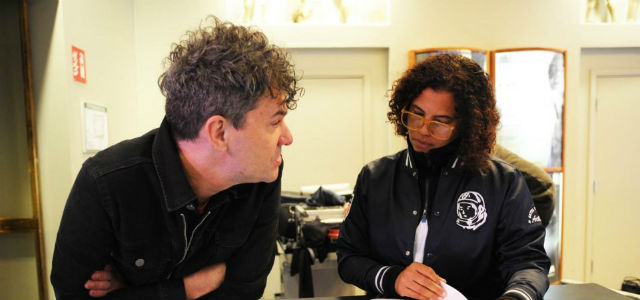 GT:  So for you the imagery feeds the writing, and the writing the imagery—when did Neneh Cherry come in?
MC:  I've been a big fan of hers and I just wrote her a fan letter, basically, saying "I think you're great."  She's Swedish and I needed somebody who spoke Swedish, but someone who  wasn't the traditional Swede—the big blonde person, you know?  I needed a sort of person with an unusual identity within Swedish culture.  She was brought up partly in Stockholm, knows the city well, so I went to meet her and she very kindly invited me to lunch and within about twenty minutes we were both crying, which is a good sign.  And it turns out that she had been through some sad stuff in her own life and so the storyline of recovery meant something to her.  But even more surprisingly for me, when she had been sad, she just walked around Stockholm a lot,  as in the story, and felt that walking around a city, seeing other people going about their everyday lives, in some way took her out of her own sadness and so the theme meant something to her in quite a personal way.
GT:  Did she have any input in the writing at all?
We took a short cut through Charing Cross Station, weaving through the queues of passengers waiting for the 14:09 departure to Gillingham, and made our way onto the Strand via Marks and Spencer.
MC:  Did she have any input in the writing?  A few things.  And in the lyrics of the songs.  She and Cameron McVey, her husband and producing partner in music, modified the lyrics substantially in one case.  In the writing, maybe, yeah—in the recording of the voice, if something didn't sound quite right to her, we would change it.  But the main person that helped me with the writing was the producer, Anita Oxberg.  She's Swedish; she's lived in the city all her life so it was her take on the city that really informed mine.
GT:  It was interesting, having watched it at the festival, to hear it called fiction.  I was surprised because it felt like so like Neneh Cherry, like revealing a Neneh Cherry I didn't know about.  For example, she was talking about the displacement, about her father and the immigrant experience, the worldwide homesickness, as Wim Wenders put it, where even in your own country you don't feel at home, and then it moves into a song.
MC: All made up.
GT: It felt so real. Like unpolished truth.
MC:  She doesn't come from that country, she's not an architect , she can't drive, she doesn't dress like that, and the guy, Gunnar, is totally invented, so it's all fiction…
GT: I thought Neneh Cherry had gone and gotten a degree in architecture. After the 80s and 90s wound to a close.  Like Brad Pitt—you know, as a fall-back option.  She certainly looks like she'd be a good architect…
MC:  It was all totally invented.  Some filmmakers you think of—someone like Baz Luhrman, for example, or Vincent Minnelli—like to make worlds that are purely imagined; I'm very attracted to making worlds that are really close, just touching, our world.  So, Stockholm, My Love is a purely fictional scenario but it's extremely close to the real Stockholm, it's extremely close to the experiences I've had and my co-writers had.  It touches substantially on some of Neneh Cherry's experiences but in real life she's vivacious and in this film she's very toned down.
GT: It's a startling realism…
We cut through Whitcomb Street alongside the National Gallery—which avoids the congestion on Haymarket, and turned left on Panton Street.
MC:  I love Kiarostami's films, and I love the way the Iranians play with sort of meta-documentary—you could say or para-documentary—and so if there's something quite realistic in my film it probably comes from that Iranian way of tweaking what really happened.
GT:  Like in The Apple (1998), for example, where Samira Makhmalbaf used the actual girls from a recent news story to relive their story.  Or Guillaume Nicloux's films The Kidnapping of Michel Houellebecq (2014), where Houellebecq played himself, a writer, getting kidnapped, though the crime never happened, and Valley of Love (2015) where of Isabelle Huppert and Gerard Depardieu play Isabelle Huppert and Gerard Depardieu who've had the same careers as the actors playing them, but, of course, are not a couple and have no children.
MC:  It's good to get close to the contours of the real world, I think, because the real world is fascinating and beautiful and almost sublime in a way, so you want to get close to that.  And it's my sense of what cinema is, or what cinematic is: it isn't like grand boulevards of a city, it's the underpasses and private places and those skate parks and that kind of thing where there's that unexpected vitality and a kind of improvised way of living which is, you know, ennobling.
Chris Doyle, the cinematographer, suddenly appeared.  He was grinning madly, wild-eyed, and bouncing around us. He was also in a skirt.  He got down on his knees to genuflect to Cousins.
MC: The great Chris Doyle!
I was flabbergasted.  I expected, I suppose, that a cinematographer of such esteem and such heralded artistry—I mean, the guy shot all of Wong Kar-Wai's films, working extensively in Hong Kong and China, and has even shot Zhang Yimou's Hero (2002) and Gus Van Sant's Paranoid Park (2007) and, notoriously, the remake of Psycho (1998)—would be, I don't know, more imperious. Or at least more focused.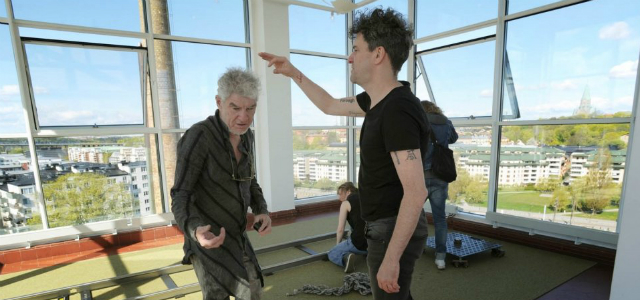 MC: Would you like to ask Chris a question?
GT: I, uh…
MC: Just one question for the Cinematographer…
I would have liked to. But I didn't know where to begin. I was hypnotised by the wild eyes bearing down on me, and the fetching confidence with which he wore his skirt.  Doyle sensed my fraction of a second's hesitation and launched into a song instead.
MC:  We've done two films together, we've done I Am Belfast (2015) and Stockholm, My Love.
Doyle weaved off down the road, telling Cousins he'd see him later at a screening.
GT:  How did that happen?
MC:  I was a big fan of his, of course, for a long time, especially the Wong Kar-Wai films, and Chris had mentioned to a mutual  friend that he was working with that he'd watched The Story of Film and so he contacted me and I think what he said was, "Do you ever have sex?"  That was his opening remark, which was his way of saying, "you see so many films, you have no time to do anything else," which is very Chris Doyle.  So then we started working together.  I was delighted that somebody like him would work with someone like me.  I had already shot about half of my own I Am Belfast by that stage, and I asked him if he would do magic moments, kind of like visual punch lines, as it were.
GT: It's very collaborative.
MC:  Yeah, about a third of the footage is Chris and about two thirds is stuff that I've shot previously.  The way I work is I spend about a year shooting, just walking around the city filming, just seeing what catches my eye—the unexpected moments, getting up before dawn and walking around, those kind of things that documentary style filmmaking is best at, little  unplanned moments.  Then if you then weave a fictional story through that, hopefully you get the best of both worlds: you get the observational acuity of simple filmmaking but you get the visual elan of more complex filmmaking, with tracking shots and stuff like that.
GT:  The shooting, in a sense, is synonymous with the writing.
MC: I like writing to an image; there's never a hard script in advance.  So I knew the storyline, I knew it would be about a woman on her own for a couple of days. I knew there would be tragedy in her past, I knew what the tragedy would be and I knew there would be a degree of recovery.  So that was all in my head, and then you walk the city and gather images, like harvest  images, and you look for things that might visually express her sadness, like a dangling tree, for example, or parts of the city that aren't usually being filmed in.  Then the script develops out of those images, you start to write to them and then you've got a kind of script.  By the time we were actually filming with Neneh Cherry, I would have pretty much a full script and the camera would be on her and I would just be off-camera reading to her, things that she's then going to say and that gets her in the emotion, and that's a nice to and fro between image and word, I hope.
GT:  The script and story came out of images—so your brain, your creative process is visual.
MC:  Yes, I've always been better with visual things.  For me, you know, I think it's hard to sit in a room  with a blank page… I know Billy Wilder worked that way, Hitchcock worked that way—sitting in a room and coming up with a script—but for me, it's better to be kind of observational cinema,  I need to be out walking the place.  I walked every single street in Belfast for I Am Belfast, every single street for my Mexican film.  I walked, I think, twenty miles in one day—it kind of loosens your brain up, you become a better looker, a better observer.
As we passed by Fortnum and Mason we stepped into the streets to avoid the clots of tourists taking selfies.
MC: Neneh Cherry's recovery in the film comes from looking out at the world  and seeing other human beings—like  skateboarders having fun.  When I walk around a city I feel like that kind of looking has taken me out of myself, and she feels this in the film as well.  It's what makes her better in the end, seeing other people having lives, so we start to feel that these images are like her images in a way.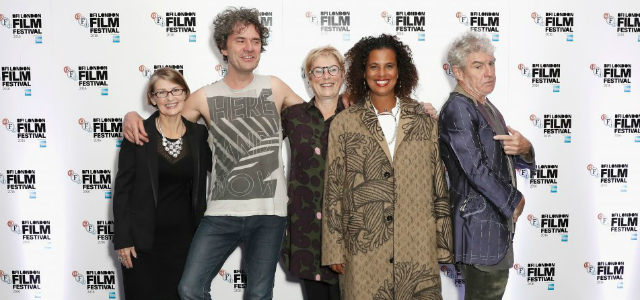 GT:  Like the great road movies, only using your feet.
M:  Like Cleo From 5 to 7 by Agnes Varda. That woman, she's just had a cancer diagnosis and she thinks, "Okay, two hours.  What will I do for two hours?  I'll just walk and try to get this out of my system."  I think the problem with city symphonies, for me, is that there's no figure in the foreground.  I love that figure in the foreground.  I want to put the Looker in the film, so you see who's looking.  I want to see the Looker.  I want the Looker  to have some sort of problem or dilemma with which to look at the world.
GT:  You've spent a lot of time in L.A.  What about walking in L.A?
MC:  I walked from Echo Park to Venice. Started at 8:30 in the morning and went until 5:30 at night.  My feet were almost bleeding.  I had to stop halfway along and when I got to Beverly Hills I had to stop and buy new socks because my feet were so sore.  When I got to the end I  went straight into the sea.
GT:  I walked from downtown, One Wilshire, all the way down to Santa Monica once.  To raise money for a film—my own personal walk-a-thon.  People gave money, I think, as a dare, to see if I'd survive.  Gangs in low riders kept circling me in MacArthur Park, commenting on my shorts, and then a homeless woman threw a sandwich at me.
MC:  Last week in L.A., I was sitting in a bar right opposite the W hotel in Hollywood…
GT:  The Frolic Room!
MC:  And I thought, "Fuck it, I want to go for a walk."  So I walked north from Hollywood Blvd., jumped the fence, and then climbed up to the Hollywood sign naked.  Of course, you don't meet anybody up there; you hear the helicopters are buzzing by, but that's it.  I think L.A. is a great walking town because you feel a bit subversive walking there because not many people do it.
We took a right up Berkeley Street, before the Green Park tube station.
MC:  I'm making a film about Orson Wells at the moment, so I walked from Hollywood Blvd. down to where Ma Maison was, where he had lunch every day, which is way over at 4000 Melrose or something.  And then I walked from there down to the RKO building, and then I walked all way downtown to Fourth Street because that's where that huge refrigerated building was where he shot in the snow scene in The Magnificent Ambersons (1942).  And then I walked back again.  That was a long walk, that was about  six hours round trip.
GT:  You must have been to Speedway in Venice?  I lived right on Speedway.  That was where Welles shot Tijuana in Touch of Evil (1958).
MC:  Absolutely.  It was the very first thing I did when I went to L.A. for the first time, I went down there.
We arrived at The May Fair; suitably, a hotel known as a show business playground, once owned by the Danziger brothers, producers of, among many others, Devil Girl From Mars (1954).