Show Dogs
Family entertainment with little meaty substance.





By Lisa Keddie
29 May 2018
See comments (

0

)
Plot summary
A human detective (Will Arnett) and his canine partner (voice of Chris "Ludacris" Bridges) go undercover at the world's most exclusive dog show to solve a case.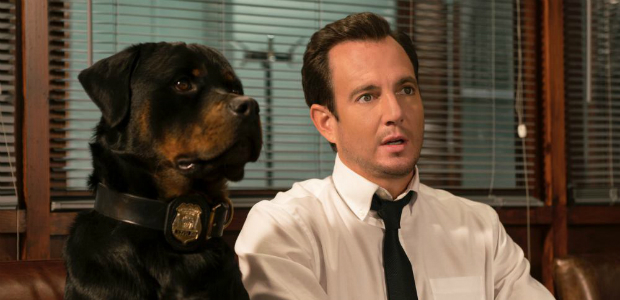 Dog is a man's best friend – or so they say. Show Dogs is the latest canine outing from Beverly Hills Chihuahua and Scooby-Doo director Raja Gosnell that ought to have some pedigree to it by now. Added to which, we just can't get enough of cute animals showing humans up on film.
The plot is predictable: Max is a no-nonsense Rottweiler police dog (voiced by Ludacris) paired with a human cop partner in Frank (Will Arnett) to solve the mystery of a missing panda. This leads them to go undercover at a prestigious dog show in Las Vegas. They (naturally) don't hit it off to begin with but warm to each other in the end. Oh and there are lots of other doggie personalities accompanying them along the way, including a papillon called Philippe (voiced by Stanley Tucci), a camp former show champion with a liking for human pampering and beds.
Dogs and human (Arnett) are ready to entertain in this latter-day Turner and Hooch but, as likeable as the ensemble is, it never rises to more than run-of-the-mill walkies in humour, plot or slapstick. Even adding a touch of canine Miss Congeniality to the equation fails to give it some bite in the action/crime stakes.
Arnett plays the human sidekick well, acting the fool when doggie co-star Max requires him to, while learning lots of valuable life lessons along the way. He also seems to be the only human questioning what the animals want/are thinking – the others, like the chief of police, seem to instinctively know what the dogs are thinking which goes unexplained.
The stars voicing the animals inject some much needed character into them, if it wasn't for the off-putting, out-of-sync jaw moves that such animation suffers from. Only Tucci's Philippe comes out unscathed as a rather twitchy dog, constantly living on frazzled nerves.
The gags are old, but still get kiddies' sporadic laughs. In fact, anything toilet humour-related, although feeling somewhat lazy, always triggers the youngsters' giggles – and this film certainly has that safety net to fall back on. Philippe may be a discarded dog show star, but he's definitely the one the kids remember long after viewing, as the rest of the dog show is geared towards committed lovers of pets and animal talent shows.
Show Dogs does exactly what it says on the tin; feeds fans of such family entertainment but with little meaty substance. As much as you want to feel satisfied in laughs, the effect is as short-lived and superficial as some of the talent contest paraphernalia.