Stan & Ollie
Just the ticket you need for a bit of escapism and warm-hearted fun.





By Helen Chapman
15 January 2019
See comments (

0

)
Plot summary
With their golden era long behind them, Laurel and Hardy embark on a variety hall tour of Britain and Ireland. Despite the pressures of a hectic schedule, the pair's love of performing endures as they secure their place in the hearts of their adoring public.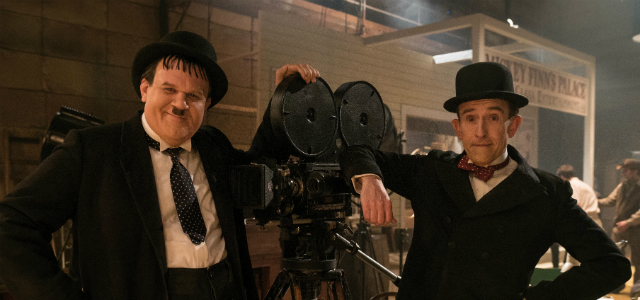 Stan & Ollie is a biopic about Stan Laurel (Steve Coogan) and Oliver Hardy (John C Reilly) – two comedians but more so, it is the story of two friends.
We meet them in the 1950s on tour in the UK with the hope of making a new film. Scenes are threaded with detail showing how far-reaching their reputation was and how loved they were by fans; a receptionist in Newcastle remarks on their fame whilst a posh couple in London smother them with compliments in admiration. But now, twenty years from their heyday, they have younger competition to face.
Stan and Ollie's wives come to meet them in London and we find the comic pair are mirrored by their partners (their promoter accurately says "two double acts for the price of one.") Stan's wife, Ida (Nina Arianda) likes to indulge in conversation about her background in Hollywood as a dancer, and is fiercely defensive of her husband. Lucille (Shirley Henderson) is equally protective of her husband and almost acts as Hardy's conscience, voicing what he wants to say. Ida and Lucille's interactions with each other are fiery yet intimate. They could easily host their own spin-off feature as a comedy duo.
The acting makes the film a success. Reilly's natural comic ability brings pizzazz to the role. His lopsided walk combined with prosthetic make-up embraces the character of Ollie, referred to affectionately as 'Babe' by others. Coogan demonstrates his impersonator abilities, portraying Laurel's quirky head scratches and facial expressions. He bounces skit ideas off of Hardy who responds with warm laughter – their chemistry together, as actors and characters, is genuine.
They emulate the well-known Laurel and Hardy sketches of practical mishaps which will be nostalgic to some. But the tender moments are felt when their stage acts are reflected in their actual lives, as when Laurel visits an unwell Hardy in bed and begins to imitate the hospital routine they perform for audiences. The sentiment here is touching.
It is a peep into the window of a time when Laurel and Hardy lifted audience's spirits during and after the Great Depression.
And if you are suffering from January blues then this is just the ticket you need for a bit of escapism and warm-hearted fun. Stan & Ollie strikes the balance between comedy and drama, laughs and tears – a perfect watch for a gloomy Monday or rainy Sunday.