Twenty Feet From Stardom
A syncopation of determination and frustration, of failure and frustration, bludgeoned dreams and survival, with some aspect of peace.





By Dr. Garth Twa
14 April 2014
See comments (

0

)
Plot summary
The untold stories of the singers behind music's most popular and features Merry Clayton, Lisa Fischer, Judith Hill, Claudia Lennear, Darlene Love, Tata Vega and more plus interviews with legends such as Mick Jagger, Sheryl Crow, Bete Midler, Sting, Bruce Springsteen and Stevie Wonder.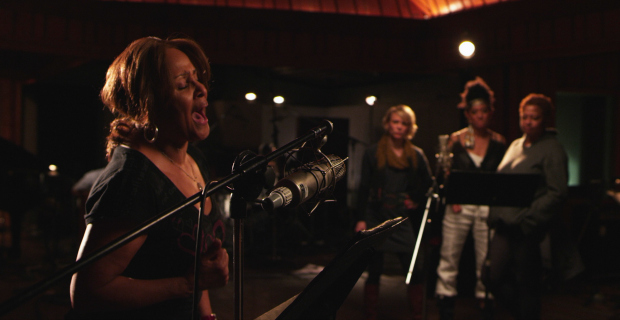 I gnash at what I'm forced to write, it is meme, a denudation of the language, a declaration of fused dendrites in my Broca's Area: a cliché—but there is only one term for it.  20 Feet From Stardom, to echo the movie posters, is a 'feel-good' film, in the most honest way possible; it is earned.
Backup singers are the dark matter of the music universe, that all but invisible force that holds things together and gives them shape.  Or, perhaps, the primer on a canvas, making the painting possible.  Or, perhaps, the flying buttresses that make the vaulting of the centre attainable.  From 'Monster Mash' to 'Young Americans' to 'Gimme Shelter,' from Raelettes (who are as much a part of Ray Charles songs as he is) to the Ikettes to the Harlettes (without whom Bette Midler would have had no shows).
The lot of the backup singer is a discrete one; unlike the usual scrabble for recognition of traditional underdogs—the mythical Star-Is-Born parthenogenesis of a star—backup singers are already there.  They're on stage in arenas and stadia, they're in front of tens of thousands of adoring fans.  It's just they aren't their fans.  It's harder in many ways than those working from outside in because they've had a taste: it's 'the biggest jones of all—you get into music, you're fucked.'  By the time they get the chance, if they get the chance, to get the centre mic, they tend to be older too (Darlene Love was forty by time she made a solo album; paleolithic in the music business).  Judith Hill, who sang with Michael Jackson, and would share a stage with him on the "This Is It" tour, says, 'When you're a background singer, it is a springboard, but it will easily become quicksand.'
The film is structured very much like its subject—it's a four-part harmony of stories, a syncopation of determination and frustration, of failure and frustration, bludgeoned dreams and survival, and finding some aspect of peace, and none takes centre stage.
Merry Clayton remains a Category 5 diva, a 'lead backup' whose support for Ringo Starr, Carole King, Neil Young, Joe Cocker, and on the soundtrack to Nicholas Roeg's Performance seems decidedly less supportive than co-starring.  Her dream—as the limitations for dreams for a young black girl singer were defined back in the 1960s—was to be one of Ray Charles's Raelettes.  It's telling to see the footage—four singers, two microphones (not to mention the etymology of the term—baby-Rays, supplementary reflections).  She went on to record with everyone from Bobby Darin to Tori Amos, and even, in defiance and after not a little soul searching, to sing backup on Lynyrd Skynyrd's 'Sweet Home Alabama,' that redneck paean to an unintegrated south.  In the most riveting moment in the film, she returns to an empty and cavernous studio where she recorded 'Gimme Shelter' over four decades before.  She tells of how she was called by Mick Jagger in the middle of the night to do some backup work, and arrived, heavily pregnant, in pajamas, a mink coat, and curlers.  As she sits in the studio, regal, we watch her face as the recording is played back.  She describes how Mick asked for another take, this time giving it all she got.  She diva-ed up; if he wanted it, he was going to get it.  The song is played again, only stripped back to just her vocals.  The small hairs stand up and our breathing becomes shallow.  The soaring power, the passion, the confidence—we realize what gave 'Gimme Shelter' its enduring force; there is more talent in that two minutes of film than in many a career.  But Clayton always felt that singing backup was just a rehearsal for her own stardom, that if she 'just gave my heart to what I was doing' surely that would be enough to make her a star.  It wasn't; it didn't.
Claudia Lennear, the 'really hot one' of the Ikettes (cf. Mick Jagger), was a veritable muse of the '60s and '70s music scene.  She sang with Tina Turner, Joe Cocker, Leon Russell, and with George Harrison at the Concert for Bangladesh, and was the inspiration for the Rolling Stones's 'Brown Sugar' and David Bowie's 'Lady Grinning Soul.'  There seemed no one more likely to bridge the gap between backup singer and star.  She got a recording contract, but the album quickly sank into oblivion.  As Sting says in the film, 'It's not a level playing field.  It's not about fairness, not really about talent.  It's circumstance, it's luck, it's destiny.'  Lennear left the business and started teaching Spanish in high schools.  'It's been a regret that I didn't just hang in there,' she says.  But from her calm, if resigned, demeanor, it seems like it isn't a regret that gives her sleepless nights.
Darlene Love, perhaps the quintessential underdog, started her career singing for Phil Spector (largely defining his sound, really, since she sang most of it) and formed the first black girl group in an era when televised backup singers were all Wonderbra Wonderbread.  'We called them "readers,"' Love says; proper white ladies singing notes off a page, not from the heart, or from the groin.  Love brought sex, musicality, and passion.  For Spector, she sang songs that she was assured would be her breakout only to hear them on the radio credited to other groups, groups who may never even had heard the song.  It is her voice on 'He's a Rebel,' 'Christmas (Baby Please Come Home),' 'Baby I Need Your Loving,' and 'The Tracks of My Tears'; her voice behind Elvis Presley, James Brown, Buck Owens, the Beach Boys, and even Cheech and Chong.  She had her breakout in the mid-1970s, escaping Spector and signing a contract with a rival studio as a solo artist, only to be cruelly—and like chattel—sold back to Spector without her knowledge and consent.  She left the business and started cleaning rich peoples' toilets.  Finally, in her mid-70s, she was inducted into the Rock and Roll Hall of Fame.
Perhaps the singer with the most unalloyed joy in her voice but the most pathos in her story is Lisa Fischer.  Scenes of her on the street—standing in line at the post office, she is indistinguishable, an unassuming, timid, ordinary face in the crowd—are juxtaposed with footage of her singing an a cappella scat, a gentle orchestra of vocal possibilities, all from the same woman (or, later, in a split screen, singing all four parts of a chorale).   'Lisa is a monster talent but doesn't talk about it,' says Jo Lawry, Sting's backup vocalist, 'a freak of nature'; she didn't have the ego strength or the competitiveness and desponded at the game stars are required to play—'Something about that feels slimy to me.'  She is in love only with the music; quietly, with humility, with zen acceptance.  It's a supertalent channeled into a meek vessel, and when the music takes over, she becomes elemental, a prime entity.  In footage of her singing 'Gimme Shelter' with the Stones (she's toured with them since 1989), she not only holds her own with Mick Jagger, she pummels him; in a battle of sex and predation, she wins, and he's left a husk.  When she steps back to her mic upstage to join the other back up singers, it's devastating.  Alone, in her small cluttered apartment, she's nearly non-existent, listlessly finding her Grammy Award tucked under a spill of files and broken cardboard boxes.  There is something heartbreaking in her self-erasure; she's never 'hooked into one man' because 'I belong to everybody.'  She herself doesn't even seem convinced by that explanation.  But, what is abundantly clear, is that purity of the music is the only thing that counts: it's the singing not the singer.
That, in essence, encapsulates what is this rare and indispensible breed of talent, the backup singer.  The commonest denominator is that pretty much all of them grew up children of ministers.  Dr. Mable John, in fact, actually became one herself—from the Raelettes to the pulpit of the BJ Marina Christian Center.  It's not coincidence, it's instructive.   They all learned that singing was a communal effort, about harmony not solos, about something other than oneself; it was transformative and had nothing to do with the worldly.   It is a form of communal celebration, and your voice was to be used in service to a higher being; God, maybe, or Ray Charles, Joe Cocker, or David Bowie.
And 20 Feet From Stardom is a celebration.  It's not an interrogation of race or gender—that's not this movie—it's solely about the voice.  It's not even an indictment of the music industry; Phil Spector doesn't come off so well, but when does he?  He's seen as an individual sleazoid, not a metonymy of the industry as a whole.  That, too, is a different movie (and perhaps more accurate).  But never mind all that; focus on the joy.  And feel good.