Tickled
The kind of documentary that makes you want to scour the internet for more. And rest assured there's plenty.





By Dan Higgins
17 August 2016
See comments (

0

)
Plot summary
After stumbling upon a bizarre competitive endurance tickling video online, wherein young men are paid to be tied up and tickled, reporter David Farrier reaches out to request a story from the company. But the reply he receives is shocking the sender mocks Farrier's sexual orientation and threatens extreme legal action should he dig any deeper.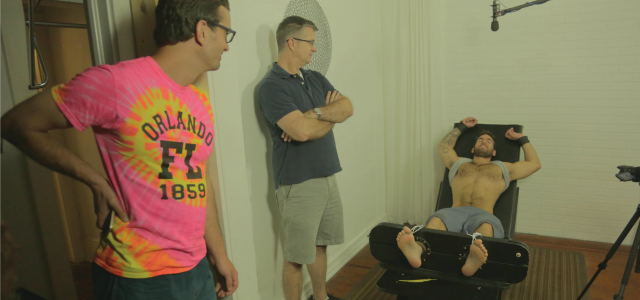 David Farrier usually does "soft news". The sort of news that provides light relief to the usual doom and gloom that dominates the headlines. He interviews lizard eaters, donkey ladies, warlords and Justin Bieber. He's essentially a NZ-based Louis Theroux during the Weird Weekends period. Then browsing one day, he comes across a video by competitive tickling organisation Jane O'Brien Media with thousands of likes. He thinks this would make an interesting story and sends them an email. What he receives back is an expletive-laden cease and desist in the form of a homophobic rant. He is surprised and shocked and continues to look into this unique sport/fetish. The response to his interest becomes increasingly threatening and he decides there is more to this story than he initially thought.
The sport of competitive tickling (if you can call it that) takes the form of young male athletes being flown out to LA from around the world, put up in a fancy hotel, dressed in Adidas gear and then going to a studio and tickling each other. In other cities, there are "tickling cells" which include local MMA fighters meeting in hotel rooms to tickle-fight each other and the whole enterprise is seemingly connected to a generous flow of funding.
Farrier and his co-director and producer Dylan Reeve realise they have stumbled across the perfect topic for a documentary; something not many people know about that seems to have more mystery than truth to it. Tickled had Sundance buzzing in January (with HBO and Magnolia Pictures swiftly jumping on board and Stephen Fry lending his full support) and the release has grabbed more attention since  due to the documentary subjects turning up at screenings and Q&As.
There's so much to say about Tickled that I just can't talk about in fear of ruining it. Needless to say this documentary goes way beyond the world of competitive tickling. David Farrier and Dylan Reeve have created a brave and compelling film and, sure, you learn about this odd endurance fetish, but you also learn perhaps greater insights about journalism, legal action, fraud, money and shaming. The investigation brings that edge-of-your-seat tension and, sometimes fear, that comes with covert filming and door-stopping and there's even a bit of a car chase.
The best documentaries are the ones that live long after you have watched them. Tickled is the kind that makes you want to scour the internet for more. And rest assured there's plenty.