The Wrestler
No, it's not Rocky and it shouldn't be. This is not about an underdog, it's about a man who lives for what he loves.





By Dan Higgins
15 June 2009
See comments (

0

)
Plot summary
A faded professional wrestler must retire, but finds his quest for a new life outside the ring a dispiriting struggle.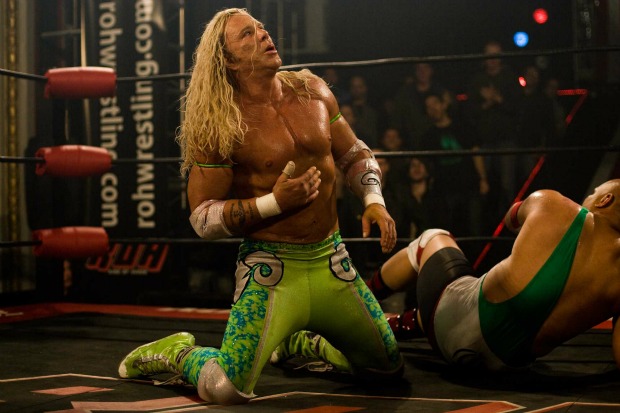 I was always more of a wrestling fan than a boxing fan. I knew it was choreographed but that didn't deter me, in fact, it was one of the main reasons I liked it; it was like a soap opera but where every storyline ended with a fight. Whereas boxing fans had Raging Bull, Cinderella Man, Ali, Million Dollar Baby and countless others to fawn upon, wrestling fans, like me, had been limited to the dreadful David Arquette film Ready to Rumble and Jack Black's Nacho Libre – both using the wrestling industry as comedy fodder, leaving disappointed and unfulfilled grappling fans to explore gritty real-life documentaries. When Aronofsky announced The Wrestler, I was understandably dubious, but as Mickey Rourke replaced Nicolas Cage, I started to believe…could this be it? Is this my Rocky?
Rourke plays "Randy the Ram", a wrestling superstar from the 1980s, now working part-time at a delicatessen. On weekends, he travels the independent wrestling circuit, headlining events at school halls and dilapidated ballrooms. He struggles for money, often sleeping in his van, and spends what he makes on body-enhancers and Cassidy, his favourite stripper, whose real name is Pam (Marisa Tomei). After a particularly brutal match, Randy is hospitalized and is told to quit the drugs and stop wrestling. He attempts to repair a damaged relationship with his daughter (Evan Rachel Wood) and forms a connection with Pam but struggles with this life and when a promoter offers him a re-match of one of his greatest, most popular fights that could resurrect his career, it is too good an opportunity to turn down.
Rourke's performance is that rarest of things. Sometimes a role is so good that the player becomes the character. This was Mickey Rourke: every inch of Randy the Ram. The parallels with Rourke's personal life obviously contribute to this belief. He once abruptly quit acting for a four-year boxing career (even his entrance theme was Sweet Child O' Mine, as it is in the film) until he was told he was too old to make a serious impact. This performance is as much Rourke's renaissance as it is the Ram's.
Randy is, to his own admission, a "broken down piece of meat" but he is not the only one. At a poorly-attended 'legends' autograph signing, the consequences of a wrestling career are on show: a walking stick, a hearing aid, a wheelchair. He is proud of his past but, looking at the older veterans around the room, is also seeing what lies ahead.
His interaction with Tomei is riveting as, underneath the surface, their jobs aren't all that different. Both get paid to perform, both to please people. A memorable scene when he takes her for 'one beer' epitomizes their relationship. She opens up to him, telling him about her son, but soon remembers her policy of not seeing customers out of work and leaves.
Randy consistently struggles to adapt to the modern world. His attempts to impress a teenager by playing an archaic Nintendo wrestling game featuring himself falls on deaf ears when the kid describes the latest Call of Duty game.
Authenticity is key to the success of the film and the close-up, handheld cinematography combines with the live-crowd atmosphere of filming at real events on the independent circuit but this is a character-driven film.
No, it's not Rocky and it shouldn't be. This is not about an underdog, it's about a man who lives for what he loves. There is a line from the Bruce Springsteen song of the same name, written for Rourke, that says "I'll make you smile, when the blood hits the floor". If The Wrestler can be summed up with one line, there would certainly be none better than that.