The Nice Guys
A throwback to remember.





By Helen Chapman
13 June 2016
See comments (

0

)
Plot summary
In 1970s Los Angeles, down-on-his-luck private eye Holland March and hired enforcer Jackson Healy must work together to solve the case of a missing girl and the seemingly unrelated death of a porn star. During their investigation, they uncover a shocking conspiracy that reaches up to the highest circles of power.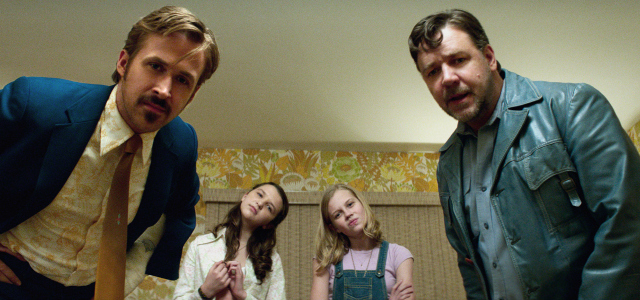 Set in 1970s Los Angeles, The Nice Guys is a throwback to remember. Ryan Gosling and Russell Crowe both star as a mismatch twosome who become a team in a quest to find a missing young woman named Amelia (Margaret Qualley), whilst investigating the related death of a porn star. There is something deeply satisfying about laughing along with fellow cinema-goers to a flick as fun as this. This is an action film where gags and laughs are effortless.  With an added substance to the silliness, The Nice Guys ticks all the boxes.
Director Shane Black knows how to hold an audience's attention. This film is fast and furious, complete with "disco, sex and scandal." Bouncing from comedy to heavy handed violence, Black steers the plot through outlandish scenes in a way that nicely twists the tropes of your average detective mystery film. Although some events are predictable and some scenes are convoluted, overall The Nice Guys makes for a witty watch from start to finish.
Russell Crowe poses as Jackson Healy who is paid to beat up people. A man who is bitter about a past divorce – "marriage is buying a house for someone you hate," he meets Holland March who is played by Ryan Gosling: a clumsy private investigator that makes his money by having dementia patients as clients, forgetting how their loved ones are lost. Gosling's portrayal of Holland March steals the show by far. He has been slowly seeping into more comedic affairs on our screens of recent and it is a welcomed role for him to take.
Another shining star is Holland's wise thirteen year old daughter, Holly March (Angourie Rice), who proves to boast bigger brains than he. As a potential hero of the story, Holly acts as the moral compass guiding our two protagonists through their investigations.  Angourie Rice's character and her pivotal effect on the film help to free Black from the potentially problematic paternalistic storyline: a plot where two men pursue a missing young woman. Holly March is precocious and brave, injecting some fierceness into the film and represents a refreshing female voice. Healy and Holland also display an inept masculinity which reverses the old-school detective theme. The disparity of ages in The Nice Guys is also interesting, adding humour and zest to the interactions between the characters.
For pure innocent entertainment, put your pennies together for this. The Nice Guys is a refreshing taste of comedy and action to start your summer of cinema.