The Look Of Love
A stunning evocation—over three decades—of London's most entertaining neighbourhood.





By Dr. Garth Twa
11 December 2013
See comments (

0

)
Plot summary
The true story of Paul Raymond, the controversial entrepreneur and property baron who established the Raymond Revue Bar and went on to become Britain's richest man.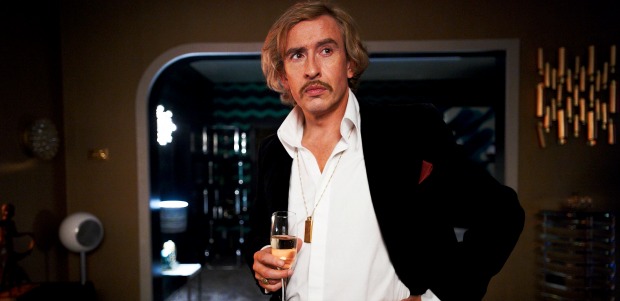 A Citizen Kane of nipples and g-strings, The Look Of Love is the biopic of Paul Raymond (Steve Coogan): the tribulations and upward spiral of a man,  humbly sired, who scrambles his way to success by flaunting rules.  He builds an empire, becomes isolated in his wealth and misunderstood, and ruins his family through his obsession with wealth and his addiction to women (the wrong woman in Kane, a pretty good woman here).  Like Kane, Raymond is hungry, clever, and opportunistic.  Kane went into newspapers. Raymond went into sex.
Paul Raymond has been rightfully beatified as the King of Soho (formerly 'King of the Key Hole Shows' before he ascended).  Starting as an end-of-the-pier huckster with a mind-reading act and becoming 'The Richest Man in Britain' (Sunday Times, 1992), he presciently recognized the drive for sex as natural—and drive for money just as natural—and unquenchable.  Perhaps his mind-reading act wasn't an act.  His particular insight was that it was commodity not yet properly commodified.   He became a maestro of the id, opening up Raymond Revuebar in 1958 and later branching out into reputable (or at least overtly sold) nudey magazines and legitimate West End theatre (high ticket seaside postcards, really).  He took titillation out of the realm of French pox and pimps, made sex hip, and made it respectable.  Well, respectable-ish, like the difference between bathtub gin and champagne; puritans still won't like either, but trendy movie stars and rich people will gladly indulge in the latter.
This is one of those fun Winterbottoms (at least at first), not the kitchen-sink realism of his terrific Everyday, or the luxuriant and staid fabric of the terrific Genova, but the madcap of the terrific 24 Hour Party People and the terrific Cock and Bull Story.  Flashy, strobey, with zingy wipes and titles, 50s and 60s chic moderne and pop.  It does get more sober in the latter half, but mercifully not because of the wages of sin, but because of the nature of life in general.  From the heights (whether you're a banker, a chef, or a pornographer), the fall is harder.  Raymond becomes more notorious, and his womanizing less of a lark as the damage can't be ignored, and he is crushed by the tragic corruption of his beloved daughter and heir, Debbie (Imogen Poots), from drugs.  Thankfully, there is no judgment or moralizing (why would there be, from the man who brought us the real-sex 9 Songs?) and the woes are not caused by Raymond's line of business.  Did she have access to the people and product that would make her an addict?  Of course.  But so did every other teenager in 1960s London.
Featuring a cast of the Who's Who of the Who's Still Alive in the BAFTA comedy roster, including Matt Lucas (as Divine!), David Walliams (as a preacher who's chosen diocese is the ladies dressing room), Anna Friel (his wife), Tamsin Egerton (his lover), Stephan Fry, Simon Bird, Shirley Henderson, Chris Addison, Dara O'Briain, Tabitha Taboo, and Kitty Bang Bang (perhaps the last two aren't on the BAFTA roster), it's a stunning evocation—over three decades—of London's most entertaining neighbourhood.