The Killer Inside Me
An effective and haunting noir-ish experiment for which Winterbottom should largely be applauded.





By David Hudson
2 June 2010
See comments (

0

)
Plot summary
A West Texas deputy sheriff is slowly unmasked as a psychotic killer.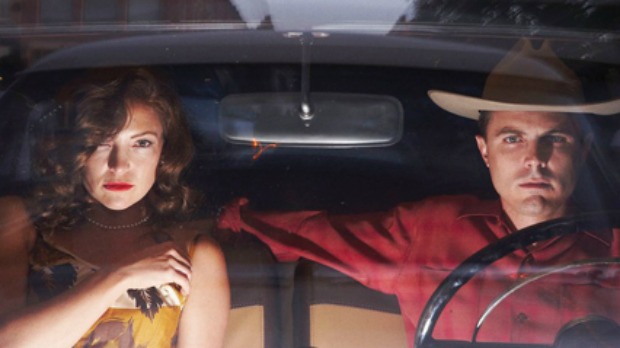 Michael Winterbottom is acclaimed as one of Britain's more interesting and accomplished directors, with his work often exploring true tales of conflict and politically-charged drama (Welcome To Sarajevo, The Road To Guantanamo). However, he has also dabbled in other genres, perhaps for some light relief – and certainly to great success with 24-Hour Party People (his biopic of Manchester's Factory Records) and less so with the 2005 comedy A Cock and Bull Story. This increasing eclecticism has frustrated those critics and fans who have strived to find a common theme running throughout Winterbottom's work. Some of them have had a particular problem with this latest offering, because it signals yet another radical change in direction and because of the film's content.
Based upon a novel by pulp-fiction master Jim Thompson, The Killer Inside Me is centred on seemingly mild-mannered and unassuming small town sheriff's deputy Lou Ford (Casey Affleck). Lou is dating Amy (Kate Hudson), but becomes entangled in a relationship with local prostitute Joyce (Jessica Alba). Both women realise that Lou has a fondness for rough sex, but neither realise quite how deep his sado-masochistic tendencies run. He is, in short, a deeply damaged psychopath. Joyce is also engaged in a relationship with the son of a respected, local property developer. With Lou, she hatches a plan to be handsomely paid off by said developer in exchange for leaving town. However, Lou has his own ideas, and a simple extortion turns into bloody murder. Lou thinks that he may have got away with it, but Amy and detectives within the police force are growing suspicious of his behaviour and proximity to the crime scene. Under pressure, Lou feels forced into further drastic action, arrogantly assuming that the blame will never land at his feet.
There's no reason why any filmmaker must restrict themselves to any particular genre, and Winterbottom's first stab at 50s-inspired film noir is both bold and lovingly crafted. It must be remembered that it has been adapted from a pulp fiction novel – and The Killer Inside Me never really rises above the source material that it chooses to honour. To the chagrin of some, the plot twists and turns, and audiences will need to concentrate carefully to keep abreast of the action. This is no bad thing.
More seriously though, the biggest issue is that of violence. The Killer Inside Me does feature several brutal scenes. Unsurprisingly, the fact that women in the film are shown to enjoy a bit of rough play has outraged some audiences – as have the thuggish and unpleasant murders. In truth, Winterbottom does go a little too far. We understand that Lou is a psycho. Leaving a little bit more to the imagination would have perhaps made for an even scarier offering. As it is, for some, the graphic violence may detract from what is actually an imaginative and arresting crime thriller. Affleck brings a believable chill to the role of Lou, while Kate Hudson excels in the more complicated role of Amy, a seemingly good girl who's need for love leaves her open to abuse. The overblown ending is spoilt by some cheap special effects, but that aside, The Killer Inside Me is an effective and haunting noir-ish experiment for which Winterbottom should largely – but not fully – be applauded.