The Double
A claustrophobic dark comic yarn provides a strong second outing for Ayoade





By Adam Farrell
5 April 2014
See comments (

0

)
Plot summary
Simon, the office nobody, lives a silent tortured existence until his world is blown apart when the new guy at work shares more than just his penchant for beige clothing but also, more unsettlingly, his face.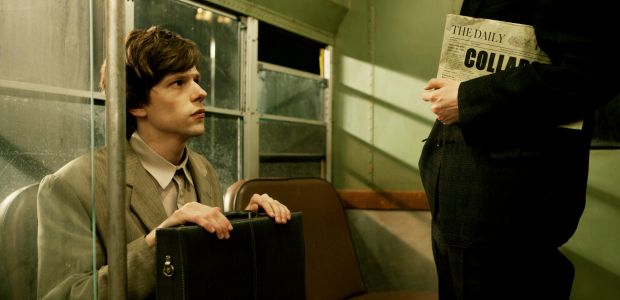 Fans of British TV comedy will already be familiar with Richard Ayoade, having starred in The IT Crowd, Garth Marenghi's Darkplace and, more recently, Ben Stiller/Vince Vaughn comedy The Watch. With The Double he continues his departure from TV land and builds on his success as a director following on from his superb 2011 debut Submarine.
The story follows Simon (Jesse Eisenberg), a clerical worker who lives a life unnoticed until the new guy at work James (also Jesse Eisenberg) challenges him to pursue what he wants out of life – in this case, love interest Hannah (played by Mia Wasikowska).
While this is all sounds typically A to B, the Dostoyevsky novella source material has inspired the creation of a claustrophic, drab dystopia. Ayoade's love of quasi-retro technology continues and he decks out his world accordingly. Scenes are either dark or overlit and most characters are as weird as they are suspicious; this gives the film the pleasingly unusual feeling that it was shot in the bottom of an oil tanker.
The strong script provides lots of moments for Eisenberg to squirm anxiously. He does well to flip between his two characters, creating a clear sense of who you are watching at any one point and Wasikowska pitches her part well. Most scenes are, however, stolen by a host of comedy cameos with appearances by The IT Crowd alumni Chris Morris and Chris O'Dowd among others. Fans of Submarine will also be happy that he found parts for pretty much most of its central cast.
Audiences might tire of staring at Jesse Eisenberg's nervous twitching face, since two images of them often appear on screen at the same time. The human drama isn't always compelling but, all in all, this is a dark comedy that looks good, sits uncomfortably and is somewhat satisfying. An accomplished second outing for Ayoade and I for one, want more.