Star Wars: The Last Jedi
A game-changing addition setting up fresh opportunities for this enduring franchise.





By Rafiq Richard
18 December 2017
See comments (

0

)
Plot summary
Under the tutelage of Luke Skywalker, Rey embarks on an adventure into her past, power, and purpose. While Leia, Finn, and Poe continue their mission to finally put an end to The First Order.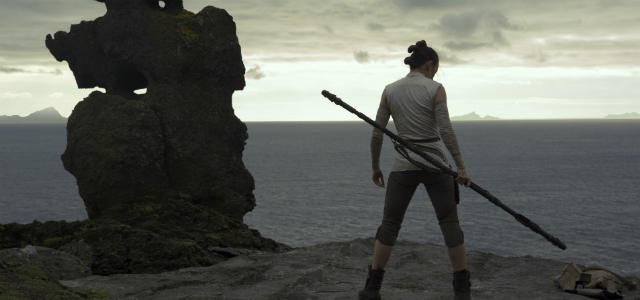 In 2015, the Star Wars franchise got a much-needed stomach pump in the form of The Force Awakens, after George Lucas's prequels became the cinematic version of a drunken best mate who won't go home! Go home prequels! Go home! JJ Abrams successfully took A New Hope's blueprint and bequeathed us with a Star Wars for a whole new generation.
The Last Jedi is a robust and thrilling story about the weight of legacy, the durability of hope and the loss of faith. It's the franchise's most innovative chapter since The Empire Strikes Back. It seems director Rian Johnson's raison d'etre is to destroy and rebuild this forty-something space opera. "Let the past die." as Kylo Ren puts after a post-lightsaber melee. The Last Jedi is a breath of fresh air.
The story picks up where The Force Awakens ended. The First Order has the resistance on the ropes and Rey has found Luke Skywalker atop a mountain. Post-opening crawl, The Last Jedi hits the ground running with a thrilling reintroduction to Oscar Isaac's daredevil resistance pilot Poe Dameron and Domhnall Gleeson's uptight villain General Hux. Their initial exchange sets up The Last Jedi as one of the funniest Star Wars movies to date, leaving  Rey, Luke and Kylo's stories to prop up the film's darker undertones.
Mark Hamill brings a wild-eyed intensity to his soured Luke but the hamminess feels strong with this one and the scenes with him and Daisy Ridley's Rey feel surprisingly pedestrian. The addition of  Stars War's most impressive new creatures to date – porgs (flying squawking gerbil things) and an odd coven of space fish nuns give Luke and Rey's scenes a bit more jazz. Maybe also because Luke and Rey's story runs parallel to her and Kylo Ren's simmering bond that it can't compete. Adam Driver finally graduates Kylo Ren from a stroppy emo boy Vader to a legit Star Wars baddie with bonus complexities and great hair.
As well as porgs and the odd space fish-nuns, The Last Jedi has some new faces. Notably, Laura Dern's dubious Vice Admiral Holdo and Kelly Marie Tran as plucky rebel pilot Rose. Tran's addition adds to Star Wars inclusivity drive that was so well established in The Force Awakens. A perfect opportunity for everyone to see themselves as a hero in Star Wars mythology. So It's unfortunate that her and John Boyea's Finn are saddled with the weakest storyline, involving giant racing alpaca creatures, space casinos, and a stuttering Benecio Del Toro. It's a story arc that feels strangely out of sync with everything else that is going on. It's what makes The Last Jedi feel twenty minutes too long.
The Last Jedi  is a thrilling, game-changing addition to the Star Wars saga that sets up fresh opportunities for this enduring franchise.