Sex & Drugs & Rock & Roll
This film highlights an underrated and somewhat forgotten character from British rock history but, as in life, Dury – the character and film – proves difficult to love.





By David Hudson
3 May 2010
See comments (

0

)
Plot summary
A biography of Ian Dury who was stricken with polio at a young age and defied expectations by becoming one of the founder of the punk-rock scene in Britain in the 1970s.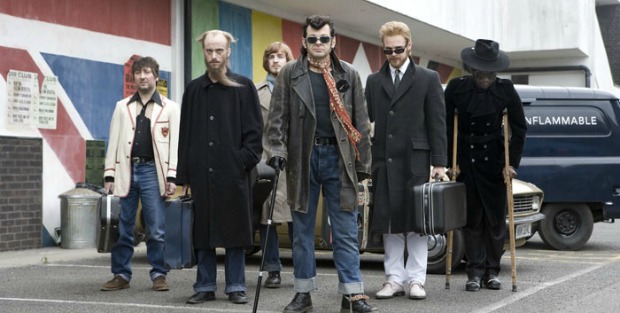 Andy Serkis takes the lead role in this biopic of British rocker Ian Dury, who scored a clutch of chart hits in the late 70s, such as 'Hit Me With Your Rhythm Stick' and the titular 'Sex&Drugs&Rock&Roll'.
The acerbic singer and songsmith was always something of a square peg – crippled by polio as a young boy and raised in a world in which he was dismissed as a 'spastic'. This harsh upbringing instilled in him the fact that if he wanted something then he would have to work extra hard for it himself. Consequently, a steely determination and ruthlessness took him to the top of the charts. Dury emerged from London's pub rock scene, first fronting the Kilburn and the High Roads in the early 70s, before morphing – indicatively – in to Ian Dury and The Blockheads from the mid-70s onwards. However, success and drugs fanned an already self-centred ego, extracting a heavy price on his own life and those close to him (particularly son Baxter, girlfriend Denise, first wife Betty, and The Blockheads).
Dury's story is unique enough to warrant a biopic, although director Mat Whitecross's breathless treatment attempts to squeeze a lot in to the 113-minute running time – and even then, it only covers a short period of Dury's life. Anyone unfamiliar with the singer may well find their appetite whetted by Sex&Drugs&Rock&Roll, but it leaves many unanswered questions. We're shown flashbacks of Dury's childhood in an institution for the disabled, where his father (Ray Winstone) was an all-too-infrequent visitor, but where was his mother? Was she even alive?
As something of a womanizer, Dury must also have been hugely charismatic, but as played here by Serkis, he just comes over as something of a selfish prick. Only a convincing performance by Naomie Harris, as girlfriend Denise, manages to persuade us to any of his possible charms. Finally, a lack of budget means that some self-consciously imaginative devices have been utilized to bring the story to the screen – such as a single location concert shoot being used throughout the film to help drive the narrative along.
If these sound like niggles, be assured that they are the quibbles of a Dury fan – someone disappointed that Dury should come across as quite so flawed. Then again, it's easy to view someone through the politically-correct glasses of the 21st century and find them wanting. Most men in the late 60s would think nothing about leaving the upbringing of their children solely in the hands of their wife, although few – as shown here – would have perhaps been rehearsing with their band in the living room while the missus popped a baby out in the bedroom upstairs ("Can you keep the noise down – I've just had a baby!").
Despite this, for many, Sex&Drugs&Rock&Roll highlights an underrated and somewhat forgotten character from British rock history. All those involved with the film obviously have a great passion for its subject matter, but as in life, Dury – the character and film – proves difficult to love.