Scream 4
Aside from the odd garage door and gun, this is a knife-wielding operation only – there is no room for torture porn here.





By Natalie Peck
15 April 2011
See comments (

0

)
Plot summary
Ten years have passed, and Sidney Prescott, who has put herself back together thanks in part to her writing, is visited by the Ghostface Killer.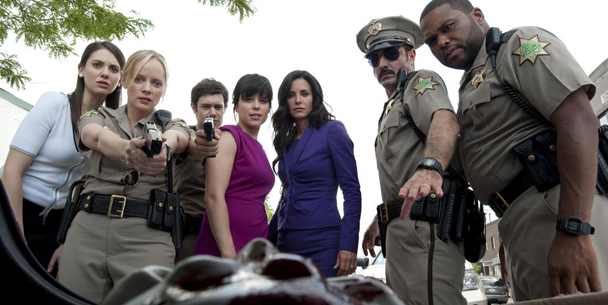 "One generation's tragedy is the next one's joke" laments Dewey Riley at the beginning of Scream 4 (or Scre4m if you prefer). But the Scream franchise has never taken itself too seriously. Big names are expendable, humour often has a superior role to horror, and pop culture reigns supreme – this calls to mind high school kids from the first film gleefully deserting a party to play with Henry Winkler's strung-up corpse. In the Scream universe, nothing is precious; you can even mess with the Fonz.
Sidney Prescott (Neve Campbell) is back in Woodsboro to promote her new self-help book, inspired by her encounters with the enduring Ghostface. Hapless Dewey Riley (David Arquette) has risen through the ranks to town sheriff, but is still a boy playing at being a man. Gale Weathers (Courtney Cox Arquette) is now washed-up and bored, and still planting cameras to spy on the local teens and catch a murder in action.
The new kids in town include Sidney's doppelganger cousin Jill (Emma Roberts), regulation sexy-but-edgy best friend Kirby (Hayden Panettiere) and movie buff Charlie (Rory Culkin). Alison Brie is wonderful as Sidney's conniving and wholly unsympathetic press agent, who knows how to push book sales but hasn't figured out that danger lurks in secluded underground car parks. Marley Shelton appears as Dewey's deputy, earnest to the point of fault and attempting to win her boss around with baked goods ("You're lemon squares taste like ass," snaps a jealous Gale).
Scream 4 is so self-aware, it makes Mad Men look like a Zack Snyder production. Social networking sites, the sudden popularity of glee clubs and the awfulness of the Saw franchise all get the full meta treatment. As per, the previous films are constantly referenced. Sidney tells Jill, "You remind me of me" as a Billy Loomis-alike shimmies out of the bedroom window. Victims strip off and run up the stairs when they should know better, policemen joke about the dangers of "I'll be right back…" and the fictional 'Stab' brand is still going strong. The teenage subjects know the rules of the game, and those that meet a sticky end do so through nonchalance rather than naivety.
The defining film-within-a-film feel is applied liberally with a set of cameos that are just on the right side of self-indulgent. US TV fans will recognise Lucy Hale, Shenae Grimes, Brittany Robertson, Kristen Bell and Anna Paquin in memorable bit parts, stringing together several winks to the audience without falling into Scary Movie territory. Where Halloween played in the background of the original Scream, now the characters watch Shaun of the Dead. The whole premise of Scream 4 is homage itself.
The appeal of Ghostface has never been about grandstanding but back-to-basics slasher horror. The original Scream managed to resurrect a genre that had fallen by the wayside, introducing a new generation to the simplistic slicing-and-dicing of screen killers like Michael Myers and Norman Bates. Aside from the odd garage door and gun, this is a knife-wielding operation only – there is no room for torture porn here.
Fans of the franchise will delight in the references and plot cycle, and the fact that in its fourth incarnation, the film trumps the previous sequels without disregarding them. This shouldn't put off those who aren't as familiar with the Scream universe – there are plenty of playful scares and twists, and of course, an abundance of corn syrup.