Rush
Formula One has provided so many incredible adversarial sagas, personal journeys and desperate tragedies that you don't need to invent a plot.





By Alex Trembath
23 January 2014
See comments (

0

)
Plot summary
Rush tells the story of the infamous head-to-head rivalry between James Hunt and Niki Lauda in the golden age of Formula 1 racing.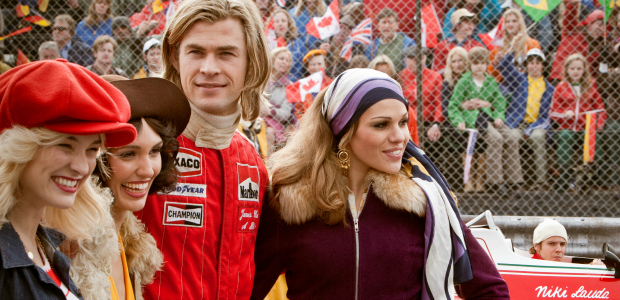 When I watched Asif Kapadia's superb 2010 documentary flick Senna, I was left wondering why there are so few high-profile Formula One movies.
It seemed to me that a gaping cinematic hole was begging to be filled. So when I first saw a trailer for Ron Howard's Rush I felt both vindicated and excited – if someone could bring this relatively untapped genre to a wider audience than petrol-heads and boy racers, he was the ideal candidate to do it.
Over the decades, Formula One has provided so many incredible adversarial sagas, personal journeys and desperate tragedies that any filmsmith wishing to take the sport to the big screen doesn't need to invent a plot.
The 1970s rivalry between steadfast Austrian Niki Lauda and British rockstar-of-the-track James Hunt is such a remarkable story that it's hard to believe Howard didn't add a bit of artistic gloss to the detail. Anyone who watches this film without knowing the back-story will probably go away and read up on it just to confirm that it actually happened as depicted (which it did, in case you were wondering).
But even the most perfect stories require great care in being transitioned to the big screen. This particular tale could easily have become a cesspit of testosterone, a barrage of decadence, a saturation of romance or a chaos of politics. Instead, Howard serves up an intense ride through of all of the above.
Chris Hemsworth contributes an enigmatic performance as Hunt, and he's better-looking than the real-life Hunt was – perhaps one little piece of artistic gloss that Howard did add, along with the occasional piece of histrionic scripting. Daniel Brühl is spot-on with the difficult task of playing Lauda, seamlessly blending the po-faced with the tenacious.
Howard handles the relationship between the pair so skilfully that you're never really rooting for or against either man. Both of their flaws and qualities are evident throughout in equal measure, one often rising to counter when the other threatens to overwhelm.
But it's the beautiful cinematography that really makes this film such a great achievement. It's a bold and bright affair from the green flag to the finish line, and the racing scenes somehow keep you on edge without making you feel too dizzy.