Nocturnal Animals
Not quite as 'high-end' as Ford's premium fashion credentials might imply





By Dominic Hicks
6 November 2016
See comments (

0

)
Plot summary
Susan Morrow, a Los Angeles art dealer (Amy Adams), lives an incredibly privileged yet unfulfilled life. One weekend, as Hutton departs on one of his too-frequent business trips, Susan receives a novel, Nocturnal Animals, written by her ex-husband Edward Sheffield, with whom she has had no contact for years.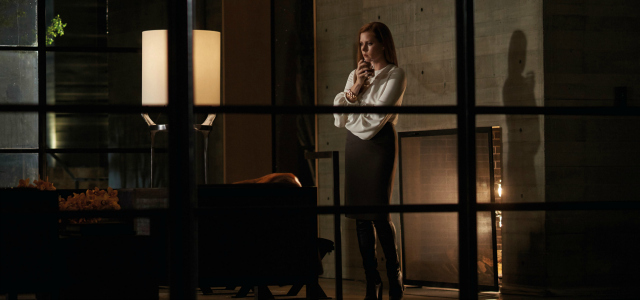 Please note: this review contains spoilers.

Nocturnal Animals (based on the novel 'Tony and Susan' by Austin Wright) is a captivating but confused meta-thriller in which successful gallery owner and socialite Susan (a convincing but sedate Amy Adams) finds herself engrossed in the proof-copy of a novel written by Tony (Jake Gyllenhaal), the ex-partner she betrayed. The film unfolds duplicitously – Susan grows increasingly dissatisfied with her opulent but lonely lifestyle, while the protagonist of Tony's novel (also played by Gyllenhaal, in a choice that leaves his performance somewhat uncentered) loses his wife and daughter to a gang of highway outlaws and is left adrift in the desert with only cancer-ridden Texas sheriff (Michael Shannon) to help him.
Susan's story frames the action and supposes a level of profundity, but it never feels truthful and sometimes bores. She languishes on designer furniture, wears Tom Ford glasses and sighs out of windows. The film's real strengths lie in the queasy, B-movie sensibilities of the heart stopping thriller sections, but Ford is over-determined to abdicate himself and his audience from lowbrow status with overwritten bourgeois self-pity and tumid posturing.
The trick seems to have worked, and the film has been roundly admired by critics who otherwise turn their noses up at trash cinema. But the film remains on some level a masquerade – and there is the distinct impression that Ford is never quite comfortable with himself as what he is: a sensationalist. More's the pity, because when he unclips his wings in the violent, grubby roadside scene at the start of the film, or later as revenge takes its bloody toll, the film soars as a piece of lurid entertainment. At times this self-denial is quite explicit – Susan reads her ex's novel as though it were some shattering tome of self-examination when surely it reads like a dimestore potboiler.
The sexual politics of this become disagreeable when it's revealed that Susan chose to abort Tony's child after leaving him for another man. She is punished relentlessly for this, leaving her alone and shamed at the film's conclusion. The meta-narrative is even less kind to its female characters – who are raped and killed and left otherwise absent except for diced-up flashbacks of the attack. Tony dedicates the book to Susan and even titles it after her (he affectionately called her a Nocturnal Animal because of her insomnia). Is he enacting revenge on her with all of this fictive misogyny and bloodletting? And if so, why does the film itself appear to vindicate this? It speaks to Ford's darling status that this curious maelstrom hasn't raised hackles.
The film is ultimately worth seeing if only for the confident storytelling and sheer entertainment value; Shannon's sheriff (who seems to have walked in from The Shootist) is worth admittance alone. But the film is not quite as 'high-end' as Ford's premium fashion credentials might imply – beneath the veil it is a sleazy roadside gut-turner that sits in the shadow of more barefaced and temerarious pictures like Wake in Fright or Straw Dogs.