Neruda
In this twist on the biopic, exile becomes a fantastical game: a call and response of desire and denial, and ultimately a comment on the wilderness of humanity.





By Camilla Brown
26 February 2017
See comments (

0

)
Plot summary
It's Chile in 1948 and Senator Pablo Neruda (Luis Gnecco) accuses the government of betraying the Communist Party and is swiftly impeached by President González Videla (Alfredo Castro). Police Prefect Oscar Peluchonneau (Gael García Bernal) is assigned to arrest the poet.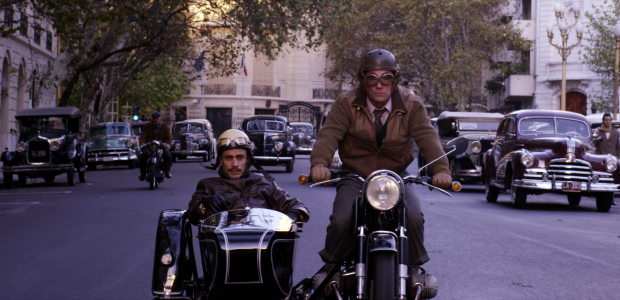 With Neruda, Chilean director Pablo Larraín presents a surreal account of the life of one of his nation's best-loved figures, focusing on the thirteen months that the eponymous poet spent in exile.
Pablo Neruda was a prominent advocate of communist dogma and when the newly appointed President González Videla outlawed communism in 1948 an order was issued for his arrest. Underground, removed from his former society life, Neruda experienced a transformative creative period – resulting in his 1950 masterpiece Canto General, an epic celebration of Latin America and its people. Two decades later, when receiving the Nobel Prize in Literature, Neruda declared that it was as a fugitive that he learnt the true meaning of fraternity. He recalled receiving acts of kindness from everyday people as he evaded the right wing government, and eventually escaped across the Argentinean border. Reflecting on his exile, Neruda professed he was uncertain as to whether he lived it, wrote it or dreamed it.
This ambiguous relationship to the real stirred Larraín to create a free and highly subjective interpretation of Neruda's experiences. In an interview Larraín explained, "It's less a movie about Pablo Neruda than it is like going to his house and playing with his toys." By paying close attention to Neruda's inner life during the period he went underground, Larraín creates a subterranean portrait of one of the most widely read Spanish language poets. He enters his imagination, his world: what the director calls "the Nerudian cosmos".
There's emphasis on the baser elements of Neruda: his vulnerabilities, his hungers and his indulgences. Neruda is played by the auteur Luis Gnecco, who gained fifty pounds for the role and has an impressive likeness, with warm, empathic features. As one might expect, the man who famously wrote "in one kiss, you'll know all I haven't said" spends much of his time engaged in seduction. Larraín's Neruda continues to get wildly drunk, frequent brothels and cross-dress, despite his fugitive status.
Allegedly during his time in exile Neruda would ask his allies to bring him detective novels. Scriptwriter Guillermo Calderon and Larraín puzzled over this detail – this "entry route to Neruda's inner life". Why would Neruda choose to escape through fiction, into the realm of his hunter? It was concluded that perhaps Neruda was attempting to understand the psychology of those who pursued him.
Enter Gael García Bernal as Óscar Peluchonneau: the film noir detective sprung from the vastness of Neruda's subconscious. From the moment Peluchonneau is assigned with his capture, the self-described "trained monkey" can think only of Neruda: during the day he traces Neruda's steps, at night he is consumed by his poems. Neruda's wife – the painter Delia del Carril (Mercedes Morán) – taunts the detective, "In this film we all revolve around the protagonist, a hero and a supporting character".
The game of cat and mouse drives the pair to the Southern Andes, where heavy snowfall fades national borders to nothing. Eventually Neruda emerges in Paris. In an elegant café, he finds an audience of two-dozen young journalists, ready to be engrossed by his tales of escape. Neruda no longer has his shadow – Peluchonneau is 7000 miles behind him, engulfed in the white mountains. But there's a slight haziness to the scene, it's as if the snow followed him across the Atlantic. And perhaps he wonders: did I live it, or write it, or dream it?
NERUDA is in UK cinemas 7 April