Morning Glory
Flicks that follow women as they negotiate the tricky climb up the career ladder have formed a rich comedy sub-genre of late.





By Suki Ferguson
13 January 2011
See comments (

0

)
Plot summary
An upstart television producer accepts the challenge of reviving a struggling morning show program with warring co-hosts.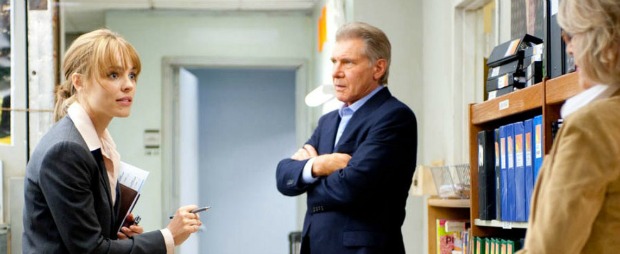 Flicks that follow women as they negotiate the tricky climb up the career ladder have formed a rich comedy sub-genre of late – think How to Lose a Guy in 10 Days, The Devil Wears Prada, and most recently Going the Distance. Such films are nearly always about making it in the media world, perhaps because journalism lends itself so well to buzzy yet worthy glamorousness – and classic New York filming locations. And they're always about women, largely because of the greater pressure put upon women to make the 'right' choices about the work/life balance. Morning Glory is an exemplary addition to this niche category.
Becky Fuller (Rachel McAdams) is a New Jersey girl who loves her job as a local TV news producer, and is devastated when she is made redundant. Realizing that her career is the only thing in her life of any importance to her, her passion wins her the role of executive producer at a failing New York morning news program, Daybreak (no relation to the similarly beleaguered ITV equivalent). Her task is simple: make the show a ratings hit, or get out. Dedicating all of her energies to the job wins her some breathing space, but circumstances force her to take on a reluctant new presenter, Mike Pomeroy (Harrison Ford). Used to being venerated for his serious war reporting, the unrepentant silliness of morning news brings out the curmudgeon in him and ratings plummet.
The addictive highs and lows intrinsic to producing news and keeping an audience are what gets Rachel up in the morning – at 1.30am. The price she pays for loving her job is steep: no friends and no romance, plus an obligation to deal with Mike's total lack of respect for her work. Ford is revelatory as a comic actor in this role – springing such a surprise is no mean feat given the length of his career – and he revels in his character's awesomely dour egotism. "Banter", Mike declares, is merely "Latin for gibbering with morons." His co-presenter foil Coleen is played zestily by Diane Keaton, who gets stuck in with the absurd situations that her job requires (comedy sumo wrestling, feigning enthusiasm for bagpipes, the usual morning TV fare) whilst Mike glowers at the autocue.
I managed to guess the exact form that the inevitable turnaround of Daybreak's fortunes would take, but that predictability didn't detract from my enjoyment of Morning Glory – the dialogue was too snappy for that, and the performances too good. Mike's stubborn refusal to even be polite gives the film bite and balances out Becky's unstoppable eagerness to please, and his hostile attitude towards light TV in general consistently raises laughs. The underlying tensions between those that report 'hard' news and those who prefer ratings-friendly fluff are dealt with intelligently and add a further layer of interest to the proceedings. What's more, there's no patronising discussion of Becky's basic life choices, and her love-life hiccups never dominate her story. This is a pacy, funny career comedy that aims to please and does just that.