Men in Black 3
Be prepared for more of a sentimental time-travelling journey down memory lane with less of the Smith wise cracks.





By Lisa Keddie
10 June 2012
See comments (

0

)
Plot summary
When Agent K's life and the fate of the planet are put at stake, Agent J will have to travel back in time to put things right. J discovers that there are secrets to the universe that Agent K never told him – secrets that will reveal themselves as he teams up with the young Agent K to save his partner, the agency and the future of humankind.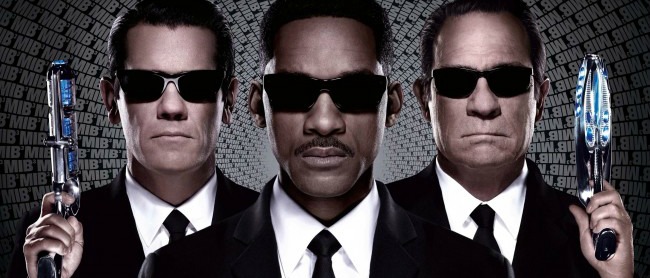 The fact that the second MiB film seems to draw a complete blank either means it was totally unforgettable tripe or someone's been trigger happy with a Neuralyzer. Needless to say, it's a happy predicament to be in as having watch the first film recently, to then watch the third in the series the latter nicely ties up the J and K relationship and explores a deeper bond.
In fact, mimicking the Back to the Future series – second film being duff and the third redeeming the franchise, there is also a bit of time travel involved. That's not to say there aren't a few soggy, bloated parts full of unnecessary banter, but it's the charisma of Will Smith and the cantankerous, grumpy nature of Tommy Lee Jones that keeps the life source flowing. What's more thrilling is Josh Brolinadopting the mannerisms, like for like, as a younger K. Eternally witty Emma Thompson is right at home as the eccentric Agent O, too, entertaining as always as you never know where she will take a character next.
In film number 3, Agent J (Smith) must travel in time to MiB's early years in the 1960s to not only prevent murderous alien Boris The Animal (Jemaine Clement) from assassinating his friend Agent K (Lee Jones), but also stop Earth being destroyed in the present by an alien warship attack. The goal is to change history, but J finds out more about the younger K (Brolin) than he bargained for in trying to change history for the better.
The initial concern for any fan of the first film is just what director Barry Sonnenfeld and his new writing team could conjure up that's at all fresh for a third outing by the mystery men in black suits. After a hilarious opening eulogy, it all starts out in much the same way with a far grumpier and lacklustre team tackling yet more devious aliens in disguise in a local Chinese restaurant then Smith supplying his humorous trademark comments to passing onlookers that raises the necessary laughs and places us back the frame. A decade has passed and the jokes and grouchy nature are still in full flow – but rather than being tiresome, it's somehow reassuring and quite nostalgic. Thompson as the new agency boss doing her usual po-faced comedic turn punctuates the atmosphere, and helps give further clues to the characters' past.
However, this time, the true path of destiny between agents is explored, giving MiB 3 an unexpected emotional substance among all the alien chasing, and making it less superfluous at that special moment of clarity to the point that the unstoppable Boris takes a backseat. Much of the 'buddy' credit goes to Brolin for taking up the K mantle so fittingly and working to compliment Smith's sarcastic stand-up act. There is also a notable performance by Michael Stuhlbarg as future-forecasting Griffin that emphasises all the characters' vulnerability as they venture down a life-changing path, plus a bit of grounding in historical fact that some older viewers will enjoy reliving.
Those expecting wanton alien bashing will not be disappointed as such, but be prepared for more of a sentimental time-travelling journey down memory lane with less of the Smith wise cracks – though still enough to be comically flippant and charming. In the end, everything has to grow up, and J and K with renewed understanding will probably be on the case until they're MiB Seniors.