Mary and the Witch's Flower
Everything fans of Hayao Miyazaki could wish for





By Helen Chapman
27 April 2018
See comments (

0

)
Plot summary
Bored and lonely during a summer holiday, Mary follows an odd cat into the nearby woods where she stumbles upon a flower and then a little broomstick. Together the flower and broomstick whisk her above the clouds, far away to Endor College – a school of magic.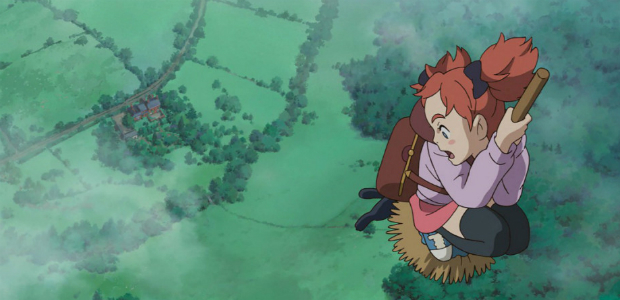 Mary and the Witch's Flower follows a tale of a rather lonely, bored child staying at her Great Aunt's house in rural England. One day she follows a black cat into the woods and discovers a mystical blue blossom which transports her to a far-away magic-land.
Based on the 1971 novel The Little Broomstick by Mary Stewart, Hiromasa Yonebayashi's film recounts the story of a smart, adventurous heroine capable of holding her own in a dangerous situation. Mary stumbles upon Endor College, a prestigious school for witchcraft which resonates with Hogwarts school from Harry Potter.  Her wild red hair also mirrors the character Hermione, as well as her strength and courage, and this should be welcomed by most in an age where Harry Potter won the hearts of children and adults alike. Mary is discovered by the professors of Endor College and is deemed a prodigy, but she soon runs into trouble and relies on her bravery and wits rather than magic to achieve a solution.
This reliance brings with it the message of the story which explores magic and its proper and improper use. She yearns to be back in her countryside home, a place she once found boring and lonely. It is charming to see the power in the ordinary highlighting the pleasure which can be found in the simple things in life.
One problem here is that Mary is punished rather than encouraged for transgressing boundaries and exploring her own curiosities. The enigmatic countryside setting harks to Wuthering Heights and Cathy's childhood adventures in the moors, making Mary a sort-of Harry Potter meets Wuthering Heights story. Yet the boundaries which are broken in Mary lead her to trouble. Still, a lesson is learnt along the way and Mary's strong nature will capture the minds of children, along with the film's wild animations and adventurous nature.
This is everything fans of Hayao Miyazaki could wish for and mirrors Kiki's Delivery Service, another girl on a journey of discovery with a faithful black cat. With psychedelic animations, strange creatures and characters blooming from water fountains, it's clearly seen how Yonebayashi has worked on animations in Miyazaki films. Although Mary somewhat lacks depth compared to Miyazaki's creations, children will certainly appreciate its captivating sense of discovery and the familiar parallels to other well-known story-time favourites.