Looking For Eric
Although the hype naturally orbits Cantona with his gargantuan and magnetic ego, the film itself centres around that of Eric Bishop, a numb and depressed postman from Manchester.





By Dan Hollis
12 October 2009
See comments (

0

)
Plot summary
Eric, a football fanatic postman whose life is descending into crisis, receives some life coaching from the famously philosophical Eric Cantona.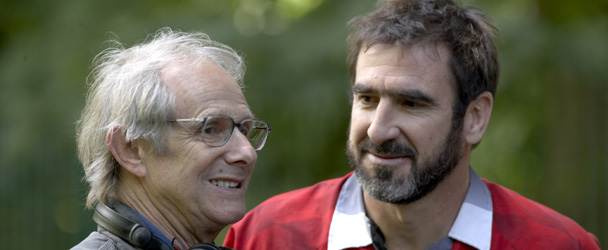 'With my two brothers we wrote two pages – a story – we wanted to make some kind of a movie about me and my connection with the fans'.
This, the foundation of Looking For Eric straight from the mouth of the man himself, Eric Cantona, sets the tone for the project perfectly. Stalwart British director Ken Loach initially thought it was a 'leg-pull', however, with the winning writing of Paul Laverty (Sweet Sixteen, The Wind That Shakes The Barley) to flesh out a tighter and engaging narrative, the film gathered momentum and finally came into fruition. The marketing of the film naturally orbits Cantona and his gargantuan but also magnetic ego, but the film itself centres not around the former Manchester United legend but around that of Eric Bishop, a numb and depressed fifty-something postman from Manchester played immaculately by Steve Evets.
The opening scene begins with little Eric driving madly backwards around a roundabout and ends abruptly with an inevitable crunch and black-out. Eric's life has lost all colour. He is twice divorced living in a cramped semi with his two charmless stepsons and a constant barrage of their gormless and irreverent mates; he is a worn-out doormat. His mates at the Post Office – an assortment of familiar chummy northern actors from the likes of Phoenix Nights to Red Riding – try earnestly to cheer him up but none succeed in waking him from his anaesthetized inertia.
Eric longs for the halcyon days of the '90s when his hero Cantona ruled Old Trafford, weekly stunning and captivating the Manc crowd with his unpredictable and captivating football. With the occasional aid of his stepson's hidden hash stash, Eric finds himself in the company of "big Eric". In a somewhat odd melding of bleak northern realism and psychological fantasy, Cantona begins to visit Eric, an enigmatic philosophical mentor, helping him to regain control over his careering life.
Cantona's role is really very minor – a welcome necessity considering that his acting pales in comparison to the effortless naturalism of Evets – however, the point is (and this, I think, he really wants us to realise) is that he is playing a funny, only minorly exaggerated parody of himself, secreting nonsensical but nonetheless very humorous aphorisms along the way a la post kicking-a-spectator-in-the-face press conference in which his only comment on the incident was a hazy proverb about seagulls following trawlers. We find the height of Cantona's self-deprecating self-parody on the top of a high-rise: little Eric looks glass-eyed up at big Eric and says 'You forget that you're just a man'; big Eric returns little Eric's looks with a grave, condemning expression and replies 'No. I am not a man. I am Cantona.'
But it's not all light-hearted froth – Ken Loach is directing after all. Gangsters, guns, ferocious rottweilers and back-street shootings also inhabit . Overall, this is very much a film in which a very specific idea has preceded and driven the whole project, however, with the abundant talent involved – acting, writing and directing – the overall effect is, dare I say it, heart-warming and exceedingly engaging. It has the right concoction of pathos, jolting shock and is very funny when it wants to be. For me, the star of the show is undoubtedly Evets whose little Eric with his fragile frame and haggard face screams out for companionship. When he aches for his ex wife, we ache with him. Indeed, some of the morals of the film are somewhat questionable – Loach describes the film as an indictment of a society which gives no stability and support to young males from poor backgrounds and yet concludes the film with an albeit incredibly satisfying, but morally dubious sequence of "grown-man", very male violence. Overlooking this blemish, the film lauds football fan-ship as a site of community and camaraderie and I believe has a deserved place in the canon of British film.