John Wick: Chapter Two
A relentless, brutally violent action fest





By Danny Smith
26 February 2017
See comments (

0

)
Plot summary
Hitman John Wick is forced back out of retirement by a former associate plotting to seize control of a shadowy international assassins guild. Bound by a blood oath to help him, John travels to Rome where he squares off against some of the world's deadliest killers.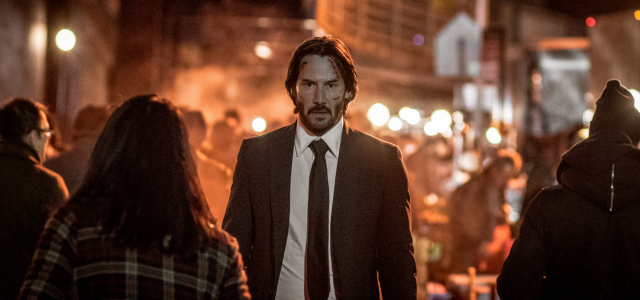 On the face of it the first John Wick looked like another throwaway action B-movie but it sure proved us wrong. Keanu Reeves played the titular character in the stylish action thriller; a famous assassin grieving for his dead wife and being rudely interrupted by his past coming back to haunt him. It was a surprising hit for Reeves and one of his best action films since The Matrix. It could have quite easily been left as a stand-alone but nowadays with any successful action film comes a sequel and, ultimately, a trilogy. In this case that's not a bad thing.
In Chapter Two, Wick is once again unwillingly dragged into the criminal underworld by a debt owed to Santino D'Antonio (Riccardo Scamarcio). With this it reveals and expands on the murky underbelly and how well it's organised. Although unrealistic, the film somehow grounds the mythology with its believability and real world rules. As well as shooting over a hundred enemies in the head, Wick takes a solid beating as multiple cars hit him, he's shot, stabbed and takes an almost hilarious tumble down the longest flight of stairs.
Complementing Reeves in this comeback is a great supporting and returning cast. Ian McShane is back as Winston, who runs the assassin's safe haven 'The Continental'. A brilliant comedic cameo by Peter Serafinowicz (playing a sort of 'Q') supplies Wick with all the firepower needed to bring down some of his formidable enemies (played by Common and Ruby Rose) – both of which give Wick a run for his money.
On a side note, John Wick: Chapter Two features the first onscreen reunion of Reeves and Laurence Fishburne since The Matrix Trilogy and has some cheeky little nods to their previous team-up.
As with the first, the film is expertly directed by stunt coordinator Chad Stahelski and, subsequently, the best part of the film is the action. In contrast to the typical Bourne-style, fast cut, shaky camera work that hundreds of action films have emulated since, Stahelski stylishly shows the action in wide steady shots allowing the choreography and stunt work to shine through. Wick's unique style of grappling and gunplay is so original it really makes you respect Reeves and his martial arts ability. If he wasn't so damn likeable already!
John Wick: Chapter Two is a relentless, brutally violent action fest not for the faint-hearted. It expands the lore of the first without damaging its reputation. Bring on Chapter Three!