In Fear
In Fear firmly places Lovering alongside Ben Wheatley as one of the UK's most accomplished new generation of horror directors.





By David Hudson
7 November 2013
See comments (

0

)
Plot summary
Tom and Lucy are trapped in a maze of country roads with only their vehicle for protection, terrorised by an unseen tormentor hell-bent on exploiting their worst fears - fear of the dark, fear of the unknown, fear of themselves.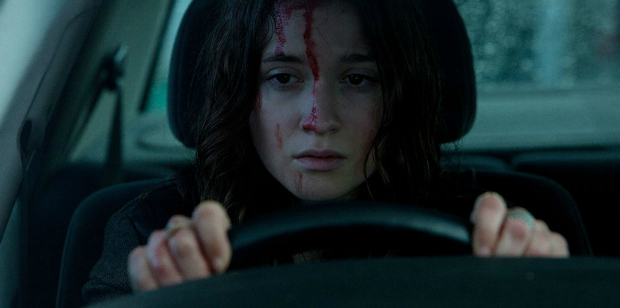 A low-budget British frightfest about a young couple who get lost in a maze of country roads and find themselves the target on an unknown tormentor? You could be forgiven for approaching this movie debut from writer/director, Jeremy Lovering (Spooks, Sherlock), with low expectations. However, should you do so, In Fear is likely to surprise you.
Tom and Lucy (Iain De Caestecker and Alice Englert) have only known each other a couple of weeks. They're on their way to a music festival, but as a surprise, Tom has booked them a night, en route, in a romantic rural hotel seemingly in the middle of nowhere. Deep in the countryside, they find themselves navigating ever-narrowing woodland lanes as darkness falls. Signage for the hotel seemingly lead them in circles and their sat-nav is no help. They find themselves increasingly fearful – especially when it becomes clear that someone has been tampering with their car and possessions. When they knock down a local man, Max, (Allen Leech), and try to help him to safety, proceedings take a decidedly bloody turn.
Have you ever driven with speed, in the dark, through country lanes boxed in by hedgerows? Can you remember that momentary feeling of panic you experience when you realize that you are really, really lost? Dated someone for a couple of weeks and then wondered at their ability to handle stress – or if they're who you think they are? Lovering has masterfully exploited those experiences in his debut feature. The film's creepy countryside setting does most of the work, but all three leads carry themselves off admirably, particularly newcomer Leech, who marks himself out as a name to watch. The tension is skilfully increased until you genuinely begin to share Tom and Lucy's sense of unease and horror. On the downside, the climax blows credibility out of the ballpark, and, despite only being 85 minutes in duration, this might have worked more efficiently as an unbearably terse 70-minute offering. However, it firmly places Lovering alongside Ben Wheatley as one of the UK's most accomplished new generation of horror directors.