Haywire
Despite it being packed with thrills, spills and fight scenes, Haywire is tenuously held together by a confusing and poorly paced plot.





By David Hudson
19 May 2012
See comments (

0

)
Plot summary
A black ops super soldier seeks payback after she is betrayed and set up during a mission.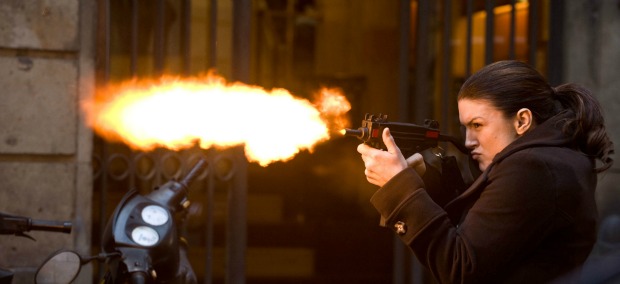 Relatively unknown newcomer Gina Carano, who previous to this was best known in cage-fighting circles for her mixed martial arts skills, stars in this kick-ass espionage tale from director Steven Soderbergh (Contagion, Ocean's Eleven, Erin Brockovich). She plays Mallory Kane, an undercover agent for a shadowy agency – not dissimilar in style to a female Ethan Hunt (Mission Impossible). Told in flashback, we see Mallory handpicked for a job in Barcelona to rescue a politically sensitive kidnap victim, before being assigned to accompany an MI6 agent (Michael Fassbender doing his best James Bond impression) to Dublin on another mission. When he attempts to kill her, she realizes that she had been deemed expendable – a big mistake on the part of her superiors. She manages to escape Ireland and get back to the States, hell-bent on finding out who set her up and why.
With muscular support from Ewan Macgregor, Michael Douglas and Antonio Banderas, glossy cinematography both in Europe and the US, and a hugely impressive debut from the charismatic and attractive Carano (clearly being groomed as a replacement for Angelina Jolie in the women's action field), Haywire should be guaranteed to punch a muscular hole in the international box office. That it won't do so is down to the fact that despite it being packed with thrills, spills and fight scenes, it's tenuously held together by a confusing and poorly paced plot. Thirty minutes into the film, my companion turned to me to whisper, "I still don't know where this is going?". An hour later, we emerged from the screening room little the wiser, and, fatally, caring even less for Mallory's plight. One character, Scott (Michael Angaro), is introduced at the beginning of the film as the character to whom Mallory confides her tale, but he actually just vanishes three-quarters of the way into the movie – it's just one of the more frustrating elements of this misfired production, which is altogether bizarre given the pedigree of talent involved. Here's hoping it doesn't kill Carano's film career in its infancy.