Godzilla
I suppose expecting logic from a summer blockbuster is like looking for character development in porn.





By Dr. Garth Twa
20 May 2014
See comments (

0

)
Plot summary
An epic rebirth to Toho's iconic Godzilla, this pits the world's most famous monster against malevolent creatures who, bolstered by humanity's scientific arrogance, threaten our very existence.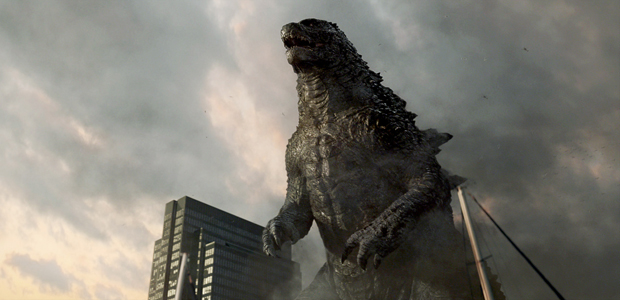 Godzilla.  Again.  He (or sometimes she)(or sometimes, conveniently, both) has had a career that's only been surpassed by Mickey Rooney.  God rest his soul.  We've known the story for 60 years, decades that have seen him battle Mothra, Megalon, smog monsters, Bambi, and Matthew Broderick.  We've also seen the same story told with The Day After Tomorrow, WALL-E, and Attacking Crab Monsters.  The story is this: Man, in his naiveté and hubris, fucks things up and all Neolithic hell breaks loose.  It's, of course—and most urgently during at the time of its initial Japanese incarnation—a metaphor for our fatalistic anxieties, which have ebbed and flowed through the decades and the films, from the commies to flower power to global warming.  In 2014, as before, it's nuclearism:  our greed (this time, a time of conglomeratisation and depletion), our militarism (as in the original), and/or our arrogance wakes up a really big lizard, and some other things, and welcome to a new food chain.
Gareth Edwards' last feature, Monsters (his first), was made for $800,000.  Godzilla, his second, was made for $160 million.  That's a 20,000% increase in budget in the span of just one film.  'As a general rule,' Francois Truffaut said, 'the more expensive a film is, the more chances it has to be stupid.'  So is Godzilla stupider?  No.  Bigger? Yes.  It's a year's worth of disaster films packed into one summer sausage.  Tidal waves, earthquakes, the destruction of not one, not two, but three iconic cities, and dialogue as nuanced as a traffic sign.  Monsters was a genre film, but it was something more than that, something that you can't do with $160 million but can do with 20,000% less than that.  The special effects in low budget films, of course (since you can't rent a suite at Skywalker Ranch and plug holes with money), are acting, and a solid script.  And Monsters had that in abundance.  In Godzilla, the actors have to say lines like 'God help us all!' and 'I deserve answers!' and 'But he is your family' (lines, incidentally, that cost way more than the whole Monsters film did, having, overall, five highly paid writers working on it, including Frank Darabont).
The very fine line-up of actors do what they can: staring in grief, staring in awe, staring stunned, staring in horror, at nothing, just marks on a green screen or a point behind the cameraman's head.  But Edwards wears his heart on his sleeve, and the film is gravid with homages and references to the canon of horror and disaster films: a hint of Kubrick, a nod to Ridley Scott, several visitations to Spielberg's back catalogue, a Hitchcock Bodega Bay moment, and, honorably, the inclusion of some atavistic '50s horror goo.  There's even some teasing slow-reveal worthy of Marlene Dietrich, and geekish giggles when Dr. Ichiro Serizawa (Ken Watanabe) turns toward the camera—a dramatic lull in Alexandre Desplat's fine score—and says, 'Gorzheera!' in the Japanese way.  It's almost, but not quite, an anti-art-film art film (like what Tarantino does with the palette of exploitation films).  There are moments of poetry and optical ballet, images of the stunning calm beauty of destruction: a train in flames emerging from slowly roiling mists; a parachutist floating through the annihilation before the next thundering swish of a tail.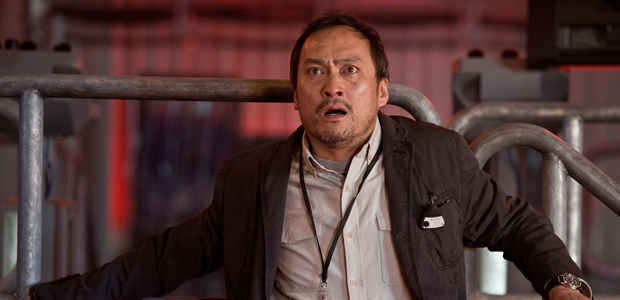 There is no driving force of consequence of action in Godzilla, something that works thematically but not so much narratively.   Nothing anyone does has any real effect on anything.  It's not Us vs. Them, it's Them vs. Them and we're not really involved (except, of course, it's our architecture they're ruining).  People are ultimately beside the point.  Like sand fleas, say, during a battle of rutting rhinos.  Even Bryan Cranston.  Yes, we wake them up—that is our fault—but after that, they pretty much ignore us.  We piss them off a bit now and then, but the fight isn't ours, and they don't care.  The climactic pluck of ingenuity from some soldier or scientist that saves the day doesn't even save the day.  When the uber-American Ford Brody (Aaron Taylor-Johnson) is willing to sacrifice himself for good of all humanity by lighting off an atomic bomb, well, things are already taken care of before that's even necessary.  Why bother?  Even Godzilla seems to find it all a bit exhausting; apparently narcoleptic, whenever he uses his super-atomic fire-breath powers, he just sort of falls asleep where he's walking.  I guess it would take it out of you.
Perhaps Godzilla is just too big.  He's too big for us to fight (if we wanted to; he's not so bad) and certainly he's too big to share the screen with a person; there's a lot of shots of  actors and feet.  The only time we really see him is when he's fighting with someone his own size, the MUTA, a combo of insect and stealth bomber, that, we're told, is the reason he woke up in the first place.  But is it the prey?  Then why doesn't Godzilla, I don't know, eat it instead of getting into a San Francisco Smack-Down?  Especially since he travelled across the Pacific Ocean and over several coastal states to hunt it?  It's like a grudge match—but what's the grudge?  He's got, I assume, a reptile brain, and these are newly hatched bugs, so he hasn't met them before.  And why, even to the US military's thinking, use nukes on creatures that eat radiation?  And what happened to David Strathairn?  Where'd he go?  And where'd Sally Hawkins disappear to?  They don't even say goodbye.  And, sorry, who is eating all the radiation?  Is it just the locusts with heads like the front end of a 1969 Dodge Charger, or does Godzilla eat it too?  But I suppose expecting logic from a summer blockbuster is like looking for character development in porn.