God Help The Girl
Even Belle & Sebastian devotees may find much of this a little too twee and cloying.





By David Hudson
13 September 2014
See comments (

0

)
Plot summary
Teenager Eve is in hospital dealing with emotional problems and writing songs as a coping mechanism. She absconds and befriends gawky guitarist James, a fellow aspiring musician who works in the local leisure centre and Cassie another young vocalist who dreams of being in a successful band. Together the three embark on a musical journey.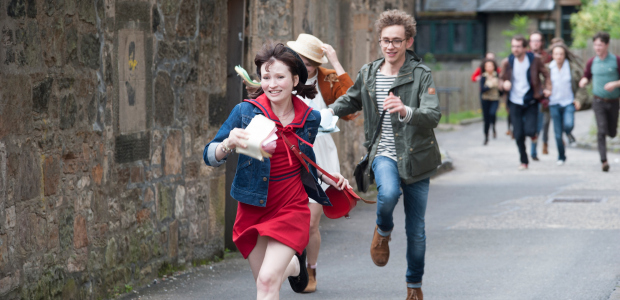 Cinematic history is littered with instances of pop stars and musicians trying their hand at acting: usually turning in less than Oscar-winning performances. Examples of them writing for film then working behind the camera are more rare. Nick Cave has had success as a screenwriter, but here, Belle & Sebastian's Stuart Murdoch goes one better, writing and directing his surprisingly confident debut feature, God Help The Girl.
Eve (Emily Browning) is a troubled young woman in Glasgow, undergoing rehabilitation in hospital for her anorexia. She dreams of singing in a band, and escapes the hospital to instead hang around gigs at famed city venue, Barrowlands. She meets James (Olly Alexander), a geeky guitarist, who is instantly taken by her. Later, they recruit English girl Cassie (Hannah Murray), and generally spend a lazy Scottish summer in the city, singing songs and all silently pondering whether they must cross the threshold from being idealistic dreamers into responsible and pragmatic grown-ups. James moons after the beautiful and fragile Eve, who herself is wooed by the egocentric French singer of another indie band. It's all set to music, with the threesome regularly breaking into Stuart Murdoch-penned songs.
It's hard to believe that Belle & Sebastian have been with us for nearly 20 years now, and, if anything, God Help The Girl crystallises how aggressively they have adhered to their chosen aesthetic. It's like a Belle & Sebastian album bought to life: heartbreak and longing set amidst the Glasgow student set and music scene, complete with second-hand clothes shops, bedsits and leafy city parks and canals. There's no indication of when it is set (no mobiles phones or laptops or other evidence of 21st century life) and not a huge amount happens. At almost two hours – it overstays its welcome by at least 30 minutes. In its favour, it accurately captures the sense of an aimless summer in the city, and, if you're a fan of Belle & Sebastian, you're sure to appreciate the songs.
All three young leads turn in engaging performances, even if Emily Browning is requested to do little but look pretty and troubled in equal measures. Odd sparks of humour lighten the mood but even Belle & Sebastian devotees may find much of God Help The Girl a little too twee and cloying.