Get On Up
Director Tate Taylor and actor Chadwick Boseman and bring the story of 'the hardest working man in showbusiness', James Brown, to the big screen





By David Hudson
24 November 2014
See comments (

0

)
Plot summary
James Brown's early life was marked by an impoverished childhood and a teenage spell in prison. A love of singing saw him rise to become one of the US's most iconic musical stars of the 20th century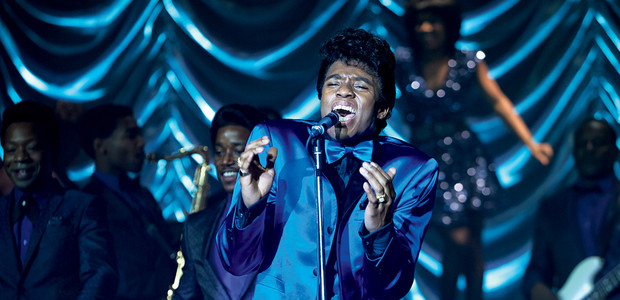 From Tate Taylor, director of The Help, Get on Up is a biopic of soul and funk legend, James Brown.
Brown was born into poverty in 1933 to a 16-year-old mother and 22-year-old father. After his mom walked out, his father sent him to live with an aunt who ran a brothel. The young Brown busked on sidewalks and helped to direct soldiers to the house of ill repute, before falling foul of the law in his teens for stealing a suit. He was sent to jail, but was eventually rescued when a local gospel singer, Bobby Byrd (Nelsan Ellis), secures his parole, on the condition that Brown (Chadwick Boseman) moves in with Byrd and his family.
Brown quickly joined Byrd's gospel group and pushed himself forward as the lead singer. By the mid-50s, inspired by the success of Little Richard (Brandon Smith), the group have forged their own unique sound; a gospel-tinged, groove-laden amalgamation of soul and nascent rock'n'roll. They come to the attention of a record label, which signs them to cut their first record – but make it clear that it's Brown they want, not his fellow band mates. Brown, displaying an egocentricity that would define his life, acquiesces to this, setting himself up as the creator of his own destiny: a task master that would routinely fine band members and backing singers for late appearances at rehearsals and other digressions.
With the help of manager Ben Bart (Dan Ackroyd), Brown becomes a star. Demanding ever greater control over his career, Brown sets a template for other artists to follow, becoming involved with everything from promoting his own concerts and securing airplay, to ensuring that he gets the biggest cut of the profits – all the time wooing audiences with a shamanistic live act, nifty dance moves and irresistible funk.
To state that Get on Up charts the rise of Brown would be a misnomer, as 'rise' implies a linear narrative, and Taylor's film offers anything but that. In fact, to the potential chagrin of some viewers, it jumps around all over the place – from the height of Brown's success to his childhood, back and forth – with Brown sometimes breaking down the fourth wall and addressing the audience direct.
That key moments of Brown's life are revealed in a series of vignettes make for some entertaining scenes – notably the opening, in which an elderly Brown kicks off at someone for daring to use his private toilet for a 'number two', and when Brown and his band are nearly shot from the air when they travel to Vietnam to entertain the troops. There's an arresting scene between Brown and a young Little Richard – still flipping burgers at that stage in his career – and plenty of awkward friction between Brown and Byrd, who remained by the singer's side for most of Brown's career until even he could take no more of the Godfather of Soul's demands.
That the story is unveiled in such a fashion is not the film's main problem. Despite thematically covering all the bases, what some may find more challenging is the fact that Brown – the self-styled 'Hardest Working Man in Showbusiness' – never comes across as likeable character. In fact, as one scene in which he assaults his wife (Jill Scott) attests, he could be an abusive bully. Realizing this, the screenwriters have tried extra hard to impose a redemptive narrative upon his life – building to a climax in which Brown realizes that his dictatorial drive for success has driven away those closest to him. However, it's clunky and doesn't disguise the fact that, actually, having achieved success, there doesn't seem to be a whole lot of story left.
That's not to detract from Brown's huge success or amazing back catalogue of work. It just highlights the fact that some lives lend themselves better to movie treatments than others. It helps, of course, if you find yourself routing for the main character, such as Angela Bassett's Tina Turner in What's Love Got To Do With It.
Get on Up features a riveting, career-breaking performance in the title role by Chadwick Boseman, and the film has its highlights – not least the inclusion of most of Brown's biggest hits, eye-popping fashions. There's plenty here for anyone with even a passing liking for Brown's work, but in the pantheon of music biopics, and despite Boseman's performance, this doesn't satisfy or gel in the same way as the aforementioned What's Love…, or the more recent Johnny Cash outing, Walk The Line.