Funny People
It's fair to say that Sandler has a somewhat patchy back-catalogue. To my recollection, he's adept at making brash, shouty, silly, sporty, shouty, angry, shouty films.





By Dan Hollis
25 January 2010
See comments (

0

)
Plot summary
When seasoned comedian George Simmons learns of his terminal, inoperable health condition, his desire to form a genuine friendship cause him to take a relatively green performer under his wing as his opening act.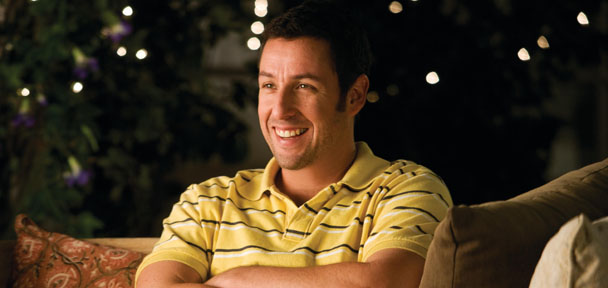 With a title such as this, if the film's not funny, you're screwed. This was my main concern before watching the film. Judd Apatow, director of The 40 year Old Virgin and Knocked Up returns here with his third offering, but with Adam Sandler as the front-man, I was a little sceptical.
It's fair to say that Sandler has a somewhat patchy back-catalogue. To my recollection, he's adept at making brash, shouty, silly, sporty, shouty, angry, shouty films. Certainly he's made some genuinely funny films of this sort, (Happy Gilmore), but he's also made less good films – Little Nicky, anyone? Either way, he's undeniably perfect for the lead role of George Simmons, a former stand-up comedian turned hugely successful sell-out comic-actor whose own films include such family favourites as Mer-Man and My Best Friend's A Robot…
After being diagnosed with a very rare form of Leukaemia, Simmons arrives at the galling realisation that when faced with his own impending death, he has no one to help him through. With all the mandatory superfluities of a mega-star – beautiful house in the Los Angeles hills, flat-screens, Porsches, inconsequential flings with beautiful women – he is completely ill-equipped to deal with his plight. After taking Ira, Seth Rogen's chummy aspiring stand-up comedian, into his employ as personal assistant and desperately needed friend, we watch as George launches into a hedonistic, desperate and tragicomic dive-bomb. In a miraculous turn of events however, George is cured of his disease and is given a second chance to right to wrongs of his past, but retaking his beautiful ex-lover, Leslie Mann from Australian schizo-jock husband, Eric Bana, comes first
Behind the slightly formulaic narrative, there is a lot if interesting stuff here. The earlier part of the film explores the ins and outs of the L.A. stand-up comedy scene – the desperate competitiveness, fragile insecurities, engorged egos and swaggering braggarts that pervade. But at nearly two and a half hours, the film feels a tad flabby. It certainly kept me interested throughout, but at the cost of seeming slightly messy. Sandler said to me that Judd (Apatow) had originally had about four ideas for films floating around and he decided to put them all together, and you can tell.
As for the all-important question – is it funny? – I'm relieved to say it is. Sandler shows a wider range of acting capability than usual, and it's nice to see him play a bit of a dick as opposed to the usual underdog, every-man, I'll-save-a-local-town-through-sports kind of guy. There are some cracking supporting roles from Johan Hill and Jason Schwartzman, too, and Eric Bana's oxymoronic passive-aggressive Aussie nutter is inspired. Seth Rogen can do no wrong in my eyes, and he does well to hold the whole piece together. However, I do wonder how long Apatow, Rogen and Hill along with Paul Rudd and Jason Segel can go on making films where they play mildly exaggerated versions of themselves, swapping roles only ever so slightly each time?
A few niggly bits thwarted my overall impression of the film. Apatow still doesn't write good enough roles for women; Leslie Mann's character (one of only two major female characters) has no real agency; she is surrounded by a pack of men who are given acres of space to 'be really funny'. Also, I think Freud would have a field-day with Apatow. Asides from maybe Superbad, this is one of the most phallocentric films I've ever seen. At least a quarter of the jokes are about penises.