Diary of a Wimpy Kid
Jeff Kinney's Diary of a Wimpy Kid arrives in the cinema in live action form.





By Gabriella Apicella
11 September 2010
See comments (

0

)
Plot summary
Diary of a Wimpy Kid chronicles the adventures of wise-cracking middle school student Greg Heffley, who must somehow survive the scariest time of anyone's life: middle school.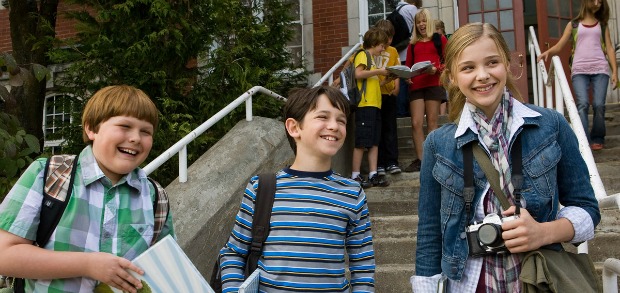 Based on the illustrated novel of the same name, itself based on a series of online cartoons, Jeff Kinney's Diary of a Wimpy Kid arrives in the cinema in live action form.  It is always a tricky task taking loveable pencil-drawn characters and turning them into real human beings that emote and articulate in equally entertaining ways, and for fans of the original illustrations, it may prove difficult to reconcile the two.  Having never been a regular reader of the New York Times however, (being based in London, after all) the publishing phenomenon of Wimpy Kid has passed me by, so coming to this film with no preconceptions I was happily impressed and surprised by the cynical, manipulative, occasionally shallow, sometimes cowardly, and consistently selfish Greg "Wimpy Kid" Heffley.
In recent years there seems to have been a patronising consensus amongst all makers of child-targeted entertainment to ensure that syrupy lessons about inner-beauty dribble across every frame.  Although those worthy messages are eventually arrived at in this film, we do first learn that all Greg really wants is to be the most popular kid in school (who on the cusp of their teens doesn't?).  As he sets out to achieve this in a variety of shallow ways (wearing cool clothes; not "playing" with the uncool kids) that, let's face it, most adults tend to still adhere to well into their late twenties, it's easy to feel nostalgically taken with Greg: he's the embodiment of all the wrong, rude, unfair and unkind things that you're not really meant to say as the cute central character of a mainstream Hollywood kids film.  And it's hard not to like a kid like that!
Refreshingly there is no angst, no romance, no dick jokes, no sexism, (and no vampires) in this movie, just cynicism, a touch of sarcasm, and a great deal of bitterness, at being in that awkward stage where you're not quite a kid, but you're definitely not a teenager just yet.  With a truly horrible big brother thrown in for a dash of sadistic bullying, and inept parents there to embarrass and misunderstand at every turn, there's plenty to identify with for kids of a certain age – even if that age is when, like myself, you're not a teenager anymore, but you're pretty far from being a grown-up too!