Cyrus
A surprisingly low-budget slice of American independent filmmaking.





By David Hudson
19 September 2010
See comments (

0

)
Plot summary
A recently divorced guy meets the woman of his dreams. Then he meets her son.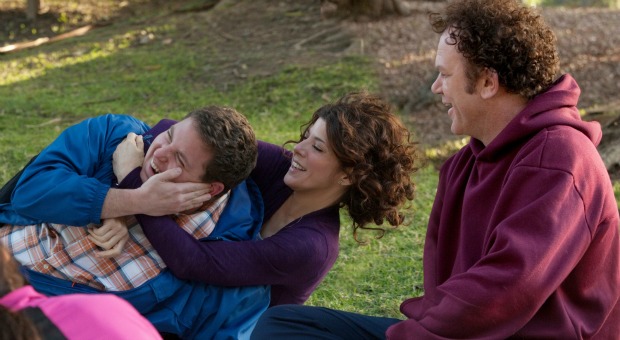 John C Reilly plays John, a divorcee who has never quite got over his ex wife (Catherine Keener). Then, at a party, he meets Molly (Marisa Tomei), who appears to be the woman of his dreams. That is until he is introduced to her grown-up son, Cyrus (Jonah Hill).
Cyrus and Molly have what can only be described as an unconventional, symbiotic relationship. Still living together, she indulges and spoils the 21-year-old, and he, in turn, is fiercely possessive towards her. It quickly becomes apparent – at least to John – that Cyrus will do anything he can to wreck his mum's new relationship, using every cunning tool at his disposal to cast John in a bad light or make him feel unwelcome.
Although starring Reilly and Hill, and co-produced by Tony and Ridley Scott, Cyrus is a surprisingly low-budget slice of American independent filmmaking. Written and directed by brothers Jay and Mark Duplass, the comedy offers a quirky premise and a plethora of wince-inducing scenes of embarrassment. Jonah Hill carries the movie as the titular Cyrus, a decidedly unsettling and malevolent character. He'd be perfect as a future Bond baddie.
Where the film comes unstuck is that, despite the best efforts of all involved, the central relationship between Molly and Cyrus – as played by Tomei and Hill – is never truly believable. It's difficult to entertain the notion of them as mother and son, and everyone is so deeply flawed that it's difficult to summon up sympathy for the predicament in which they find themselves.
Molly is the sort of mother that allows her child to walk all over her; John is full of self-pity and Cyrus is just a mean-hearted creep. One bedroom scene, in which John comforts an upset Molly after her spoilt son leaves home, hints at some semblance of real feeling between the pair – and what Molly could enjoy if she loosened her apron strings. A few more scenes like this, or a deeper insight into Cyrus' upbringing and behaviour, might have made for a more rounded and satisfying end result, which comes across as a little too creepy and kooky for Cyrus to achieve much more than cult interest.