Coraline
Coraline is at once terrifying and beautiful, laugh out loud funny and hauntingly believable, and one of the best children's films I've seen in years





By Lucy Atkinson
8 October 2009
See comments (

0

)
Plot summary
An adventurous girl finds another world that is a strangely idealized version of her frustrating home, but it has sinister secrets.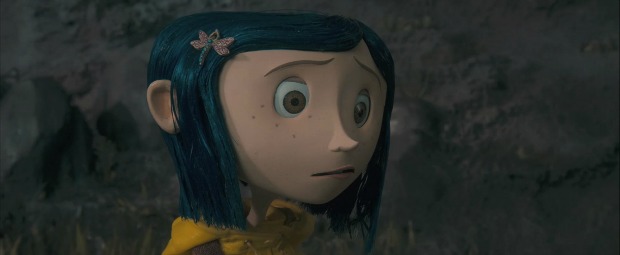 Neil Gaiman's tale of a bored girl ignored by her parents who finds a door to a mirror world complete with "Other Mother" is one that definitely deserves its PG rating.
The other world appears ideal, with loving parents, good food, and visually stunning set pieces which had the whole audience ooh-ing and aah-ing like little kids, but even during this, there is a much darker undertone. The inhabitants of the other world have buttons for eyes, and though nothing outright threatening is said, there are subtle signs that all is not what it seems.
As a fan of sinister fairy tales, stop-motion animation and geeky glasses, Coraline was a film I've been looking forward to for some time. Directed by Henry Selick, of "Nightmare Before Christmas" fame, and animated in much the same way, there are bound to be parallels drawn between the two, but this film is darker and more finely tuned than the former. It doesn't shy away from the horror which so many fairy tale adaptations avoid, and it is much the better for it.
The 3D aspect of the film was one I was sceptical about at first, but my doubts were banished before the film even started. Watching trailers in 3D, and even just the Universal logo, had me gasping. The reason I think it works so well is that they don't overuse it, it isn't a gimmick. Things don't jump out at you, but rather the images have an added depth to them which makes them seem real even whilst being utterly fantastical. The pleasure of seeing a 3D jumping mouse circus has to be seen to be believed, and is almost worth the ticket price on its own.
Coraline is at once terrifying and beautiful, laugh out loud funny and hauntingly believable, and one of the best children's films I've seen in years. This film will turn you into a kid again by reminding you just how magical the cinema can be.