Beyond The Edge
This time-worn story is retold without meaningful probing, fresh technical disclosure and with the warmth to match the mountain itself.





By Camilla Brown
8 June 2014
See comments (

0

)
Plot summary
Faced with treacherous winds, sub-zero temperatures and battling altitude sickness, the British expedition team members Sir Edmund Hillary, a modest beekeeper from Auckland, and Tenzing Norgay, an experienced mountain Sherpa, finally achieved the impossible and became the first men to stand atop Everest.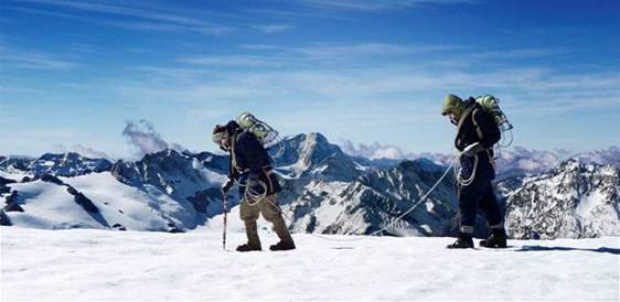 The latest cinematic retelling of Colonel John Hunt's successful 1953 expedition is an ambitious combination of period recordings, dramatic staged scenes from the Southern Alps, new footage from mountaineer-cameraman Mark Whetu's recent journey to the top, with logistical and geographic animations throughout. Unfortunately the consequence is an unsettling mutant snowscape, which lacks the ability to support enough insightful depth to create any enduring pertinence. This time-worn story is retold without meaningful probing, fresh technical disclosure and with the warmth to match the mountain itself.
Sir Edmund Hillary, formidable Kiwi beekeeper-cum-superhero, is played by the largely silent (and large – 192cm) Chad Moffitt. While it's quite gratifying to watch him stride across the snow to the unbridled feist of the soundtrack, it doesn't fill the cavernous personality-shaped lacuna which stretches the length of the film. Somehow the emotional flatness is accentuated in 3D, and this celebrated tale of endurance became a test of stamina as 92 minutes sometimes drags and feels like longer.
Not all audiences come to the cinema looking for an ethical history lesson. Nevertheless, I think it's negligent for filmmakers to create such simplistic retellings. Why go to the effort of enhancing the footage with colour when the storyline is given in such black and white terms? An acknowledgement of the hierarchical systems at play which meant that Sherpa Tenzing Norgay, one half of the victorious duo, only received an honourary medal while Hillary and Hunt were lionized and knighted, would add a welcome dimension to the piece. In Beyond The Edge Hillary is bequeathed with an X Factor-esque 'zero to hero' mini-bio, yet there is a noticeable lack of enquiry into Norgay's psyche and motivations. John Hunt's transportation of colonial Britain at 29,000 feet might feel uncomfortable for modern viewers, yet it is approached unproblematically under Pooley's direction.
For those who make it to the top, a reward awaits in the form of building drama as (spoiler alert) Tenzing Norgay and Edmund Hillary approach the summit, followed by a flawless panoramic from the highest point on earth. The star of the show, Everest, gives us everything we ever wanted from a mountain centrepiece: omniscient, ubiquitous, misunderstood, irritatingly big, very photogenic. Chomolungma. Goddess Mother of the World. My appetite has now been whet and I'm awaiting Baltasar Kormákur's Everest, featuring Jake Gyllenhaal and Keira Knightley in some sort of Himalayan 3D snowstorm ordeal.