Arthur
There are a few laughs and some clever lines but the film never quite lives up to what it could have been.





By Natalie Peck
18 April 2011
See comments (

0

)
Plot summary
Kind-hearted and utterly without purpose, Arthur spends every day in the heedless pursuit of amusement, but when his unpredictable public image threatens the staid reputation of the family foundation, Bach Worldwide, he is given an ultimatum: marry the beautiful, but decidedly unlovable Susan Johnson or say goodbye to his billion-dollar inheritance and the only way of life he knows.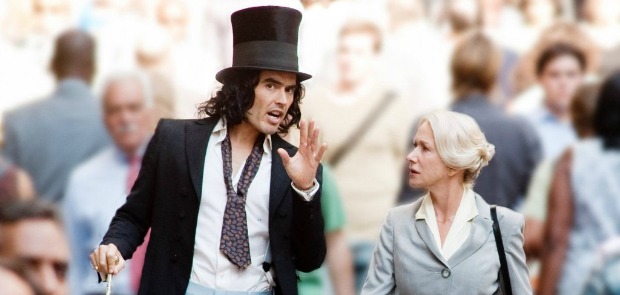 There are many similarities between Russell Brand and the late Dudley Moore, who have both played the titular character in Arthur (2011) and the original from 1981. They have both been labelled lothario – surely Moore would have picked up The Sun's 'Shagger of the Year' award had it existed in his time. Both men carved out careers by playing versions of their own hyperbolic character, each with a distinctive East London trill in his voice.
But where Dudley Moore won an Oscar nomination for his portrayal of the spoilt playboy Arthur Bach, Russell Brand will definitely not. A self-confessed Moore fan, it is easy to see why Brand was attracted to, and cast in this remake. He embodies the spirit of Arthur, flamboyant, devil-may-care, no stranger to the excesses of alcohol and women. Somehow it doesn't ever come off. For the first half of the film Brand tries to do an impression of Moore which dwindles away towards the end, and his on-screen persona is forced and self-conscious.
Arthur sees New York City as his playground, having never really grown up. His only job has been modelling riding boots for a provocative ad campaign, and he is forever embarrassing his multi-millionaire businesswoman mother (Geraldine James) by falling out of nightclubs and winding up all over next day's tabloids. Arthur's long-suffering nanny Hobson (Helen Mirren) cooks for him, bathes him, and regularly throws opportunistic girls out of his appartment. He is irresponsible and has no idea how to live without vast amounts of money to entertain him.
In order to ensure his inheritance, Arthur must marry the ambitious Susan Johnson (Jennifer Garner) who will clean up his reputation. Susan is aware of the cynical nature of their coupling, but bullies him into proposing with the help of her intimidating father (Nick Nolte) and attempts to aggressively seduce Arthur in S&M style lingerie ("No, you're not a sexy kitten!" pleads Arthur as she drunkenly mauls him).
Arthur has become enchanted by Naomi (Greta Gerwig), a quirky blonde who holds illegal tours of Grand Central Station to support her father, and tries to woo her with extravagant shows of affection. It might be unfair to make comparisons to the original, but those who remember the pairing of Moore and Liza Minelli as Gerwig's counterpart shoplifter Linda Marolla will notice a hollow shadowing of the original dynamic.  Arthur and Linda shared a hedonistic sense of fun that is tamed down to the point of blandness in the remake.
Helen Mirren is wonderful as always, and plays Hobson with a permanently raised eyebrow and a strong affection for her charge. The chemistry between her and Brand really shines through, and her scenes are the best in the film. There are a few laughs and some clever lines but the film never quite lives up to what it could have been. A disappointing result from a premise with great potential, it really was done better the first time.