Adrift
This thoughtful study of adult and teenage relationships makes for surprisingly compelling viewing.





By Michael Holder
27 November 2010
See comments (

0

)
Plot summary
It's the 80's, and fourteen year-old Filipa is spending her summer vacation at Búzios, Brazil with her father, Mathias, her alcoholic mother, Clarice, and her two younger siblings in their beach house. When Filipa senses the relationship of her parents is deteriorating, she snoops in her father's office.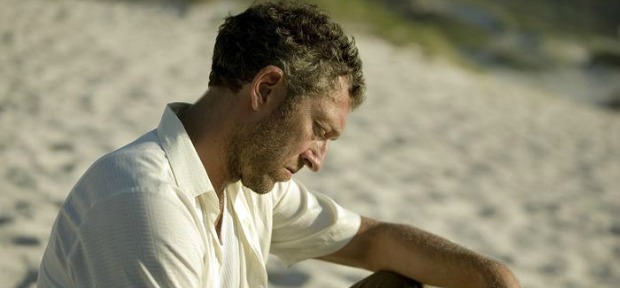 From his breakthrough role in 1995's La Haine to last year's excellent Mesrine biopics, Vincent Cassel seemed more often than not to be drawn toward villains and loveable-rogue characters. Audiences could be forgiven, then, for assuming it would be the same here. In fact, the tone of Adrift couldn't be more different, and Cassel produces a heartfelt performance as a French author and doting father struggling to salvage his marriage with his Brazilian wife.
Brazilian writer/director Heitor Dhalia begins the film with Mathias (Cassel) splashing about with his daughter Filipa in the sea off the lazy, sunny shores of Brazil. Unfortunately for adoring father and daughter, this beach paradise of theirs is also full of alcoholism, jealousy and heartbreak which threaten to tear their family apart. As Mathias and his wife Clarice (Deborah Bloch) struggle to mend their broken marriage, Filipa also struggles with her own journey into adulthood.
Mathias and Clarice's relationship acts as a parallel to Adrift's fascinating study of adolescence and the loss of innocence through the eyes of fourteen year-old Filipa. At first shy around boys her age, an unsure Filipa cruelly courts and then resists the attention of her friend Arthur. When Filipa later witnesses both Arthur kissing one of her friends, and also her father cheating with a young American woman, she is for the first time forced to confront the world of adult pain and confusion. Both adults and teenagers, it appears to her, are no different when it comes to love – and while her cynicism grows, her innocence ebbs away. As the story unravels further, Dhalia toys with the viewer's allegiance between mother and father, until empathy lies with the children who are torn between their parents.
For a first-time actor discovered through a social networking site for the lead role, Laura Neiva (herself also fourteen at the time) is terrific as Filipa. It may not be wholly surprising that Neiva captures so well the misunderstood, grumpy confusion of a teenager given that she is also one herself, but it is still a mightily impressive performance. Although the film is set over the course of only a few short summer months, Filipa undergoes a profound psychological change from a girl to a woman. Such is the transformation that it is almost tempting to suggest Adrift's 97 minutes felt longer, but this would give a false impression that the film was a chore to sit through.
In fact, it is very difficult to fault Adrift. Brilliantly acted and lovingly made, the film captures so accurately the awkward emotions of adolescent love. There is a great scene, for instance, in which Filipa and Arthur kiss on the rocky shore and the romance appears all photoshop-perfect. But when this brief moment comes to an end both are left visibly embarrassed, and Arthur awkwardly fumbles to hide his erection as they get up to leave. Yet, this scene also typifies the very reason Adrift is unlikely to be to everybody's tastes – reminders of our teenage emotions can be amusing and nostalgic for some; embarrassing and uncomfortable for others. In either case, Adrift's thoughtful study of adult and teenage relationships makes for surprisingly compelling viewing.