71′
A gritty, ballsy drama that will often draw you to the edge of your seat.





By David Hudson
4 October 2014
See comments (

0

)
Plot summary
A young and disoriented British soldier is accidentally abandoned by his unit following a riot on the streets of Belfast in 1971. Will he escape the men who want him dead and navigate his way back to safety?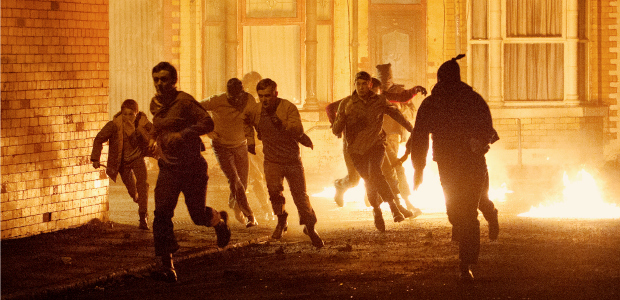 After his recent role in prison-drama Starred Up, rising Brit actor Jack O'Connell takes on another role in which he plays a young tough guy who receives a short, sharp and brutal education in the horrors of survival.
He plays Gary Hook, who, after a childhood spent in care homes, swaps one form of institution for another when he signs up for the army. He and the rest of his regiment expect an uneventful secondment to Germany, but it's 1971, and the Sectarian troubles in Northern Ireland are rapidly escalating. They find themselves unexpectedly sent to Belfast, where they are soon brought face-to-face with a baying, anti-English, Republican mob.
Thanks to a buffoonish and inexperienced Captain, the regiment are hopelessly unprepared for their first confrontation. Hook quickly finds himself separated from his colleagues and running for his life – chased along the Belfast backstreets by Provisional IRA members.
What follows is a night of tense, cat-and-mouse terror as Hook attempts to return to his barracks. Not only do the Provisional IRA (themselves at loggerheads with the older members of the original Irish Republican Army) want him dead, but Hook begins to question whether his own side want him back – or what and whom he's supposed to be fighting for.
Director Yann Demange has a background in TV work, directing the likes of Top Boy and zombie drama, Dead Set. This is his first feature-length movie, and although it often has the feel of a superior TV drama, it boasts a level of suspense that you'd expect to find in a horror. For anyone unfamiliar with the depth of the violent and bloody division between Belfast's communities, '71 serves as an eye-opening reminder. It also, sombrely, drives home the point that many soldiers – and IRA members – were just teenagers: emotionally unequipped for the war zones in which they found themselves.
At just 99-minutes, and told over the course of one night, '71 is a gritty, ballsy drama that will often draw you to the edge of your seat. O'Connell turns in an arresting performance as Hook. He's a man-child shell-shocked and terrified at being hunted but determined to survive: who slowly realises that the only person that he can trust is himself.
If the film falters, it's perhaps in its stretching of credibility. Is it plausible that Hook goes through quite so much trauma in one night? A fictitious work, it raises questions on how far one can go in creating a piece of entertainment from such a painful period of history: one still within the living memory of many.
While there have been films examining the Bloody Sunday killings, and Steve McQueen's Hunger graphically explored the death of Bobby Sands, '71 uses the troubles as a backdrop for, essentially, a small-scale chase movie – albeit one that will serve as an education for anyone with little knowledge of the warring factions operating in Ulster at the time. Knowing that it plays fast and loose with fact and fiction may prevent some viewers from fully enjoying the ride, but if you're seeking a taut thriller, you won't be disappointed.