Phoebe Augustine
Garth Twa chats briefly to Twin Peaks' Ronette Pulaski about trees and other things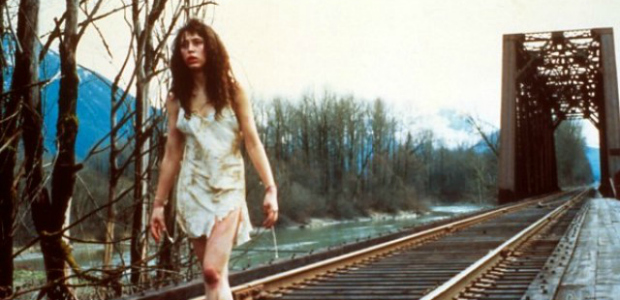 For me, one of the most riveting moments in Twin Peaks was the image, in the pilot, of Ronette Pulaski, mute with fear and trauma, in tatters, walking over the railway trestle.  She had escaped before she'd been murdered, though not before she'd been tortured, and damaged possibly beyond repair.  She was the only one present when Bob killed Laura Palmer.  That one image crystallized the breathtaking brutality and horror that was there, in the everyday landscape of Twin Peaks.  Ronette Pulaski was played by Phoebe Augustine, and though her role wasn't large—she spent most of the first season in a coma, or was seen in grainy black and white photos in the magazine 'Flesh World'—it was iconic.  And, intriguingly, she's back for the new season, 25 years later.  We chatted briefly about life in Twin Peaks.
Garth Twa: Your entrance into the series was searing.  What was that day like?  What did David Lynch say to you?  
Phoebe Augustine: It's quite the character introduction, isn't it! I remember it being very cold that day. David would often tell stories or talk about things seemingly unrelated to the scene to set a mood.
In general, how was the set?  I've spoken to others involved who've said that the cast was very close.  
PA: I was in ICU most of the time and they only let close family and friends see me, so I wouldn't know what the rest of the cast was up to.  No, everyone I worked with was great; a fantastic crew.
When you were cast, or when you auditioned, did you have any idea what was in store?
PA: I had seen Blue Velvet and Elephant Man—one of my favourite movies—but hadn't seen Eraserhead yet.  But, until you work with him, you just don't know.
How much did you and rest of the cast know about the development of the story, and the outcome of the series?  Basically, was it as surprising, even surreal, to work on as it was for the viewer?
PA: I don't know how much was really known beyond our sworn-secret scripts and sides.  I feel like this was as much a journey for David as it was for everyone else.
I don't watch much television unless it's shows about trees.
How was it working with Frank Silva [who played Bob]?
PA: When we were shooting the bridge scene, Frank was part of a large crew behind the camera.  I didn't know him and something about his face was scary to me.  I'm really not one to ask for things on set or to be demanding.  I listen to the director, pretend to be someone else, and go home.  This was different.  I was really shaken.
I asked to speak with David and when he came over, I pointed out Frank and asked, 'Who is that man, and does he have to be here?  He is scaring me.'  David paused, smiled slightly, leaned in and whispered, 'He's the bad guy, but don't tell anyone.'  And I didn't. Later, at the wrap party, I asked Frank about that day on the bridge and he told me that at that time, he didn't know he was going be in the show.
How has playing Ronette, and working on Twin Peaks, affected your life?
PA: I didn't have a huge role and I haven't acted in a long time.  It's just something that comes up in my life now and again.  Once in a while, I'll get recognized by a fan and asked about it.  Less than a month ago, I was recognized by a fan who was so young she probably wasn't even born yet when we were filming the pilot!  I think Twin Peaks will live forever and it's neat to be a small part of it.
What has been going on for you after Twin Peaks?  I've read that you've focused on music?
PA: My husband, Stephen, and I have played in a few bands together over the last 20 years and now we own a private recording studio that he works out of.  I take pictures of trees.  I'll have my first show when I'm 80.
It was a remarkable event, having Twin Peaks screen on network TV, in America, during prime time.  How do you think it's changed what we watch today?
PA: I don't know. I don't watch much television unless it's shows about trees.
The new Twin Peaks will premiere  at 2am on Monday 22 May on Sky Atlantic and NOWTV, in a simulcast with the US airing on Showtime. The episode will then be available on demand and broadcast again at 9pm on 23 May.