Kerrie Hayes and Nichola Burley
Pure Movies talks to the stars of new Merseyside-set British drama Kicks.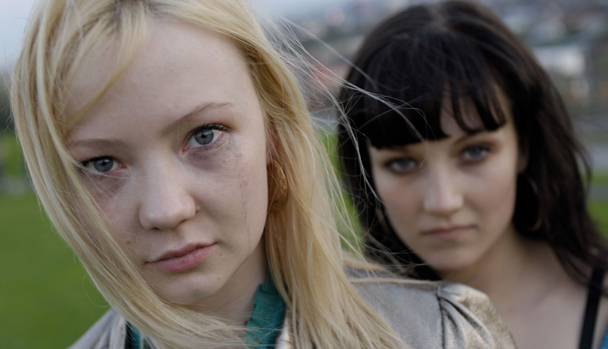 With the World Cup once again upon us, and paparazzi directing their lenses at the latest batch of WAGS (wives and girlfriends of players), the release of director Lindy Heymann's Kicks couldn't be more timely. This small-scale, Merseyside set drama follows teenagers Nicole and Jasmine – two girls obsessed with fictional Liverpool football player. The two come from different backgrounds, but are united by the object of their desire. Shy Nicole craves love and stability, while Jasmine dreams of marrying a footballer and living her life on the pages of Heat.
"Celebrity and obsession," answer Nichola Burley, the 23-year-old actress who plays Jasmine, when I ask her what she thinks binds the two characters together.
"And drive," adds Kerrie Hayes (Nicole). "They're both focused on the one thing, but for different reasons. For example, Nicole is so obsessed that she's already found out where he lives. She knows what his car is like… whereas Jasmine knows where the hotspots are, and how to dress, how to catch his eye. They're obsessed in different ways, and can find out these things from each other. They also derive friendship from their differences. Jasmine's quite lively while Nicole's quite introvert."
Together, the duo unite and take their obsession to another level – finding the courage in their shared passion to take ever more daring risks – particularly after finding out that the footballer in question has signed a lucrative transfer to play for a Spanish club – potentially taking them away from their clutches. I ask Burley and Hayes whether they know anyone themselves who would love to be a WAG?
"I know one girl who openly admits it," says Hayes – the chattier of the two. "She says 'I want to be a WAG'. She dresses like a WAG and puts in way too much effort into her appearance, all based on how others will see her instead of just doing it for herself. I've spent time with her and it's been fine, but then as soon as we get into a potential WAG situation, she turns into someone else. It's quite sad really because she really doesn't need to be doing that."
Both Burley and Hayes herald from the north, with Burley originally from Leeds, and Hayes from Liverpool. Burley has already made an impression on the big screen in 2007's Donkey Punch and this year's Streetdance. Following appearances on TV dramas Holby City and Doctors, Kicks marks Hayes' big screen debut. It's also the first full-length feature from Heymann, but has already picked up critical plaudits. The director won up an award for 'Best Newcomer' at the 2009 Times BFI London Film Festival. The director of photography is Edward Grau, who worked on Tom Ford's A Single Man. Together, he and Heymann create a warm and atmospheric portrait of Merseyside, with long and lingering close-ups of the two main protagonists. It makes for an intimate depiction of teenage turmoil, and I wondered if it made the actresses particularly self-conscious when performing.
"Not really, no," says Hayes, who face and hands often fill the frame. "You so convince yourself that that's not you on the screen. With the costume and make-up and everything – I just convince myself it's not me. With film, you've got an excuse," she adds, laughing,  "that even if you look a mess, you just think, 'well it's not me, it's the character'."
And how did they find working with Heymann on her first film?
"She just doesn't seem like a first-time director," says Burley. "She's very artistic and brings a lot to her filming and the set, and she's very clear on what she wants. She got a lot of ideas and has a lot to offer, and she seems very experienced and so well organised, that she just comes in and everything flows."
The shoot had to be meticulously well organised. On a low budget, it had to be completed in 20 days. Did that make the experience more stressful?
"No, I think it helped," says Hayes. "Because the whole film is about tension and intensity, I think it's important that we weren't just doing a couple of days a week and then going off and coming back."
"You could draw from the tension and the tiredness," concurs Burley, "use it to your advantage."
"We just had to get the scenes done because if we didn't then they weren't going to get done at all."
The two both think that the public is too obsessed with the notion of celebrity these days – an obsession exploited and encouraged by the media. Jasmine will be seen by some as the shallower of the pair – but one only needs to look at the stereotypical contestants of the Big Brother house to realise that she's an all too real 21st century character.
"There are a lot of people like Jasmine," agrees Burley, when talking about her preparation for the role. "I've been into clubs and seen many Jasmines. It was just letting go of my own conscience and becoming this person that I really did knew existed, and not being scared to just go with it."
Both are critical of the way that celebrities are portrayed as demi-gods by the press – creating an alluring but unrealistic picture for impressionable teens.
"Was there ever a time before when celebrities got photographed just walking out of shops?" asks Burley. "When they were criticised simply for being spotted wearing jeans. Comments such as, 'I didn't think we'd ever see Lady Gaga come to the door in a pair of jeans'. Well, why not? Are we so kind of pretentious that we constantly have to live up to these false images. And we all feed it. Everybody; the people that buy the magazines; the people that say what they say in the magazines; the celebrities who feel that they have to live a certain way."
"Or those celebrities who have a full wardrobe who say that they've never worn the same outfit twice," say Hayes. "It's like, 'oh my god, you're wasting all the money on clothes just because you don't want to be spotted in the same outfit twice?' It's crazy!"
As two young successful actresses, promoting a feature film together, the duo are – in some respects – living the dream. I ask them if they've yet felt pressured to conform to any particular image, or been asked to do anything that they weren't comfortable with?
"Yeah," says Burley. "I was at the premiere of Streetdance, and you get all these designers saying you should wear this and that, but you know what, I'll wear what I want and I couldn't care less if it came from Primark, as long as I feel comfortable in it."
"It's like that actress, Carey Mulligan," agrees Hayes, "who's now making it in Hollywood. I think she dresses quite cool – but she got criticised at the Oscars for wearing a long dress, for no other reason than she's always wanted to wear a long dress at the Oscars. She got slated at this fashion show because she was wearing a dress that they didn't think was right, but she still looks great! Just because she's not quite conforming to what some people think a Hollywood star should look like."
Unlike the characters they portray in Kicks, who are united by a desire to re-invent themselves, Hayes and Burley are both give the impression of being more self-assured and content, despite the demands of the business in which they've chosen to work.
"You're never gonna please everybody," says Burley, "so you should just stick to being yourself."