Dolph Lundgren
Beating Carl weathers, meeting Andy Warhol and sleeping with Grace Jones: Pure Movies gets down to business with Dolph Lundgren.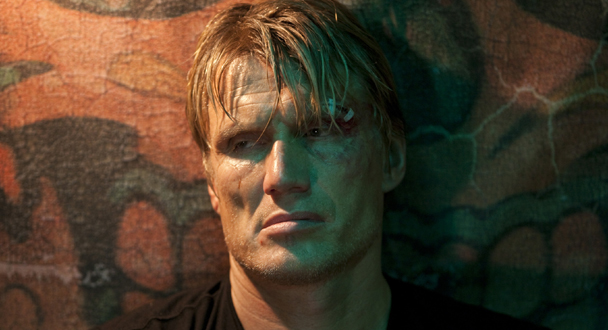 Beating Carl Weathers, meeting Andy Warhol and sleeping with Grace Jones: Nell Frizzell gets down to business with Dolph Lundgren
The man who exploded on to our screens as Ivan Drago in the cold war classic Rocky IV may be best known for his head-sized biceps, bottle-opener jaw line and honey blonde flat-top, but the actor, writer and director has plenty more going on above the shoulders than a geometric hair cut. After graduating with a degree in chemical engineering, Lundgren was all set to study at MIT, until the lure of acting drew him to the party town that was late-70s New York.
So, after more than twenty-five years in the business has the Swedish star finally thrown off his meatball image? Or is the upcoming release of The Expendables on DVD likely to enshrine his action hero status for another quarter century?
We meet in a hotel room in Soho, where Dolph appears to have been poured in to an armchair designed for a much smaller man, and in to a suit that would probably drown a lesser figure.
Hello Dolph. How are you finding London?
Great thanks. I just got here a few days ago- before that I was in Sweden, to give a scholarship to the best student at this school. You know, I used to be clever back in those days. Before I got beat up too badly. [laughing] You know, before I got brain damage back in the 80s.
Although you were given a bit part in the Bond Film A View to Kill, Ivan Drago was probably your 'breakthrough role'. So, how did it feel to be back together with Sylvester Stallone after all this time?
It felt like a lot of fun. And very unexpected. You know, this is a business where you don't usually work with people again after 25 years.
The first time I watched Rocky IV, I actually had to stop the DVD when you killed Apollo Creed [Carl Weathers] with that almighty punch. Are there scenes from your films that you wouldn't let your kids see, or that you can't watch?
I don't watch my movies a lot. If I catch them on TV then I'll turn them off. I'm not a big fan of my own, really. My daughters are nine and 14 and they've seen some of my movies, like Masters of the Universe, because that isn't so violent. But really, I just don't like watching them period.
You are known for your quite incredible good looks. [he pulls a horrified and funny face]. Do you ever wonder how things might have been different if you'd been a bit uglier? You know, like Bruce Willis or Jason Statham?
Well, yeah. I mean, if I'd been smarter with my choices as an actor then I could have had a different career as an actor. But I just rolled with it – I went with what looked good at the time. I was never really that ambitious in my career. I was hard working, but I wasn't, you know, really clever. It's only recently that I've started to get a little more control, now that I've started directing.
It's good as you get older. Because as a man you get a little bit more marked, a bit more character. It's an advantage that you get uglier.
Looking at your films now, some of them have had a clear influence on later movies. Comic book adaptation The Punisher reminded me a lot of The Dark Knight and in lots of ways it looks like an early Tarantino film. Would you ever like to be in a Tarantino film?
Yeah, sure, I love those films. He's a great director and he does such homework. Some of those characters he writes and the detail is just amazing. The idea of a German film festival in France where Hitler turns up? I mean if you tried to sell that to someone they'd be like 'get the hell out of here!' But his scripts are so full of detail and they're directed in such a way that they're just brilliant.
I've read that you described The Expendables as  "An old-school kick-ass action film where people are fighting with knives and shooting each other"
Yeah, I just said it just a few minutes ago.
But I also hear that you have ambitions to make a Swedish period drama? Isn't that a slightly odd contrast?
You know, as a director you want to do films about something that you really care about and have knowledge of. I've not really done that [as an actor]. I've done action films just to learn the craft, really. But that's why I want to do a film about Sweden, because you know I like Swedish history.
Also, it's quite difficult to make the transition from action to drama, but a lot of people like Gibson and Costner and Eastwood have done that because they used period drama. Period dramas have the knives and the shooting and whatever, but people look at them as more than just at action movies.
You've had some quite saucy love scenes in your career [he groans at the mention of Showdown in Little Tokyo]. Were you disappointed not to have a love interest in The Expendables?
No, no. I think that as an action guy, it's sometimes better if you don't. It keeps your integrity as a character a little more. People are interested in the mystery of that character.
Also, even if you have a love interest sometimes it's better not to have an actual love scene. It's better to just want to make love to somebody. The longing is better. All great works of art are about the broodiness and the longing.
In Showdown in Little Tokyo the Brandon Lee character tells you that all that upper body strength is just slowing you down. Is it still slowing you down?
[laughingly]I actually put on a little upper body strength recently. I had to beef up for The Expendables, just on the arms and the shoulders. I knew I was up against guys like Steve Austin and those guys are very built. Whereas when I do karate, which I do quite a bit these days, you get kind of thin and quick. In fact the opposite of what Brandon says – you get strong in the legs and thin upper body. But now I've switched it around.
Was that easy to do?
No, not really. I mean, I trained a lot.
Do you listen to music when you train?
No. I just train.
Wow. Okay. Right. So, the original of The Punisher wasn't released in America. But the remake was huge. How did you feel about that?
I never saw it. And I never saw the second remake either. It's not that I didn't want to, I just didn't have an interest. I don't watch a lot of action movies to tell you the truth. I like making movies, but I don't really watch a lot of movies.
If you're not a big fan of movies, do you read a lot instead? What was the last book you read?
The last book I read was about Sweden. About the place where I grew up; it was non-fiction. And before that I read one about the Roald Amundsen trip to the South Pole. He was a Norwegian explorer and that was very interesting. Also, I read a lot of bad scripts, so that sort of turns me off reading fiction.
What was it like coming to New York during that whole late-70s, studio 54 scene?
It was weird, but it was great. I was quite lost, you know.
Being photographed by Andy Warhol must have been amazing.
Yeah, I was in some club. I was going out with Grace [Jones] at the time but she wasn't there. So anyway, I was in this club and some little guy with white hair comes up and takes my picture. He's like 'Hi! So, what are you famous for?' and so I said 'Nothing, so far as I know'. So he says 'Well I'm going to put you in my magazine' and that was Andy Warhol!
And Helmut Newton. He photographed you and Grace Jones together didn't he?
Yeah, he was great, what a nice man. A crazy, crazy photographer. He was famous for taking one picture. So, you'd pose for ages and then he's just take one shot.
We were doing one shoot where I was meant to play some kind of railroad walker. He always had these interesting, sexually charged motifs. So, he had Grace up on some railroad car and I'm there in these suspenders and stuff. Then the stylist shows up with these pants and Newton's like [puts on comedy German accent] "What is this? I told you they were supposed to be used!" So he throws them on the floor, gets in to his Mercedes and drives back and forth over them until they're covered in dirt and stuff. His poor assistant got so much abuse you couldn't imagine it."
Finally, talking of sexually charged scenes, in Showdown in Little Tokyo, Brandon Lee tells you that "you've got the biggest dick I've ever seen." Is this true?
Ha! Well, I don't know. Ask Grace Jones.