Dante Di Loreto
The producer of Glee talks about the show's success, Lady Gaga and much more.
Dante Di Loreto, the producer of Glee talks about the show's success, Lady Gaga and much more.
Did you have any idea that Glee would become as huge as it has?
No, we had no idea. We knew it was a hell of a lot of fun, and we really enjoyed making it. The cast and crew were enjoying themselves and it seemed to be connecting, but we had no clue. We produced the first 13 episodes in a complete vacuum, no one had seen anything, and then we aired those and you got a sense that the audience was growing. To hear the show was taking off in the UK and all over the world was brilliant.
Lots of people have made comparisons to High School Musical, what were the influences on the show?
None of the creators of the show had ever seen High School Musical, although there are obviously that question because there is singing and dancing on the show and it's in a high school but I think that's where the similarity ends. It's a one-hour comedy with music, it's not a musical comedy, all of the songs are integral to the story, no one breaks into song for no reason – well, rarely! The most obvious difference is a character like Sue Sylvester (Jane Lynch), her humour is very biting and mature. That's what makes it adult.
Like Nip/Tuck (also created by Ryan Murphy) there seems to be a delicate balance between humour and darkness in Glee.
Ryan is easily bored, so if something is becoming too absurd or too heartfelt then he likes to make fun of his shows. I think that's one of the things that makes the show fun to watch more than once.
How do you feel the public has responded to the characters?
Hopefully there's something for everybody. There may be a character you relate to, but I hope we're also exposing people to characters that they don't have any intimate experience. You will see the world through their eyes and it might surprise you. Chris Colfer (who plays Kurt Hummel) walked onstage at Radio City Music Hall (in New York City) to sing Defying Gravity and the audience leapt to their feet – there were tears in a  lot of people's eyes to see a character like that so warmly accepted and loved.
How important do you think the story lines are to the audience?
Three people have created the show and write all the episodes, which in the USA is very rare. It creates a real singular voice and they make certain that every episode is thematically about something – that informs the story and the music choices.
Which themes from the first season has had the most impact?
People have really responded to the story of Kurt and his father, and the dynamic of that relationship. Also to the story about Artie (Kevin McHale) and the struggles he faced in his relationship with Tina (Jenna Ushkowitz), the more emotional story lines. Also things that we don't hit so hard on the head like being raised by a single parent, and what the different ways are that people create family. Just when you start to get a little teary about it, Sue Sylvester tells you your all a bunch of idiots and grounds it again.
Sue has gradually been shown to have a heart, how is that going to work in the next season?
What the show is so brilliant at doing is when the comedy becomes to absurd then you ground it, otherwise it just becomes a comic book. By making her real and giving her real life problems, you get a sense of who she is. There's a little bit of Sue Sylvester in everyone – everyone wants to say something terrible just once at least, but there is a price to pay for that.
The character of Brittany (Heather Morris) has been pushed forward as the show has progressed. What is next for her and the others?
The great gift of having 12 talented kids in the choir is that you can take the show in so many different directions. We're all excited to see what will happen to whom.
Any news on guest stars for season 2?
So many people have let it be known that they love the show and they want to be a part of it. It's really flattering. All of the choices that have been made so far are centered on story, they try to stay away from just casting someone because they're famous.
When Idina Menzel came to Glee playing Rachel's (Lea Michele) mother, lots of the fans were delighted. Is there a consideration of fan suggestions by the creators?
There was a certain genius to casting her, I know that we all listen to the fan response but the story really comes from the singular voice of the three writers.
How important is it to have positive feedback from musicians, such as Lady Gaga and Madonna, when their songs are used in the show?
It's amazing – can you imagine? The cast saw Lady Gaga at a charity event and it was just so flattering to have her say that she loved the show and the message. It's what you hope for, you hope to make something interesting enough that the people you admire are watching it.
Have you had many song requests from the cast for the next season?
The song selection comes from Ryan, with some input from the other writers. He's a musical genius – he has this encyclopedic knowledge of songs and when they charted and who covered them. I have noticed the cast are pretty sly at finding a way to let him know how well they could sing a certain song. You'll see someone humming or watching a music video, and it'll engage Ryan's imagination.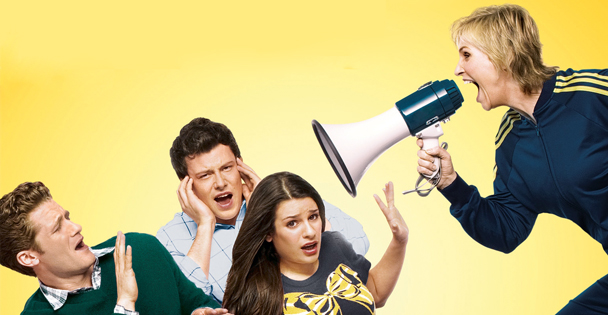 Who would you say is the most like their character?
The great thing about Glee is that everyone is a little bit like their character. They've got something as performers to draw. Some of them are just out of school and there is terrific inspiration to be had from their real lives.
The show brings a Broadway musical theatre feel and contemporary pop music together. Is that important to the style of Glee?
It really reflects Ryan's taste. The music is so diverse – we've produced over 100 tracks so far and we haven't even scratched the surface of what's possible. It's going to continue to grow.
How would you describe Glee to someone who is aware of the hype but hasn't seen the show?
If we are doing it right, there is something for everybody and there is a lot of unexpected comedy and drama in the show. There is nothing else like it on television, I wish there was, I think it would be a better world if there were a dozen other programs like Glee.
Is Brad the piano player ever going to get a line?
Brad was our piano player for the auditions and he's such a fun character and we love having him there as an anchor to the show. Whether or not he'll get a line is anyone's guess.
For people who have watched the series over and over again, what extras are on the Glee Season 1 DVD?
There is karaoke, there is a behind-the-scenes with our choreographer and costume designer, there are additional featurettes that should please the die-hard fans.