Trying to turn the light on

I thought I had thought every thought there was to think about vampires. I really did. And then came Eli in Let The Right One In. A 12 year old lonely vampire who has been 12 'for a very long time'. I think what John Ajvide Lindqvist did with that book is transcend a genre, a thing that I don't think happens very much at all. And to transcend a genre as crowded as the vampire genre is nothing short of extraordinary. And then I was offered a chance to adapt it for the stage. And there is great joy in working on something you love, and there is great fear too. Because you can truly screw it up. And to screw up something you love – well, there's probably nothing more shameful.
The way I approach an adaptation for screen or stage is stolen from my favourite writer Ronald Harwood (The Pianist, Diving Bell and The Butterfly). He builds an index, an index of favourite scenes and thoughts and dialogue from the book he's adapting. He makes sure he knows the book backwards and then – and only then – he puts down the book and gets to work. The story is served, the book has been to some degree worshipped, and then you fly solo but with constant references back to the thing you loved – the book itself.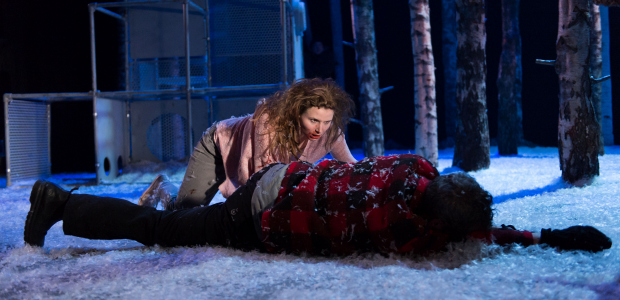 I am that dull guy at a party or in a bar who makes you listen to his story for two hours – it's just it isn't a party, it's a theatre, and it's made very difficult for you to leave.
Writing is quite an egotistical activity. I get quite embarrassed when thinking about it – there's a certain judgement in it – because logically it relies on the belief that people will be interested in listening to what you have to say. You know, in some ways, I am that dull guy at a party or in a bar who makes you listen to his story for two hours – it's just it isn't a party, it's a theatre, and it's made very difficult for you to leave. Adaptation is about removing your ego from the mix – not entirely – but I think the most important job a writer has is protecting the story and as an adaptor you have not originated the story you're protecting. Eli and Oskar existed in another's mind before they existed in mine, and my job is to protect that existence. But, inevitably, whilst adapting and staging the work, we've given it our own emphasis. And that emphasis obviously reveals certain truths about how we've seen the book. And that's what makes every adaptation different. And that's why I love adaptation, you work out what makes the story tick, and through that you work out what makes you tick..
To give a small example of this, I had the good fortune to sit down with Lindqvist last Monday before we did an interview of Radio 4's Front Row and one of the extraordinary things he said was about the character of Hakan. Now Hakan is a source of some controversy amongst the Let The Right One In community. Because in the book it's very clear the man he is – he's a paedophile – and by the end of the book (spoiler alert) he's a paedophile zombie. In the film – well, it's more ambiguous – Hakan is the man who lives with Eli, he gets her blood, he is in many ways Eli's protector, and many believe that Oskar at the end of the film will grow old – as human's do – and replace Hakan as Eli's sad protector. John wrote on the screenplay to the film as well as the book – and he said he worked on the script, and watched rushes and many cuts of the film – and it wasn't until he saw the film with an audience that he realised that this interpretation was possible. Somehow seeing it with an audience made it clear to him. He surprised himself, and I love this.
So what changes have John Tiffany (the director) and I made? Well, as the above anecdote illustrates, maybe it's not for me to judge. All I can say is, I've loved every second of working on this profound and brilliant story.