Inside the Transylvania Film Festival

A wind was picking up in the Transylvanian night, blown down cold from the Carpathians, bringing with it ominous rolling clouds that obscured any moon there might have been.  I was in the back of a cab with Ovidus Buhuţan, the assistant programmer at the Transylvania Film Festival.  We drove, over a bridge crossing the Someșul Mic river, leaving behind the central square of the ancient township—enshadowed by the 15th Century gothic St. Michael's church and the statue of medieval ruler Matthias Corvinus, who kept Transylvania free from the invading masses; the somber dank colonnades of the baroque Banffy Palace and art museum, the fast food outlets selling mamaliga and mici—and into former communist domesticity and industry.  Far from anything that would lure a tourist, houses were jumbled together, peeling and graffitied, and low grey perfunctory buildings hunched unlit.  Ovidus turned to me.  'In school, I played Dracula many times,' he said, 'My hair was longer then.'  He leaned forward and said something in Romanian to the driver; the driver belched out gruff monosyllables.  Ovidus responded more firmly.  They driver acquiesced, though still gruffly.  We swung around hard, down an empty rutted street, the only light coming from intermittent low wattage bulbs behind the rare window.  This was Ovidus's second festival as a volunteer.  'There's something like hundreds of applicants for the festival, so many people willing to get involved.  There are interviews going on…'
'Just to volunteer?' I said.
'Yeah, and there's contracts being signed…and some sort of work ethics tutorials done, and presentations…it's a really big deal.  It's done very professionally.  I wasn't expecting it.  After graduating in UK last year, ' Ovidus studied business and accounting in Nottingham, 'living in the western world—which to us, everything is kind of perfect over there—I got here and got involved with this festival and saw how organised everything was and how people are really serious regarding the way it runs.'
The first thick drops of rain hit the windshield, but then stopped.  Ovidus leaned forward again.  More rushed discussions, and I could tell from the inflections that they were answering questions with questions.  We slowed, turned cautiously down another road that seemed like an alley.  Ahead of us, pulled alongside a pocked white wall, was a mini-bus with the TIFF logo on the side.  'We're here,' Ovidus said.  We pulled up outside of the old film distribution warehouse, now derelict, but with luck—and only 7000 euros to be raised—the future home of the Transylvania Film Museum.
This year was the 13th incarnation of TIFF, the Transylvania International Film Festival in Cluj-Napoca—a sort of intellectual hub in the region with it's six universities—and it takes over the small city; actually, the festival becomes a small city, with an army of over 400 volunteers from around the world, a permanent HQ called Casa TIFF, and a TIFF transportation system for the outlaying events at nearby castles (and, of course, the Film Warehouse).  It's an incredible tactical achievement, if nothing else; but of course it was a lot else.  With military precision there were screenings taking place simultaneously in six venues throughout the small (mercifully) town centre, as well as in four outdoor locations every evening, including Plata Unirii, the central square.
As Laura Popescu wrote in the daily newspaper that the festival puts out—yes, they even have their own daily paper, printed in both Romanian and English—called the AperiTIFF, 'TIFF will always be a phenomenon attempting to contaminate and envelop all aspects of the life of the city and enrich this existence in as many ways as possible.'  217 films from 55 countries, 400 screenings, and over 63,000 tickets sold.  Besides the movies, there were art exhibitions —including 'Film Poster is Not Dead at the Art Museum, and 'Cinemas, Films and Advertising from Another Era' at Casa TIFF—master classes, symposia, late night cocktail parties at Casa TIFF, and a 'Hungarian Gulash party & FoodArt performance by visual artist Erno Bartha.  Event followed by Stereotrombone in concert' (I wish I could write a sentence like that).  'The parties are one of the most unique things about the festival,' Sandra Spighel, a guest services coordinator told me, 'they are daily opportunities for filmmakers and directors to network with other industry people.  This year HBO rented a whole building for their party, and there were bars and deejays in every room.'
Along with the parties were concerts, including Male Instrumenty (Poland) (which actually and ironically translates as Small Instruments), Fine It's Pink (Romania), and Theory of Mind (also from Romania).  There was a screening of F.W. Murnau's Faust (1926), hosted by Lutheran Church of Cluj and 'accompanied with live music especially composed for this event and played by famous organist Martin Schmeding!' (the program, I found, had an ardent proclivity for exclamation points, as in 'directed by Miklos Jancso, who died at the end of January!'  I asked Sandra Spighel, a guest services coordinator, if this was a translation thing, if perhaps exclamation points were not native to written Romanian.  'Of course not!  What are you saying?' she said, and a screening of Sergei Eisenstein's Battleship Potemkin (1925) accompanied live by 'Turbo Polka Metal' band Russkaja—talk about acknowledging the past with a big 'fuck you'.
Started in 2002 by Tudor Giurgiu and Mihai Chirilov, TIFF was the first international film festival in Romania.  'I intended to stir the waters, to provoke the audience to explore, through film, their own vision about themselves and with the world, their dark side, to take them out of their comfort zone, their numbness and conservatism,' Chirilov wrote.  As creative director of the festival, he was flamboyant, indefatigable, and omnipresent.  I saw him everywhere, helping people get tickets first thing in the morning at the Arta Cinema, last thing at night, at the Casa TIFF bar, in heady discussion with visiting filmmakers.  'I'm interested to provoke this type of "confrontation" in the audience and myself, and interior debate with one's own ideas, limits and convictions, not the political debates, full of bark but lacking every bit of conviction.  It is risky and ambitious endeavour, but I believe that a festival such as TIFF must remain a bastion for freedom of creation and expression.'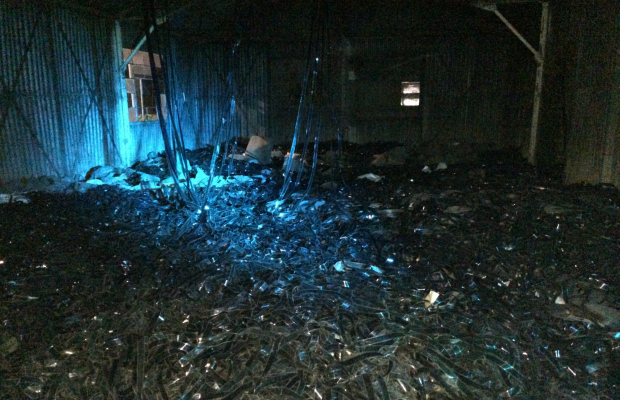 Out back was the warehouse, the vast open space inside filled whorls and twists, clumps, a sea of tangled film you had to wade through.  It looked like an art exhibition.  But it wasn't.  It was a travesty.
Ovidus and I got out of the cab and went to a gap in the stucco walk hiding the buildings from the street.  There was a large yard full of people on folding chairs looking at the flickering image on a screen against the outer wall of a building.  Stray raindrops hit us, but they abated, as we found a place in the back and folded out chairs.  A lit-up trailer with an awning was set up along one side of the yard.  The Film Warehouse, the former film depot of RADEF (RomâniaFilm), had been the hub of film production and distribution in Transylvania, started in 1913, when the director Jeno Janovics formed a partnership with the Pathe.  It was a husk now, single storey, no windows left, the walls, inside and out, covered in graffiti.  'Do you want a tour?' Ovidus asked me.   We walked past the trailer, which was selling beer and wine.  Both the building and the yard surrounding it were festooned with strips of 35 mm film; covering the ground, in drifts of up to three feet, pouring out the windows in frozen wave crests, spilling down from the roof like streamers in Time Square on New Year's morning.  We walked along the side, past doorless doorframes; the floors inside, like the ground outside, covered with gleaming strips, streaming out the doors, like Pompeian lava flows, like kudzu eating up the indigenous forests, like the nest of Roger Corman giant spiders that spin celluloid.  Out back was the warehouse, no glass in the windows, the corrugated metal walls heaving in, the vast open space inside filled whorls and twists, clumps, a sea of tangled film you had to wade through.  It looked like an art exhibition.  But it wasn't.  It was a travesty.
We made our way back and took our chairs.  The film being screened was a work in progress, Cinema Mon Amour, by Alexandru Belc—about the Cluj Film Warehouse, being projected against the film warehouse.  On screen, it was daylight, and kids were playing in the very yard we were sitting, as they often did.  A favourite game was climbing up on the roof and jumping in the piles of the film.  Kids roof diving into unspooled drifts of 35 mm celluloid, landing, being mesmerized by frames on the strips around them. 'Look,' said one, sitting waist deep in film, 'a cowboy. He's riding fast on his horse.' He follows the strip, frame by frame, running it through his fingers.  He comes to the end. 'It stops.'  His friend shrugs, 'Maybe that's the end of the film.'
The screen goes to black and the lights come up.  The next short feature, Cinema at the End (2010) by Meritxell Soler and Julian Vazquez, in attendance, was about saving a last cinema on Patagonia, a forlorn outpost, a cinema where you'd expect to find a mission or coast guard shack.  TIFF provided blankets for the outdoor screenings, and we got two.  It was getting chilly.  People came out of the trailer with trays of little plastic cups full of țuică, the local plum brandy.  As Mihai Chirilov, who was sitting in front of us, explained, it was to keep us all warm.  Then he reached back with a bottle of scotch.
The event here—the location, the films chosen—was part of the campaign launched by TIFF called Save the Big Screen, 'the first and largest campaign,' Nick Holdsworth wrote in AperiTIFF, 'aimed at …finding solutions for the rehabilitation of the Romanian cinema theatre network.'  In the early 1990s there were approximately 450 cinemas in Romania.  Today there are less than 30.  Three quarters of towns and cities don't have a movie theatre.  You can say what you like about the communists, but at least they understood the value of film.   Lenin said, 'the cinema is for us the most important of the arts,' and his lovely wife, Nadezhda Krupskaya, led the first film school.  The first film school ever.  Under communism, all of Romania's cinemas were state-owned.  They might not have shown the widest variety of films—it's doubtful John Waters's Pink Flamingos (1972) ever played here, though highly likely Working is Fun (1954) by Sieglinde Hamacher did, or I Dreamed of My Elk (1986) by Siegfried Kühn, or Fat Little Tilla (1982) by Werner Bergmann, or How do you Feed a Donkey? (1974) by Roland Oehme, or Hello, I'm Your Aunt! (1975) by Viktor Titov—but, after Ceaucescu fell, in 1989, public funding disappeared, as did cinemas.
Most cinemas have been turned into bingo halls, supermarkets, churches, or restaurants, when they were turned into anything at all.  A lot were left to decay.  Alas, the irony—this coincided with the ascendancy of Romanian filmmakers, when Romanian films became the cinema du jour of world cinema, with Cristian Mungui's winning the Cannes Palme D'or for  4 Months, 3 Weeks and 2 Days (2007) heralding the start of a decade of exquisite and challenging films.  TIFF wants to turn the derelict shambles of the film warehouse into a film museum, the first in Romania.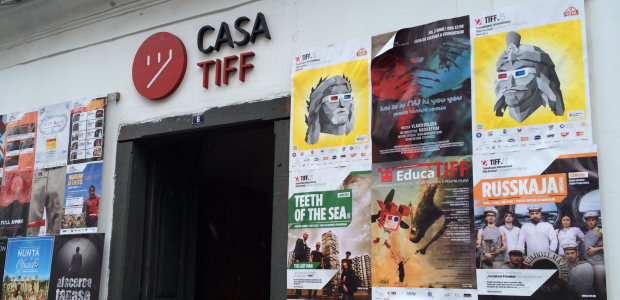 Besides Cinema, Mon Amour and Cinema at the End, TIFF had a whole strand showcasing films about saving big screens.  There was Small-Town Movie (Arthur Balint, 2007), about a, well, small town movie house in Hungary; The Last Remaining Seats (Marios Piperides, 2010) about two old projectionists, who loved their open-air cinema, the only one in their tiny town in Cyprus, and worked to bring it back to life and share the love; The Rep (Morgan White, 2012), from Canada, chronicling the first year of a single-screen rep house in Toronto; The Last Projectionist (Thomas Lawes, 2011) about the art of the traditional projectionist and UK indie cinema; and that reliable sugared chestnut of cinema-love, Cinema Paradiso (Giuseppe Tornatore, 1988).  There was a Save the Big Screen Conference at the Boema Attic that I wanted to go to, featuring the mayor of Cluj, Emil Boc, the mayor of Gheria, Marius Sabo, Tudor Giurgiu, Marta Materska-Samek (Cinema Development Foundation in Poland), Tina Hajon (Croatian Audiovisual Centre), and Ivo Andrie (Aerofilms, Czech Republic).  Sadly, the Boema Attic gave no address.  No one knew.
So I set off early on Saturday morning, and I went to Victoria theatre, one of TIFF's screening venues, and asked there.  Three volunteers searched on Google and found a place called Boema, a number of miles to the west.  It was probably above that, it was suggested, being an attic, after all.  I caught a cab—it had started raining, and was getting late—and we turned finally onto a tortuous street with potholes.  Lean hungry dogs popped the front halves of their bodies out of holes in the metal-sheeted fences.  The driver dropped me off in front of a rust colored metal wall with a door grate in it.  Beside the door, written large in spray paint, 'Love football, hate fascism' (a thesis worth parsing, though not here).  Over a crackling buzzer, a suspicious female voice sounding like it belonged to a stout, stern older woman named Helga.  'TIFF?' I said, 'TIFF?  Film Festival?  Boema Attic?"  Just the sound of static.  'You want a room?' she asked after a minute.
The festival was not only devoted to cinema as an artifact, but also cinema as a living, breathing, fucking beast, featuring the best in world cinema, and some great American indies as well, since America (cinematically, at the very least) isn't part of the world.
The line-up was impressive, from the newest films by Roman Polanski (Venus in Fur, 2014), little, lovely, adept, like a gilded page from the Kama Sutra; Lukas Moodysson's We are the Best (2013), a bubbly pre-teen romp about a punk band and a departure from the rape, drugs, porn, torture, and rainbow showers that we've come to love him for; and Richard Linklater's sublimely heart-breaking milestone achievement, Boyhood (2014), filmed over 12 years (just getting completion bond insurance on a film like that deserves some kind of academy award).  There was also Michel Gondry's Mood Indigo (2014), which started giddy, inventive, dreamily playful, as we'd expect, but brought the loss and sadness that usually hides at the edges or under the bed of his other films to the foreground, and Bill Plympton's Cheatin' (2013).  Any new Bill Plympton, anywhere in the world, at any time, is time to rejoice.  I could have left Transylvania satisfied just after seeing this one film alone.  Easily his best feature—Plympton works much better in short form—this is a masterpiece of art and effort, every frame hand-drawn and colored, his surrealist humor and phantasmagorical imagination at it's peak in this simple American story of a small town peach-pie of a girl and a burly carnival worker's Tilt-a-Whirl of a romance; old-fashioned, hallucinogenic wholesomeness.
There were also some surprising films from Iran, including Fish & Cat (2013) by Shahram Mokri, a 134-minute single take and—it seemed to be the year for Iranian film with terse domestic animal noun titles—Dog (Paat) (2013) by Amir Toodehroosta.  Dog was daring, or so I would assume, baldly exploring drugs, abortion, and prostitution in present-day Tehran, all curated by a picaresque dog).  Dog highlighted the complications of a truly international film festival—multiple translations for the worldwide polyglot audience—Toodehroosta, not speaking Romanian or English, had a translator, who spoke no Romanian.  A question was asked in Romanian, which was then translated to English for the director's translator, who then translated to Farsi. We heard the long involved answer in Farsi, that had to be translated into English, then that was translated to Romanian.  One question could take ten minutes.
My personal favorite of the festival was a movie so bizarrely uncharacterisable it's unlike any film I've seen.  The Kidnapping of Michel Houellebecq (2014) by Guillaume Nicloux, in which the real life Michel Houellebecq plays Michel, and three kidnappers play themselves (except for the kidnapping part), expands and hypothesises and presents as fact a real life incidence in 2011 when Houellebecq went missing.  The incident was never explained.  Is it a documentary, a reenactment, a fiction, surrealist humour?  It is charming, companionably very funny, intriguing, and iconoclastic.  It's something new under the sun.
There was also a strong line-up of gay-themed films, which was admirable if not daring in a country where the fledgling Gay Pride parade was counter-programmed with the Normalcy Parade (counter-programmed is perhaps the charitable term for it; 'fascistic bullying' might be more apt) whose adherents outnumbered their parade-going gay brethren, and would in fact have been even more abundant except that some of them were busy over at the Pride Parade hurling bricks. There was this year's Cannes winner (for Mommy) Xavier Dolan's Tom At the Farm (2013), strange love on a Quebec farm; Floating Skyscrapers (Tomasz Wasilewski, 2013), Polish bi-sexual angst in Speedos; Stranger By The Lake (Alain Guiraudie, 2013), loving the wrong man al fresco in France; Something Must Break (Ester Martin Bergsmark, 2014), a genderfuck punk, anti-conformity stew which was a little too self-satisfied; and the initially excellent Eastern Boys (Robin Campillo, 2013), which captured the tension of Haneke's Funny Games before devolving into what seemed like a PSA.
The documentaries, in the 'What's Up, Doc?' strand, ranged from alarmist calls-to-action on fracking (Gasland 2, Josh Fox, USA), and education (Alfabet, Erwin Wagenhofer, 2013), to music (Nick Cave in 20,000 Days on Earth, Iain Forsyth and Jane Pollard, 2014), to lovely culture-logues, like Cathedrals of Culture (2014), all about lusting after iconic architecture—in 3-D—by six directors, including Wim Wenders and Robert Redford, and one film I missed by mere hours, Sickfuckpeople (Juri Rechinsky, Austria 2013), which I tried to steal the poster for off the wall of the cinema but people kept walking by.
It was apt, of course, but still an invaluable opportunity to see not only a panoply of Eastern European films, but Eastern European films either looking at the troubled communist past (I am an Old Communist Hag [Stere Gulea, 2013]) or made during the communist artistic stranglehold, including Milos Forman's great Czech New Wave masterwork, The Fireman's Ball (1967) and a rare oddity called The Devil Never Sleeps (1956) by Peter Solan, also from Czechoslovakia, subversive anti-propaganda satire on bureaucracy and fear, which was probably very dangerous to make, turning film censorship into Marx brothers.  There was also a cinephilic treat for those of us who hadn't been exposed to Romanian westerns made behind the Iron Curtain—which was probably most of us—with The Transylvanians trilogy—The Actress, the Dollars and the Transylvanians (Mircea Veroiu, 1980), The Prophet, The Gold and the Transylvanians (Dan Piţa, 1978), and The Oil, the baby, and the Transylvanians (Dan Piţa,1981).
Films I didn't get to see, and for which I'm stricken with rue for missing because the catalogue descriptions were so, well, intriguing, were La Gran Familia Espanola (2013), by Daniel Sancesz Aevalo, 'a Spaniard with extremely pleasurable and prized precedents'; Keep Rollin (2013) by Stefan Hillebrand and Olivier Pulus, who 'bring us a teenage melodrama peppered with disabled people (and more)'; and Magic Men (2014) by Guy Nattiv and Erez Tadmor, 'a charming whimsical comedy that throbs with the hardcore rhythm of the protagonist's senile nostalgia.'
I asked Ovidus over Romanian carrot cake and coffee about the appeal of the Transylvania Film Festival.
'I think Transylvania has a touch of mystery to it.'
'To the Western imagination?'
'And to us as well,' he said.  'I love saying I'm from Transylvania.  Honestly, there's something really special when I think of Transylvania.  Well, beside the vampires.  I think about the mountains that are over here, the Carpathians, like a circle, and I think about the people, that are very nice people, who are very calm, and who take their time to make the right decisions.'
'Like Minnesotans.'
'Also, because I am from here, I've developed this kind of thinking; I always take my time in doing everything.  Not that I'm lazy or really slow, it's just I do everything calculated.'
'And that's a trait of Transylvanians?'
'Yes, it is.  Everyone knows.  In Romania, the Transylvanians are the slow ones, but not in a pejorative way.  Except in jokes.  Because there are jokes about us.'
'Really?'
'Of course.'
'So like "Two Transylvanians walked into a bar…"'
'Yes, it would probably take 30 minutes to ask for a drink.  I don't know.  I just made that up.   It's a trait of Transylvanian people to take their time and do things in a calm manner.'
'But you also said there's a sense of mystery to Transylvania.  I always assumed that…Cause you know what the Westerners think about Transylvania…'
'Yes. Absolutely.'
I always thought that Transylvanians were a bit, well, tender about Dracula.  I mean, the whole Dracula thing was basically the invention of a 19th century Irishman turning a national hero into a bloodsucking ghoul.  It would be like, say, an Argentine novelist saying that Winston Churchill played bitch to a billy goat and lit orphans on fire, and have that be the thing people knew about him.  But, of course, I guess it's good for business—lord knows Texas roadside attractions milk the cowboy lore and rattlesnake rodeos, and the UK milks the Ye Olde for tourists, but those are indigenous mythologies.  Here it's from the outside, somebody who had never visited the country, and didn't speak the language, creating their mythologies.
'No,' Ovidus said, 'it's really useful when you want to identify with a place.'
'But it was from someone who'd never set foot in the country.  And the hero who saved his country from the huns was turned into a monster.'
'But it's still nice.  It's not something that you lie about it.  It's something that has developed over the years.'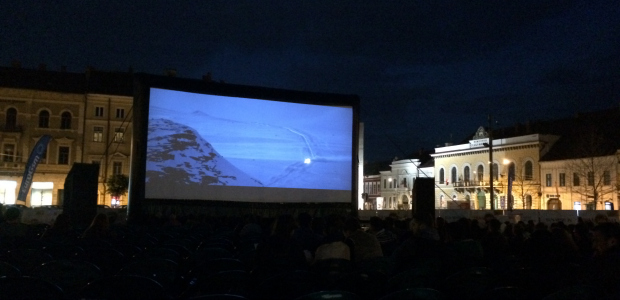 The Transylvania Film Festival certainly did not shy away from Gothic lore.  The posters featured Vlad the Impaler, rendered in the tectonic plates of a digital animation wireframe, wearing the blue- and red-lensed glasses from 1950s 3-D, making him look even more like Freddie Mercury than he does on the postcards.   And even the TIFF ident, before each movie, featured Vlad again, and Matthias Corvinus, also wearing the glasses, and their heads spin and are intercut in accelerating montage, faster and faster until they burst into spumes of viscous liquid.  And then, through this slo-mo suspended gloop, a glistening, wet wooden stake rises ominously up.
'Vlad the Impaler, yeah,' Ovidus nodded.
'I'd just assumed that would be downplayed.'
'It shows the humour,' he said, 'you have to take it this way.  Because there are no vampires.  You say Transylvania is in Romania to some people and they're surprised. They say they thought it was only someplace the existed in books. A fairy tale land.'
There is also, in the daily AperiTIFF, a daily comic strip featuring Vlad Dracul and Matthias Corvinus, both, brandably, wearing blue and red 3-D glasses.  They go on silly adventures, and with plenty of gags involving wooden stakes, and in one (surprisingly, considering these are basically national heroes) they are sitting in the cinema and Vlad surprised Matthias with the old popcorn-on-the-lap trick in what essentially amounts to Matthias Corvinus, King of Transylvania, giving Vlad the Impaler a handjob in a cinema.
The Transylvanian evening deepened toward midnight.  In Unirii square, people huddled, unable to move, transfixed.  There was suddenly a scream.  There was suddenly blood.  People jumped back.  'These are festival movies,' Ovidus whispered to me, 'that's how we usually call them.'  We were watching In Order of Disappearance (2014) by Hans Petter Moland, a superb film starring Stellan Skarsgard which starts off as what seems like turgid Nordic melodrama but quickly becomes something much funnier and much darker.  It was one of the nightly outdoor screenings.  'When you go to the cinema,' Ovidus said, 'or the multiplex or the mall, you say you going to the movies.  At TIFF is different, you say "We go to watch festival movies."  There's more to it.  You get a sense of achieving something after watching a movie from TIFF, you get a sense of achievement, you understand something, you acknowledge something, it raises some concerns.  People learn something from the festival movies.'