Filming on a mountain
Director Simon Hunter on making Edie and the extraordinary stamina of Sheila Hancock
Edie tells the story of an elderly lady played by Sheila Hancock who after a bitter and miserable life decides to release herself from a unfulfilled life by heading off to Scotland to climb a mountain and rekindle some of the magic of her youth.
The last film I directed was a science fiction movie called Mutant Chronicles which was a pretty brutal affair. All indoors with 2000 visual effects shots, it took over two and a half years to complete. The moment I finished I decided that the next film I directed would be outdoors, in the wilderness. I hike and climb often and wanted to make a film that I wanted to see. You always hope for a large and enthusiastic audience but I deduced that if I liked the movie, others might like it as well. So the idea for Edie slowly started to form. What sort of story could I set on my favourite mountain, mount Suilven? The first question I asked myself was, who was the most unlikely person to climb the mountain? Slowly I worked out a story with a young Irish writer Elizabeth O'Halloran and an old film school buddy and writer, Edward Lyden- Bell.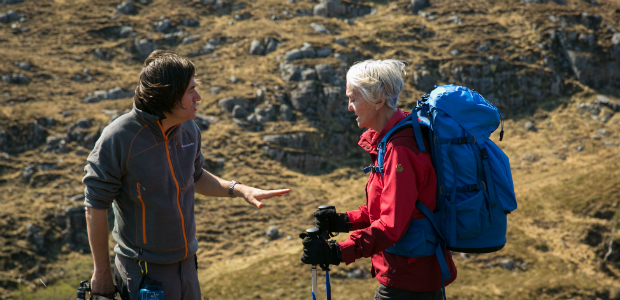 Sheila Hancock achieved exactly what you see in the finished movie, every single step. It was utterly extraordinary to watch.
Slowly the idea started to develop we wanted to tell the tale of Edith Moore a bitter old women who had had a miserable life, a free spirit trapped indoors by her invalided husband George who decides to make a radical change in her eighties by heading off to Scotland to climb a mountain.
The hardest part of the pre-production was to find an actress who could play the role and climb the mountain for real. No helicopter, no CGI …just two human feet and a lot of courage and energy. My casting director said "I've just seen Shelia Hancock in Grey Gardens and she was bouncing around the stage like a bloody teenager." A day later Sheila read the script and said yes.
I had lunch with her a few days later and she looked directly at me and said "you don't expect me to climb the mountain do you? " I passed the question over to my producer Mark Stothert and we both looked at the floor for a moment before murmuring "well ….yes actually."
Several months later after three months of gym work, Nordic training and long walks in Richmond park Sheila Hancock, set out with our film crew on the long walk to the base of Suilven. We realised early on that it would be a tough call to climb and film in one day, so we decided early on to walk, then film, then camp and then do the same thing all over again for three full days. It was tough walk, Arri cameras and Zeiss lenses are pretty weighty. It was tough, exhilarating but the entire crew and cast were utterly changed by the experience. Sheila Hancock achieved exactly what you see in the finished movie, every single step. It was utterly extraordinary to watch. How many actresses would do that at 83 and after two weeks of filming six days a week in rain, wind acting on bikes and in boats? Filming on a mountain could have been handled with huge logistics, cranes, rigs and helicopters. We decided to do it the old fashioned way by lumping our gear in our packs. The film is the better for it, our backs and legs maybe not.
Edie is out in cinemas from 25 May 2018.