Cutting the cord
The author of Labor Day reflects on the film adaptation
Twice, over the course of my forty years as a publishing writer, I've had the good fortune to see a novel of mine adapted into a film.   The luckier aspect of my experience: Twice, my novels have been intelligently adapted, by screenwriters who maintained respect for my work, as well as a necessary recognition of the ways in which the medium of film required that the story be altered.
The first movie adaptation was done by Buck Henry, for the film To Die For (from my novel of the same name), directed by Gus Van Sant. That one starred Nicole Kidman and Joaquin Phoenix. After To Die For, I was ready to believe I could never again be so lucky. Then Jason Reitman—director of Up in the Air, Juno, Thank You for Smoking and Young Adult—called to tell me he loved my novel, Labor Day, and wanted to adapt it for the screen. I loved Jason's films, and said yes.
I've been asked a lot, since the recent release of Labor Day, how the film compares for me with my novel.  Not surprisingly,  the director and screenwriter of a two-hour film that tells a story I took over two hundred pages to tell, in novel form, will have  to leave some parts out—and Jason did.  But for me, the experience of settling myself into a seat in a screening room , as I did for the first time about six months ago to see the first cut of Labor Day, was a richly gratifying experience. At several parts in the film (that first time I saw it, and twice after) I found myself weeping as I watched it. Partly this was because (as well as I knew the story) I found myself moved by it all over again. Most of all, though, as a writer, I felt moved that the ensemble of director, cast, cinematographer, set decorator….and the entire crew of a few hundred responsible for bringing the film to life—had succeeded in bringing concrete life to characters and places, a situation, and a series of events, that had until then existed only in my brain, and then on the page.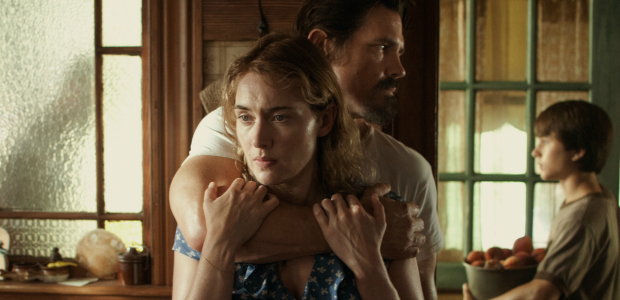 I would hope that the real-life personifications of my characters—as played by Josh Brolin and Kate Winslet—serve not to limit my characters, but only to incite the imagination about all the rest of the story that remains unfilmed.
I often describe my role, when I write a novel, as being that of a very low budget filmmaker—whose budget is so low, in fact, that she is required to assume all the jobs herself. I am the writer of course, but also (as I choose the scenes to reveal, and from what vantage point) I am like a cinematographer. I am the star, speaking the dialogue (and I play all the roles, in fact). I light the scene, I create the soundtrack, I edit the footage. I even select the wardrobe my characters wear.
So when the low-budget movie that had been playing strictly in my head was suddenly being produced, with an entire town transformed, through the wonders of Hollywood, into a small New Hampshire town in the year 1987, and a love affair I dreamed up—to entertain myself first, to move my own heart—was made manifest, in the person of two actors I deeply admired (Kate Winslet, Josh Brolin) I felt I had somehow transcended the boundaries between the imaginary world and the real one.  Flesh and blood actors walked the streets of an actual town, speaking lines I wrote, doing things I conjured up for them. And now people all over the world get to hear and see them.
I will add here that though my story is populated by regular-seeming individuals, living out their lives in a recognisable place,  Labor Day is, in some ways, a kind of fantasy. It's the story of a love affair between a lonely single mother, raising her son in a small town, and yearning for touch, and a desperate escaped convict, who convinces her to let him hide out at her house.
Some may regard it as far-fetched that these two could fall in love as swiftly, and with as much passion, as they do in Labor Day.  I'd say rather that it is the function of a good novel—and a good film—to present a story to readers, or filmgoers, that they might not believe could take place, but do so in such a compelling way as to convince them otherwise. I wanted to take the reader—and the filmgoer, now—on a journey he or she had probably never taken. I wanted to give that person the love story he or she wished might be possible, even though it seldom is.
I love the movie Jason made of my novel.  But of course, my greatest hope with this film –as with the film adaptation of To Die For—is that seeing it will inspire those who see it to read the book.  There is something about a fantasy that you see only in your head, that's never brought to life, that makes it the most compelling of all.
See the movie first.  Then read the book.  Or read the book.  Then see the movie.
I would hope that the real-life personifications of my characters—as played by Josh Brolin and Kate Winslet—serve not to limit my characters, but only to incite the imagination about all the rest of the story that remains unfilmed.
Buy the Labor Day book here. Watch the trailer for Labor Day here.