'Basildon is complicated', so wrote Norman Scarfe in the 1968 Shell Guide To Essex. He was right, that's the reason I chose the town as the subject of my upcoming documentary New Town Utopia (along with being a local of course). It's a film of memory, poetry, music and architecture that explores the power of art and a complex social history.
In 1946, in the midst of the UK government's radical post-war policy drive, a plan was announced to build ten 'new towns' across the UK. The ambition was to address major issues facing the cities of Britain – including the devastating impact of WW2 bombing and atrocious living/working conditions. Through relocating families from the cities, to purpose-built satellite towns, a desire was expressed to create 'a new type of citizen'. This citizen would develop through living in the new town 'a sense of beauty, culture and civic pride'.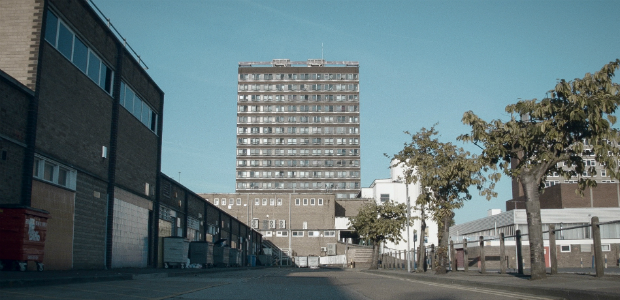 The early pioneers that moved to Basildon faced tough times but were invested with these hopes and aspirations through the 1950s and 60s. In the 70s, the town moved from socialist stronghold (once dubbed 'Little Moscow on the Thames') to Tory heartland. This was a destabilising shift, with Thatcher's 'right-to-buy' policy at its heart, as individual outmuscled community in a town built on communitarian values.
For many years the town has struggled with crime, deprivation and a rotten reputation. At a national level names began to stick – Basildon Man, Chav, Essex Girl – labels that were sometimes ball and chain, sometimes badge of honour. A Sunday Telegraph article first coined the name 'Essex Man', defining him as 'young, industrious, mildly brutish and culturally barren'. It was patronising, superior and fully intended to reinforce negative perceptions of successful working class people.
Basildon has long been a political bellwether – it voted for Thatcher, Blair and then Brexit. So as the subject of New Town Utopia, I hope it reveals something about the state of modern Britain. The film explores some key challenges facing British society, including the housing crisis, the double sucker punch of globalisation and Amazon on our high streets, and the demonisation of working class people. If beauty, culture and civic pride was the objective of the new towns, then I wanted the town's artists and to tell it's story.
Camus considered Utopia to be 'in contradiction to reality'. So Basildon's not Utopia, but where is?
 New Town Utopia is out in the UK from 4 May.