Absolutely Anything
Monty Python's Terry Jones briefly writes exactly what happens in his new film. CONTAINS SPOILERS.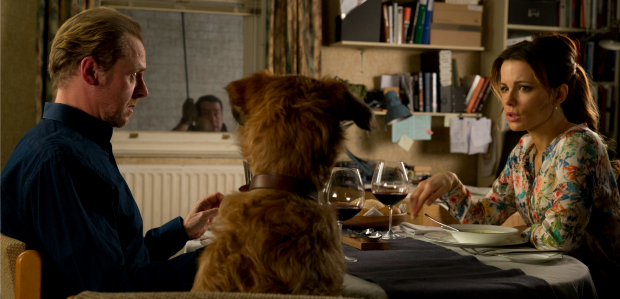 Absolutely Anything is the story about schoolteacher who gets magical powers and can do Absolutely Anything (Simon Pegg). It started out as The Man Who Could Work Miracles by H.G.Wells, but it soon changed it's spots. I just couldn't do The Man Who Could Work Miracles so I changed it out of all recognition. It was me and Gavin Scott that wrote the script.
The Aliens (voiced by the Pythons) intercept the Voyager spacecraft when it leaves the solar system (which it has done).
And when the schoolteacher is knocked off his bicycle by an uncaring van driver, the Aliens zap him and give him magical powers.
Catherine is his love-interest (Kate Beckinsale), while Grant (Rob Riggle), who she had a one-night stand with, climbs a drain-pipe and looks on as she pushes the schoolteacher into his room, and Grant gets jealous.
Eddie Izzard plays the Headmaster and is brillant. Joanna Lumley plays the TV Host on Book Time, and is brilliant too. Sanjeev Bhaskar plays the schoolteacher who lusts after the Miss Pringle, and is pretty brilliant too.
It's the tale of everything going wrong for the schoolteacher. He eventually says "I'm just being selfish". He tries to do some good, and he says: "Let there be no more war". And when he switches on the television the newsreader:
"For no reason at all, New Zealand has declared war on Iceland. Barbados has declared war on Somalia, and – in a surprise move – the tiny island of Saint Kitts and Nevis has declared war on the entire Rest of the World."
He gives the dog (who can talk by the way) his magical powers and the dog sorts the problem out, by destroying the Aliens.