Zoolander 2
A nonsensical full-on fun fest of ridiculousness





By Helen Chapman
21 February 2016
See comments (

0

)
Plot summary
Derek and Hansel are lured into modeling again, in Rome, where they find themselves the target of a sinister conspiracy.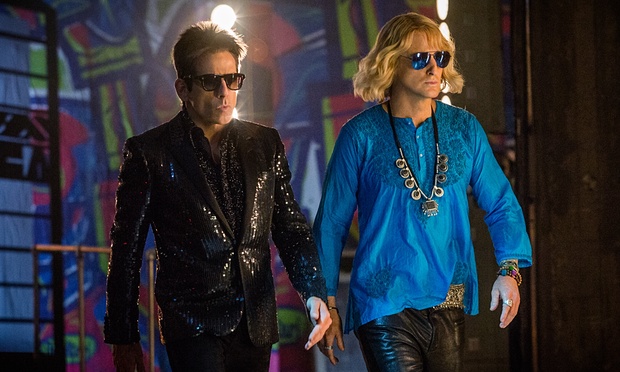 Dishing up a highly anticipated comeback was sure to be hard to pull off, yet Stiller crams all the outrageousness he can muster into Zoolander 2. The downfall is while some of the gags are pulled off well, others are lost in the ludicrousness. Despite this it is still safe to say that, even at 15 years of age, the joke is still funny.
The first Zoolander was hardly a smash hit at the cinemas yet, thanks to TV and DVD, the film laughed its way to silly success.  With a number of surprising cameo appearances and a welcomed ridicule of the over-the-top fashion industry, Zoolander went down a storm and is fondly remembered.
Here we are now with Zoolander 2 and the story line is as ridiculous as ever. Derek (Ben Stiller) is hiding out in "Extreme North New Jersey" (in his own description as a "hermit crab"). Meanwhile, Derek's fashion frenemy Hansel (Owen Wilson, "still so hot right now") is living in the desert land of "Uncharted Malibu Territory" with a new found orgy family. Both has-beens are then summoned to Rome to re-capture their fashion pasts. But of course! There is a trap: something to do with the murder of Justin Bieber and the fountain of youth in the Garden of Eden… which is soon brought to light by fashion special agent Valentina Valencia (Penelope Cruz).
Zoolander 2 not only mocks the fashion industry as the first film did but has added hilarity in picking up on the modern day tropes of 2016. We now have social media obsessed celebrities, Billy Zane delivering Netflix accounts by DVD and Zoolander catching an Uber when heading for Rome. This approach is embraced after waiting over a decade for the sequel. Having moved on from the original we now have casual "hipster" types running the fashion scene. One character in particular makes a laughing stock out of the highly dispensable and hyper fast-paced nature of fashion trends , and  is seriously impressed with Zoolander's  "retro" miniature phone compared to the now ginormous iPhone.
Without naming names: it is cameo a minute, not necessarily laugh a minute. Guest star appearances end up trying too hard to please; some are seemingly irrelevant whilst others are cleverly entwined in the overtly stupid, overtly old joke. Indeed we don't have Bowie to impress us beyond belief, yet Stiller relentlessly pushes the boundaries of absurdity with his directing of the cast. The abundance of famous icons buying in on the satire whilst mocking themselves in the process can only be a good thing: everyone wants to be a part of it.
Even if based on the nostalgia of the original story and punch lines, Zoolander 2 just about gets away with this return. A nonsensical full-on fun fest of ridiculousness.