Whip It
It was refreshing to watch a mainstream flick where women were calling the shots, both in front of and behind the camera.





By Sarah Wayman
14 August 2010
See comments (

0

)
Plot summary
In Bodeen, Texas, an indie-rock loving misfit finds a way of dealing with her small-town misery after she discovers a roller derby league in nearby Austin.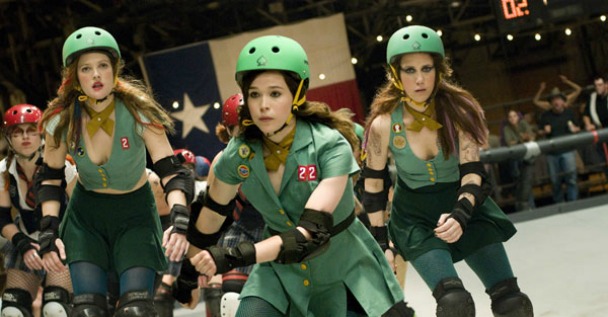 A Roller Derby might sound like something very twee or perhaps like figure skating. However, in actual fact it's more wrestling on a track with roller skates and a little less jumping on each other. Like wrestling, it's not just the sport that's entertaining, the characters, the wordplay and the incredible outfits all play their part.
On 20 March, London hosted the second derby to take place between the London Roller Girls' top team – London Brawlin' and the Texas Hustlers. The crowd got warmed up watching the bout between Glasgow's Irn Bruisers and London's Brawl Saints before the transatlantic tussle started.
After watching Drew Barrymore's directorial debut, Whip It, it was pretty interesting to see the real Texas Hustlers in action. Whip It tells the story of Bliss Cavander (Ellen Page), a seventeen year old from Bodeen, Texas who falls in love with roller derby, much to the disappointment of her beauty pageant obsessed mum. Bliss' alter ego on the track is Babe Ruthless – the name of the vice captain of the Texas Hustlers. It was great to have the opportunity to see the real thing in action too, if just to try and get to grips with the rules of how teams score points. Like the film, the speed and the energy of the game are infectious.
Whip It is a fantastically easy-to-watch, forget-about-your-day film. It's got a great soundtrack and really captures all the ups, downs and melodramas of being a teenager who is caught between what you want and what others want for you. It was refreshing to watch a mainstream flick where women were calling the shots, both in front of and behind the camera, from Drew Barrymore's directing to characters like 'Smashley Simpson' (Barrymore), 'Maggie Mayhem' (Kristen Wiig), Iron Maven (Juliette Lewis) and Cavander's best friend Pash (Alia Shawkat).
Male love interests, coaches and refs were all real, likeable characters but this is a film where women are in the driving seat, both on the track and off of it. There are love interests and emotional ups and downs but they aren't the central theme and they aren't what make or break Bliss' story.
A genuinely funny, feel good coming of age film.