The Violators
A striking debut from Helen Walsh





By Helen Chapman
12 July 2016
See comments (

0

)
Plot summary
After testifying against her abusive father, Shelly finds herself rehoused on a sink estate she can barely call home. A petty thief, she spends her days roaming the estate and docklands in search of opportunities. When she attracts the attention of estate loan shark and groomer, Mikey Finnegan, Shelly finds herself thrust under the watchful gaze of a mysterious stranger, Rachel. As Shelly's relationship with Mikey develops, so does Rachel's fixation with Shelly.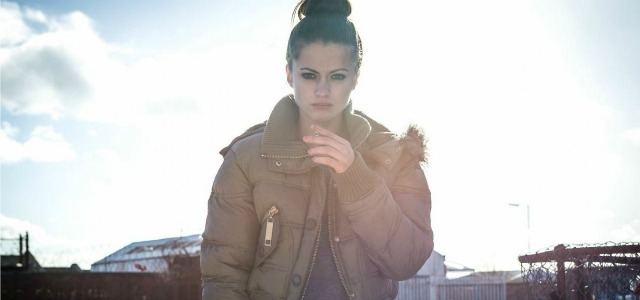 The Violators is a wounding look at a young woman's navigation through life whilst encountering dangerous men at every corner, chipping away at her hardened exterior. Bestselling author Helen Walsh (The Lemon Grove) has translated her interest in transgressive sexualities, gender and class onto film. With a female writer and director, and starring two female protagonists, The Violators is significant in a time where there is a perceived dearth of women film directors.  The events of the story are shocking but the waves this film will make in terms of disturbing the male-dominated status quo of cinema will be more deeply felt.
Lauren McQueen (Shelly) and Brogan Ellis (Rachel) both give two very promising introductory performances as the protagonists of The Violators. Set in Birkenhead, Cheshire, Walsh presents to us a gritty portrayal of a young woman's struggles growing up in a rundown housing estate. McQueen excels in portraying 15 year old Shelly's tough yet naive nature. We see her robbing cars and arcades for pennies rather than spending her teenage life with friends her age. She soon meets the mysterious Rachel played by Waterloo Road actress Ellis. Rachel has an obsessive nature that is hard to pin down and strikes an infatuated interest in Shelly. Shelly sees herself as others see her: a sexualised being, and Rachel's fixation with her is born from jealously yet appears almost sexual at times.
Every cut leads to a different setting, intensifying the excitement and sense of foreboding. The drama at times could be underplayed as the film is tense from the get go, yet this has not spoiled the overall picture. Walsh displays life in Birkenhead through Shelly's eyes, giving the uncomfortable view that her vulnerability outweighs her independence. Shelly on one hand appears grown up, taking on the duty of making sure her younger brother Jerome gets to school on time. Her innocence shows in her desire and longing to be cared for. She meets the immoral opportunist Mikey (Stephen Lord) and grows a relationship with him that is worrying, flipping between paternalistic and erotic. Shelly seeks comfort in her relationship with Mikey after hearing the troubling news that her abusive father is due out of prison.
This socio-realist depiction of the post- industrial North is one not to miss. With arcades and funfairs, disused shipping docks and overcast skies, Birkenhead becomes central to the storyline itself. This especially shows when the film draws out distinctions between the middle and working classes in Britain, tying these subtleties into the plot and its characters. "It's a bit arriviste," says Rachel when inviting Shelly into her family house. The stark differences between their home lives are arresting: Rachel gently heats milk on the hob for her hot chocolate whereas Shelly opens the fridge to find no milk for her tea or coco pops.
Walsh said that she hoped the audience would "judge a film not by the size of its budget but by the size of its heart." If bearing this in mind when watching, cinemagoers will not be disappointed. The Violators is a striking debut.
The Violators is available to buy on DVD from 25 July 2016.