The Scouting Book For Boys
It longs, unashamedly, to be a quirky, parochial indie-comedy, whilst striving, also, to hit those Loach, Leigh and Meadows notes of gritty slice-of-life gravitas.





By Dan Hollis
21 August 2010
See comments (

0

)
Plot summary
When David discovers that his best friend Emily is being forced to leave their caravan park home, he agrees to help her to run away. But after their plan starts to unravel, secrets come to light that transform his life in ways he never imagined.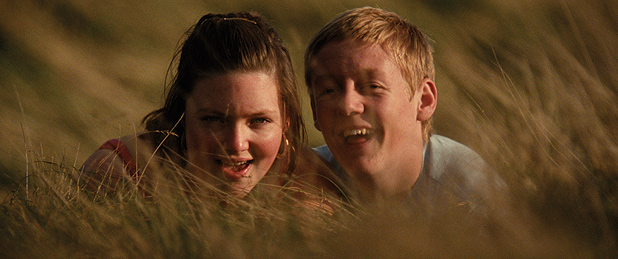 Touted by some as the herald of one of Britain's most promising young directors, Tom Harper's debut film The Scouting Book For Boys is a bit of a mongrel. It longs, unashamedly, to be a quirky, parochial indie-comedy, whilst striving, also, to hit those Loach, Leigh and Meadows notes of gritty slice-of-life gravitas, whilst all the while revelling in a halcyon,  perfume ad, perpetual-sunset aesthetic. Nothing wrong with all of these elements independently, but if not stitched together seamlessly and seemingly effortlessly, it jolts and jars.
On a Norfolk coast holiday park, best friends David (Thomas Turgoose) and Emily (Holliday Grainger) jump from caravan roof to caravan roof, provoking angry Homer Simpson-esque fist-shaking tirades from The Office's fat Keith, spy on elderly women getting changed, and enjoy all the tacky delights of a caravan park site. Life is wonderful – a continuous summer holiday! Until, that is, Emily's parents split up, and she is told she has to move away. Oh no!
In an inspired plan to circumnavigate this treacherous impeachment of their teenage idyll, Emily hides in a cave, whilst David hences back and forth with food and supplies. Unforeseen by the young tunnel-visioned teens, a full scale police search sweeps the Norfolk countryside –  David, throughout, concealing his knowledge of Emily's whereabouts. When David, who clearly aches for Emily to return his more than brotherly affection, learns that she is pregnant with the weird park security guard nearly ten years her senior, he is emotionally maimed, but in that stoic best-friend manner, resolves to continue preserving her refuge.
Now there is much to like here, and also much not to like. Turgoose – Shane Meadows's child prodigy – has grown, reassuringly, into an malcoordinated teenager, and captures the awkward, spotty side of youth that is very rarely represented in film outside of caricature. Grainger is tempestuous and sassy – a self-assured depiction of a teenage girl who is beginning to get to grips with her budding sexuality. The peripheral cast, however, let the film down. Rafe Spall, son of Timothy, plays the park security guard, seemingly plagiarising that brilliant and bizarre, chewy drawl of Paddy Considine's unnerving Morell in A Room For Romeo Brass. Spall, unlike Considine –  his mustachioed cop co-star in Hot Fuzz – never quite strikes that balance between humour and menace. Another questionable pastiche is Emily's mother; imagine Amy Winehouse in ten years and you have her down. Similarly, the chief of police in charge of finding Emily is simply a punier, far less amusing Chris Morris. The unifying problem with these characters is the woolly writing that underpins them. Rather perplexingly, screenplay writer Jack Thorne picked up the best newcomer award at this year's London Film Festival. But there isn't sufficient range and quirk in these characters to afford the narrative with any substantial pathos or meaning. Sympathy is just too difficult to summon, and this kills the momentum dead.
You can see where the film's coming from, see the inspirations, the references, but for the most part, it feels counterfeit, fake. Nothing searingly original, only slightly knackered re-hashes. The abrupt and very dark about-turn ending certainly shocks, but like the rest of its patchwork composition, it sits slightly uncomfortably and feels unfinished. Also, the title of the film is irritatingly inconsequential and misleading.