The Post
If there's a recipe for an award-winning film, this is it.





By Sam Higgins
21 January 2018
See comments (

0

)
Plot summary
In 1971, the nation's major newspapers took a brave stand for freedom of speech and reported on the Pentagon Papers, the massive cover-up of government secrets that spanned four decades and four US Presidents. Together Katherine Graham (Meryl Streep) and Ben Bradlee (Tom Hanks) formed an unlikely team, as they were forced to come together and make the bold decision to support The New York Times and fight the Nixon Administration's unprecedented attempt to restrict the first amendment.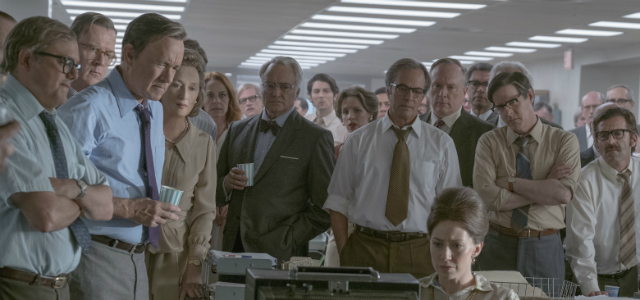 If there's a recipe for an award-winning film, a Steven Spielberg-directed drama about political corruption, featuring Meryl Streep and Tom Hanks must come pretty close to it. So it comes as little surprise that The Post is a hot tip to reap the rewards this award season.
There's much more to The Post than its heavyweight line-up. The film – which depicts the free press's efforts to expose the Pentagon Papers and decades of deceit around the Vietnam war – is not only timely (a glance at President Trump's Twitter feed should give you a grasp of his relationship with the media), but all the more impressive considering it was the first script Liz Hannah had ever written. A mere pilot script aimed at enticing an agent, Hannah's hopeful screenplay was picked up by a former Sony studio head before things escalated to proportions she must have never imagined.
At just shy of two hours, The Post flies by at an incredibly watchable pace, free of any unnecessary contextual padding but, equally, it doesn't shy away from prolonging tense moments to brilliantly unsettle you. Spielberg's framing of 1971, from the office smoking to the clunky phone booths, via a less-than-glam first-class aeroplane experience, provides the perfect backdrop for a thrilling story.
On the most part, the film is set in the bustling newsroom of The Washington Post, where the hard-nosed executive editor Ben Bradlee (Tom Hanks) is pining for the next big story that'll make his paper more than just a small-town gig. He's in luck. The leak of classified documents that could throw the public against the government, were published, in excerpts, in The New York Times. Kay Graham (Meryl Streep), The Washington Post's first female publisher, has the tough decision of whether to follow suit and expose these stories, in turn betray the relationship she'd built with the White House. Meanwhile, The Post is in the process of being taken public and the Pentagon Papers could unsettle the investors, while her all-male board seem unsettled simply at the idea of a woman in charge. Flying features from Alison Brie and Michael Stuhlbarg, who both have bigger roles in separate award-season favourites this year, leave you wishing for more than just quasi-cameos.
Hanks and Streep are effortlessly excellent and convincing in their roles, so much so that it's hard to dismiss their chances at the Oscars. Though they face a tough battle against a new generation of actors that include Saoirse Ronan, Timothee Chalamet and Daniel Kaluuya. The Post depicts an important story in an incredible engrossing manner, but it lacks the emotional connection many of its award competitors have. While, of course, not every film needs to make you either weep with joy or sadness and nothing in between, its shunning at the Golden Globes may just indicate it'll fall victim to a seriously strong season of film.