The Inevitable Defeat of Mister and Pete
How can you not like it? You can't, really. It's earnest. Thank God it got made, thank God Sundance is there to show it, and keep on trucking.





By Dr. Garth Twa
11 September 2013
See comments (

0

)
Plot summary
During a sweltering summer in New York City, 14-year-old Mister's hard-living mother is apprehended by the police, leaving the boy and nine-year-old Pete alone to forage for food while dodging child protective services and the destructive scenarios of the Brooklyn projects.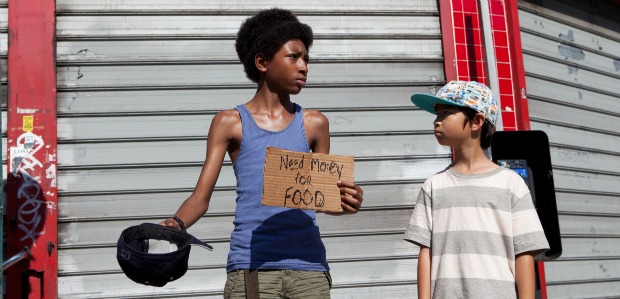 It's hard not to be taxonomic with Sundance films.  But the truth is, it has become a microcosm, established and recognizably individuated, with rules and etiquettes and expectations equal to and different from the mainstream film industry.  Sundance films (synonymous, now, with independent film; though not all indies make it to Sundance, it has become so powerful a force that it has set a template) are generally films that would never be made in Hollywood, niche storylines, niche sexual politics, niche stylistics, niche racial issues.  Niche gives artists creative and content freedom, but don't give the profit margin that Hollywood likes to gamble with.  But, at Sundance, in that alternate world like a shadow biosphere, we see the phyla of films, as inevitable as a superhero spectacular from Hollywood in the summer, or a lush three-hour costume drama at Christmas.
The Inevitable Defeat of Mister and Pete falls under the 'earnest' category of Sundance, a film about disenfranchised youngsters, struggling to survive in an unjust society, the system of the United States set against them.  Coping, trying to escape the endless spiral of poverty in urban wastes, with dreams of getting out, but dreamers that haven't the equipment necessary to escape: education, money, nutrition.  Mister (Skylan Brooks) has just, to his own bewilderment, failed the 8th grade.  It's not surprising, inhabiting, as he does, a New York City of drugs, trash, and prostitution (at least three of which, speaking of taxonomic categories, could comfortably accommodate his mother, played by a terrific Jennifer Hudson—it's nice to see her act).  Returning home, he finds his mom is shooting up, and he's forced to babysit his neighbor Pete, a nine-year-old Korean boy (Ethan Dizon) whose mother is also a junkie.
Basically a buddy film, the two boys must escape an opportunistic bully, a creepy neighbor lady with pederastic intentions, and the child protection services.  It's Huckleberry Finn, only instead of the Mississippi River, it's the mean and ugly streets of the Projects.  Scavenging for food and surviving on ketchup and grape jelly sandwiches, the boys bond ('You're my nigga, Pete,' Mister says. 'I'm Korean,' Pete replies.  'You can still be my nigga.'  'Do I have to be?'), encounter characters who are perhaps a touch too colorful and emblematic (Jeffrey Wright's homeless vet, providing pat lessons and pithy morals), and fantasize about getting on a television show in Beverley Hills.
How can you not like it?  You can't, really.  It's earnest.  Thank God it got made, thank God Sundance is there to show it, and keep on trucking.